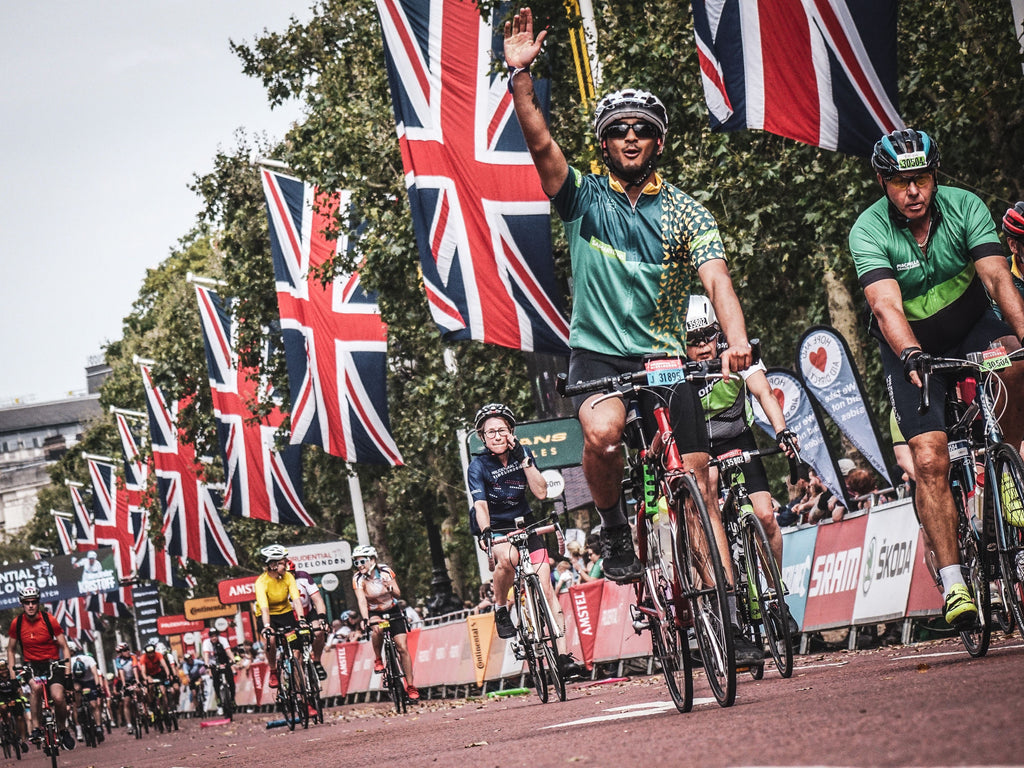 So, you've just found out that you've got a place at Ride London 2022 via the ballot, and you're probably panicking about the thought of riding 100 miles at the end of May?
Or maybe you managed to get a place in the pre ballot sale because you, you know, actually wanted to take part in the event?
Either way, have no fear, whilst you don't have 'nothing to worry about' (100 miles is 100 miles), we can certainly help you to prepare and train for the event.
How, I hear you ask? How can you possibly know if I can cycle 100 miles? You've never met me, and you can't possibly know how slow/unfit/underprepared I am!
Well, actually I do feel very confident in telling you that not only will you be able to complete the ride, you'll do it much more quickly than you think and, *whisper it*, you'll actually really enjoy it.
I know this because Dirty Wknd have been helping hundreds (maybe even thousands) of cyclists to train for Ride London over the last 6 years, and almost everyone has had the same concerns and worries as you in the run up to the ride. 
And guess what? They all smashed it, completing the ride way faster than they had predicted, and (mostly) they loved every second of it. I say mostly, no one actually 'likes' Leith Hill, but you know what I mean.
Don't believe me? Read 'complete beginner' Mel's story here.
So whilst your concerns are completely valid and won't be completely calmed by reading a blog, hopefully you can take some comfort from knowing that many others have come before you.
They all came out stronger, fitter and more rounded cyclists (and people?) on the other side, and you will too!
We asked our members and put a question out on social media too - what is the thing that's worrying you most about taking on Ride London in May? Below are the answers, and how to deal with those worries.
Worrying about the distance?
A bit like a marathon, very few people have ever run 26 miles when they sign up. I can promise that it is possible to build up to 100 miles in a few months, no matter where you're starting from. 
The thought of riding 100 miles in a day is pretty terrifying, especially if you're new to it. But the trick is to break it down into manageable segments and not focus on the full 100 from the outset.
If you've ridden 50km before, then you can definitely ride 50 miles (80km). Once you've done 80km, you'll be able to build up to 100km. 
If you keep adding a little distance to your long rides each week, you'll get there in no time. Mid-week shorter/high intensity rides are also a great training option too (see below).
But here's the real truth, again much like a Marathon, you don't actually need to have ridden the full distance before the event. Adrenaline, the atmosphere and the crowd will carry you over the 100 miles.
Rather than thinking about distance, it's important also to think about time on the bike. Riding 100 miles can take anywhere between 4 and 8 hours, so getting your body used to spending that long in the saddle is key.
Plenty of people on social media are worrying about the distance, so you're far from alone, but you will be able to build up to it.
How much to ride per week?
The second most mentioned worry was not knowing how long to spend riding per week or how many sessions to do per week.
This is a harder one to answer as every rider is different. Not only the training load you can bear and how much recovery you need, but how much time you have to train.
The main thing is that you can fit your training into your work and family life. The more training the better, but don't let your relationship or family life suffer for a bike ride.
Riding 3-4 times a week is plenty. You don't need to be doing 12+ hour weeks like some wannabe pro.
2-3 short rides in the week (mix of intense and recovery) and a longer ride at the weekend is a nice easy framework for a training plan. 
Speaking of which, do I need a training plan?
Having a structure to work to is a very good thing. This can be an excel spreadsheet of intended rides, something you found on Google or using an actual coach/training plan. 
If you're lucky enough to be in the position to take on a cycling coach for the duration of your training then great. They'll give you a plan, regular feedback and loads of extra info too.
If you're not in the position to spend 50-100 per month, then have a look at our partners Spoked. This online cycling coach is a virtual platform that will provide everything you need, for just £11.99 a month. 
You tell the system when and for how long you can ride each week, it will set you a plan to work through until the event. You'll also get feedback as you build towards the event.
Dirty Wknd members also get a month's trial so you can really try it out before you have to pay anything. Don't let that sway you though, I use the platform and it's great.
Fuelling - what do I need to eat?
Knowing that fuelling correctly is the key to riding 100 miles is the first step to glory, finding out what works for you is the second. 
Loads of people asking how to fuel and what to eat, but the truth is everyone is different. You have to test out many of the products on the market to work out what is best for you.
That includes energy bars, electrolyte tabs and other products, but also making use of natural forms of energy. Bananas are a great option, as well as boiled potatoes.
If you've got a stomach that is easily affected by lots of sugar or additives (not something you want on a 100 mile ride), then try 'real food' in your training rides.
The golden, unbreakable and never-to-be-questioned rule is never use anything new on event day that you've not tested. True for everything, but doubly true of nutrition. 
How can I carry everything? 
But how am I supposed to carry all this nutrition?
Staring down the barrel of a 100 mile ride like Ride London, it's natural to think that you're going to have to carry up to 8 hours worth of food, fluids and more. 
In reality, you just need enough to get yourself to the first feed stop (roughly 50 miles/80km), where you can pick up more food and fill your bottles. 
As experienced Rider Londoner and club ambassador Paul says "Don't overpack. It's tempting to fill your pockets to bursting point, or even to take a backpack filled with stuff you'll never use, but by halfway through you'll regret it."
We're waiting for the official route details including where the feed stops will fall, but based on the Surrey 100 route, the first proper feed stop came at 50 miles. 
So really you just need enough fuel to carry yourself 80km, which is easy to practise in your training rides and get your pocket packing perfected. This is not a joke, definitely practise packing your pockets. Watch this great GCN video on how to pack your pockets for cycling for tips. 
The feed stops are incredibly well stocked and organised, so you don't need to worry about being caught short. If you're going for a really fast time, then I'd recommend missing the first feed stop as it's always really busy. Carry enough food/water to get you to Box Hill (roughly 130km) for a much quicker stop. 

Do I need frame/bar bags?
With a plethora of amazing bike luggage options on offer these days, you also have loads of ways to carry your kit. Gone are the days of the trusty saddlebag and pockets full to ripping point. 
There are frame bags that hang above your water bottles, top tube bags that sit on top of your frame behind the stem, or handlebar bags that hang down below your stem. All are great for different options, and are well worth looking into. 
Top tube bags are really handy for snacks - very accessible whilst riding the bike and an especially great option if you struggle to pull things out of your back pocket whilst riding. See our partners Restrap for a great top tube bag (20% off for members).
However for me a handlebar bag (sometimes called a canister bag) is the best option. Unless I'm racing, I'll tend to have my Attacus handlebar bag on my bike for most rides.
It's very easy to fit, looks cool and holds a surprising amount. I also just much prefer riding with as little in my pockets as possible.
How much support will I really get?
This is one of the biggest sportives in the world, and the level of support is enormous. If you're worried about being left alone on the ride, you really needn't be. 
The feed stops are huge and plentiful, there are toilets in loads of areas along the routes and the traveling mechanics and thousands of other riders on the course will help you out if you get stuck. 
You really will never do another ride that is as well supported as this one, so hopefully you can take that as peace of mind when you complete your training. 
Top Tips from Pro (amateurs)
We also asked some of our more experienced members and social media followers for their advice on how to prepare for Ride London. 
Some of them have done the ride once, some up to four times, but hopefully you can take some tips from them to help you prepare. 
Join a cycling group
This may seem a bit biased coming from us, but there is no greater piece of advice. This was the first thing said by anyone who has ridden Ride London before.
Joining a cycling group opens you up to an entire community of like minded folks, all on the same journey as you are. Some are ahead of you, some in exactly the same place and, as you'll find out, some are even newer to it than you are. 
You'll learn from them, ride with groups that will help you to go further, faster and higher than you have done before, all whilst making it more fun and interesting. 
And yes I know all the usual excuses - I'm too slow/unfit/inexperienced, or you might be worried you'll hold the group up. Believe me everyone is worried about that, but if you find the right group then it really doesn't matter. 
You would be more than welcome to join us, and meet other cyclists to train with and learn from, or you can use the British Cycling club finder tool.
Either way, just do yourself a favour and join a cycling group.
Study the route
Ride London 2022 route details have now been released, and of course we've already done a deep dive into what you can expect. You can read our 100 Mile Route Preview here. 
It's vital to stud the route as much as you can. There's a reason pro cyclists do - you have to know what's coming so you can fuel properly and mentally prepare. 
The beginner mentality I encounter most is 'don't tell me I don't want to know', like this is going to make the hill/road somehow easier. It's not, it's just going to make you less prepared for it, and therefore it's going to hurt more!
Get out of this mentality ASAP and start studying the route. Our blog (above) should help, and allow you to make mental notes that you can take into the ride with you. 
And if you get the chance, absolutely ride as much of the route as you can in training. Whether that's a special trip to East London/Essex to ride a certain section, or just heading out east more often, it will definitely help.
Our community members will be heading out to Essex plenty in the next few months, so join the community and get stuck in. It will all help on the day. 
Plan your weekend ahead of time
What we do know at this point, according to the Ride London website, is that the route will start on the Embankment and finish at Tower Bridge. 
A great tip for preparedness is to plan your arrival at the start of the event well ahead of time. If you're a London cyclist this might mean staying with a friend near the start, or working out how to get the train to the start line in good time. 
Whatever you can do to calm your pre-event nerves then do it (you will have pre-event nerves). A lot of that will include event morning logistics.
We'll cover this in a more specific blog nearer the time, but my biggest piece of advice is to stay as close to the start line as you can. 
You don't want to be worrying about a long ride or train journey just to get to the start. Also, you have to arrive at the event ages before your depart time, so if you live a decent distance away, that's a very early alarm!
If you don't live in London then book some accommodation as close to the start line as you can, as far in advance as you can. It will fill up quickly.  
Be flexible and kind to yourself!
You'll no doubt have a busy work, social and family life so you won't be able to make every session exactly as you planned. You just won't, so try not to stress it. 
Be a bit flexible with training, and don't be too hard on yourself if you miss one of two sessions. If you don't have time for your 2 hour ride, then do one hour. Or go for a run, or a swim.
And if you're knackered then take the day off or do some yoga. Listen to your body. 
Make it FUN
Take it from club ambassador Lisa: if it's not fun there's no point. She didn't touch her bike for months after Ride London because of the ordeal. 
Granted it may not seem like it's going to be fun right now, but it's important to focus on the fact that it should be. 
If you've got a training plan, or a strict structure, then I would always advise sacking off one of those sessions every now and again to just go and ride for fun. Ideally with mates.
This is especially true if you're feeling everything getting on top of you and you're getting really anxious about the event. Your health and happiness is way more important than a bike ride.  
There will be more Ride London training updates coming soon, to help you to prepare for the big day. 
If you've got questions about Ride London training then drop us an email, or get in touch on social media (@dirtywknd).
We'd love to hear from you about how your training is going or if you have any questions, so don't be a stranger. If you join the Dirty Wknd community you can visit our dedicated Ride London training space to meet and chat with other entrants. 
We have a month free trial in Feb, so now is a great time to join 👍