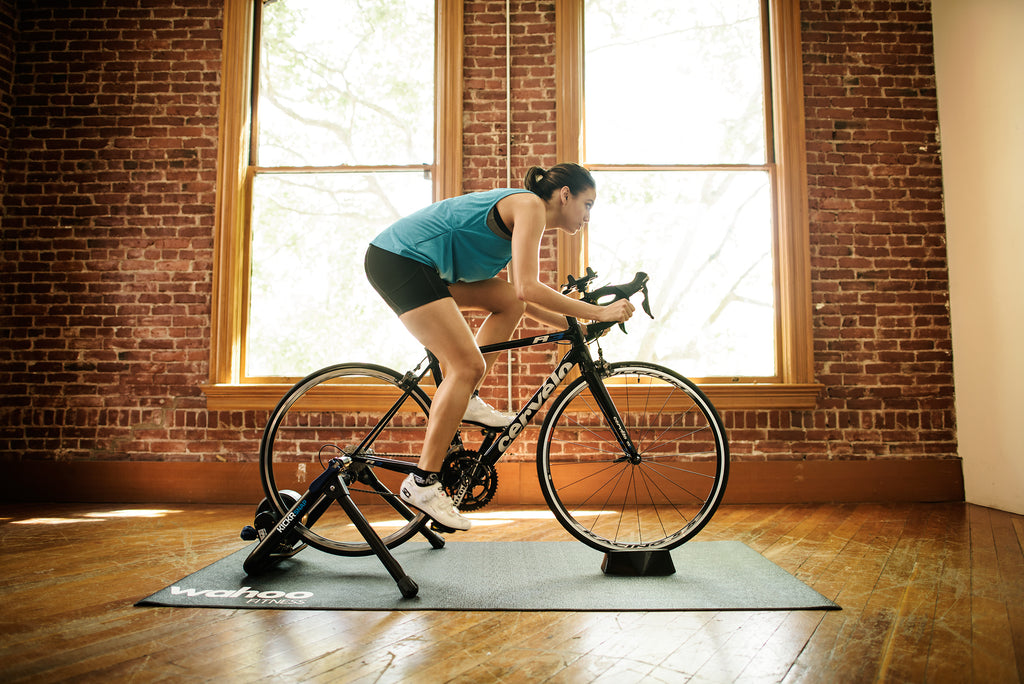 Cyclists currently fall into two camps - those who managed to buy a turbo trainer before lockdown, and those who didn't. As rare as hen's teeth, trying to buy a turbo trainer now is as hard as trying to get hold of a face mask!
But where do you start if you've not got much clue how a turbo trainer even works? Or the difference between wheel on or direct drive turbo trainers? Or what a ANT+ cable is? Spending a couple of hundred quid on something you really don't understand is never a good idea.
Luckily for you, we've created a beginner's guide to turbo trainers that you can actually understand. No jargon, no 'experienced cyclist only' nonsense, just relatable answers to the questions you have asked us about turbo trainers. Whether that's how turbo trainers work, what the different types of indoor trainer are, or which is the best turbo trainer for your price bracket. We've tried to answer below.
You can also still buy a turbo trainer during lockdown, but it's not easy. We've gone ahead and done the leg work for you there too. Keep reading for how to buy a turbo trainer during the coronavirus lockdown. 
 What is a Turbo Trainer?
A good question - and one that isn't often covered in these types of articles. In (very) layman's terms, a turbo trainer is a machine that allows you to ride your bike indoors, without moving anywhere. Often called a static trainer, for obvious reasons, the machine lifts the back of your bike off the ground and adds resistance to simulate cycling on the road. Like a static gym bike, but using your own bike, in your own home.
What is a smart turbo trainer
A smart turbo trainer is one that has all the gizmos and gadgets included (bluetooth and ANT+) to allow you to connect to platforms like Zwift. Most will measure your power, speed and cadence and will allow virtual programs to change the resistance of the trainer to simulate things like climbs and descents. It makes indoor cycling feel more realistic and makes Zwift much easier. You do have to pay extra for it, though.
A 'dumb' trainer, then, is a turbo trainer without the gizmos built in. Also know as a classic or standard trainer, you can still train perfectly well on these, but if you want to use platforms like Zwift you'll need to buy some extra sensors. Read our how to Zwift on a budget blog to find out more. If you can afford to buy a smart turbo trainer then we'd recommend it. 
Direct Drive vs 'Wheel On' Turbo Trainers
One of the questions that flummoxes many beginners - why do some turbo trainers require the rear wheel to be on and some off. Is a 'wheel off' trainer better than 'wheel on'? The short answer is yes, but again you have to pay extra for it.
You won't find many for less than £400, but wheel off is known as a direct drive turbo trainer, and it is arguably better for a number of reasons. Most notably, the ride quality is more realistic and you don't wear through tyres like wildfire (or have to switch wheels over every time you want to ride).
Having said that, there are many great wheel on trainers out there, plenty of which are smart, and they are significantly cheaper. Just use the spare change to invest in a specific turbo tyre and an old rear wheel. This will save you all kinds of hassle later on. 
What is ANT+?
Simply put (because it's really not simple at all) ANT+ is the wireless technology that allows your devices talk to each other. Smart trainers and the best products, like Wahoo sensors, have ANT+ built in so everything is connected. You can also buy an ANT+ dongle to connect your devices to your laptop, but they're pretty much sold out everywhere now. If you find one (try Amazon), let us know yeah?!
Do I have to use Zwift?
Absolutely not. Zwift is a bit pricey at £12.99 a month, and you can use a smart or dumb trainer perfectly well without it. However, it is a lot of fun, and does mean you can ride in a group with your club mates. Joining a Zwift group ride is really saving a bunch of people's sanity right now, allowing many to cycling safely in groups during the coronavirus crisis.
It's up to you, but we'd suggest giving Zwift a go once you've figured out how to set your turbo trainer up. You get a free trial, and you can cancel at any point. Plus if you get Zwift you can join one of the awesome Dirty Wknd Zwift group rides.
Are There any Alternatives to zwift?
Fine, you don't want to use Zwift, we get it! There are plenty of alternatives to Zwift, so you've got loads of options. The first is just ride without using any training platforms - just connect your trainer to your Wahoo or Garmin and start pedalling. Stick a ridiculous Netflix 'documentary' about tigers on your laptop and off you go. 
If you want a more structured session you can use our partner SPOK'D (15% off for members). They'll set you up a structured training plan for you to measure your efforts to. SPOK'D can be used with Zwift too, or you can go for the tiger doc. Up to you!
Other platforms include RGT, Trainer Road, Sufferfest or Bkool. All of these have a subscription cost, so if you're not keen to add to the already mounting costs of indoor training, then check out Youtube for loads of free ride along workouts. Our favourite is the GCN channel. 
How to Buy a Turbo Trainer during lockdown
Some websites have recently restocked their supply of trainers, but you will need to be quick. The best deals will sell out quickly. We are an official Wahoo partner, and would always recommend their products as we think they're the best, but they're pretty much sold out everywhere right now.
Somewhat surprisingly it is Halfords who have the biggest supply of turbo trainers for sale online. Probably because most people overlook them as a bike shop. Either way, if you're still trying to buy a turbo trainer, they might be your best bet. 
The other option is to buy second hand. Never a bad option in the cycling world, as people tend to take up this sport, buy all the kit, and then realise they hate it. So there are often a lot of hardly used trainers on Ebay or Facebook Marketplace just waiting to be snapped up. With a little digging you can find some great deals.
Top tip - as Paul pointed out on today's group ride, wait until this whole storm blows over and there will be loads of cheap turbo trainers on Ebay/Facebook for you to snap up!
Good luck in getting set up with a turbo trainer - they're a god send right now. Of course, one day we will be allowed back onto the open roads again, and the turbo trainer can go back where it belongs - in the shed! However, the coronavirus crisis has taught us that a turbo trainer is a great investment. Not just for those rainy days when you just don't want to go outside in deep winter, but for that odd structured session and, you know, global pandemics!
If you have any questions about turbo trainers, how to connect to Zwift or anything else, then give us a shout. You can chat with us on social media (@dirtywknd), or send us an email.