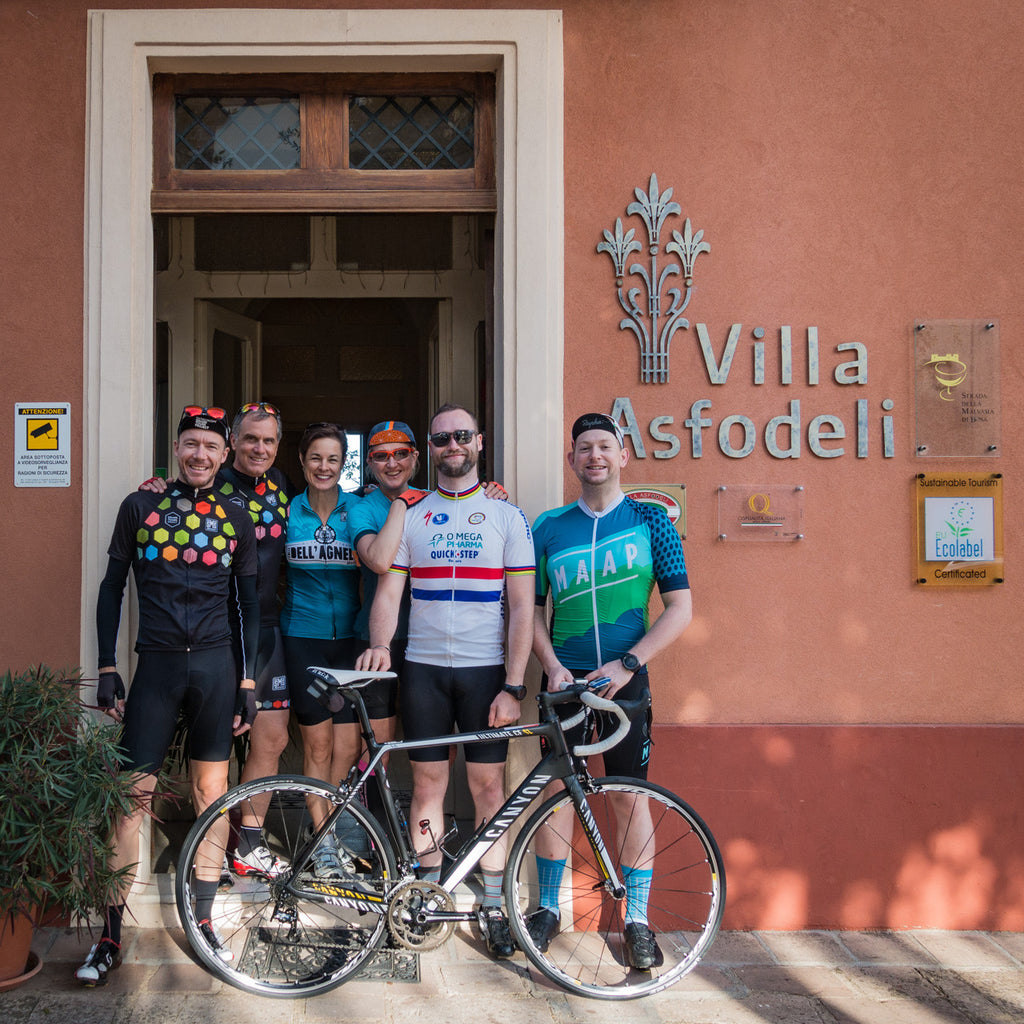 "... If you find yourself alone, riding in green fields with the sun on your face, do not be troubled. For you are in Elysium..."
Maximus Decimus Meridius, The Gladiator.
It's roughly 12:30pm on Sunday, and Russell Crowe's speech from the beginning of Gladiator has just come into my head. I am riding through open fields with the sun on my face and the wind on my back.
Having just climbed La Speranza, a 5km climb at an average of 10% and total elevation gain of 500 metres, in 30 degree heat; metaphorically I feel like I might have died! However once the pain had ended, and the epic gradient relented, the road extended before me invitingly, I knew that I wasn't in fact in Elysium, but in cycling heaven. As per Russell's instructions; I certainly wasn't troubled.
Before I romanticise anymore about Sunday's climbing, let me go back to the beginning of the weekend and start from the top.
On Friday 21st of October, members from Dirty Wknd joined Grand Tours Project and Sardinia Grand Tours on the beautiful island of Sardinia for a weekend of epic cycling, quiet roads, ocean vistas, beautiful climbs and even better descents.
The sun came out in full force to meet us, with the temperature touching 30 degrees for a perfect weekend of late season riding. On par with the cycling was the hospitality; food and wine aplenty as the locals in the town of Bosa took us into their hearts and their homes and wouldn't let us leave until we were stuffed!
We were filled with beautifully cooked and incredibly simple local delicacies, and plyed with similar quantities of local wine. After a great days riding and a nightly feast, getting to sleep in our peaceful seaside hotel certainly wasn't a problem! 
Day 1 - Arrival, #bikeporn and Cafe Ride.
The Dirty Wknd crew boarded the Stansted Express at 7:25am, steaming coffees in hand and dreams of sunshine in our hearts! The excitement was palpable; everyone eager to get there and get on the bikes immediately.
The flight was less than 2 hours and as unremarkable and smooth as you could possibly hope for. We were met at the airport by Alain from Grand Tours Project and Marcello from Sardinia Grand Tours, along with the Swiss contingent (who turned out to be Canadian).
The group was complete, and after a short drive along the most beautiful coast road we'd collectively ever seen, we arrived at our hotel just outside Bosa. When Marcello told us that we would be riding along that same coast road on Sunday, excitement levels went from palpable to uncontrollable!
After a quick check in and snoop around, we went to inspect the hire bikes. Definitely a worry for a few people - would they fit? Would they be in good condition? Would they be aero/light/expensive looking enough?!
Everyone was thrilled, however, to be greeted by a fleet of nearly new Canyons.
As the sun was just beginning to descend, we set off down the hill into Bosa for a 25km leg loosener ride. The short loop took us down into the town and onto the seafront, before winding into the old town centre where we stopped for a quick coffee.
Riding 15km and stopping for coffee might seem a bit early to some of you, but much like pro cyclists on a short rest day cafe ride, this was just a leg loosener to size up the bikes. Also, the old town was too pretty not to stop, and if it's good enough for the pros then it's good enough for us too.
However, it didn't take long before we remembered we were not pros, and duly substituted coffee for a round of Aperol Spritz!
After soaking in as much evening sun as we could, and deciding against a second round of Aperols (serious will power was exerted), we hopped back on the bikes and climbed back up the hill as the sky turned orange and lit up the horizon. Cobbled streets and hillside towns greeted us as the sun went down; a truly unforgettable scene.
After a quick turn around at the hotel we were on our way to dinner at 'Trattoria da Riccardo for our first delicious dinner. Fresh, local fish, cheese and ravioli was washed down with plenty of delicious local red wine. It was simple, beautifully cooked and just what we needed.
After a quick ride briefing for the next day, we ambled back to the hotel and fell into bed.
Day 2 - 8km Climbs, Shepherd's Bread and Saturday Night in Bosa.
Our peaceful 19th century villa hotel did make it a little difficult to get out of bed, but the open road was calling; after a hearty Sardinian breakfast we were once again rolling down the hill towards Bosa in the glorious morning sunshine.
Today's ride would total 80km and 1200m of climbing on almost empty roads. The biggest road obstacle we faced turned out to be a flock of sheep being quietly driven up the hill by a relaxed shepherd. Bloody sheep - bet they don't pay road tax!
The bulk of Saturdays' climbing was one long stretch, totalling 8km in length and taking us up to nearly 900 metres above sea level. The chance to tackle some 'proper climbs' was one of the biggest draws to riding in the Mediterranean, and we certainly weren't disappointed.
Switchback on top of switchback for 8km is just not something you can find in the South of England (and no, Box Hill does not count!). We were rewarded at the top of the climb by a glorious view and Marcello's road side feast. 
We're pretty used to stopping halfway for cake and coffee on a ride, maybe a bacon sandwich; but we're certainly not used to a mid ride snack of shepherd's bread, fresh olive oil and Pecorino cheese! 
It was a delicious spread and perfect for the mountain top setting. From the top of the climb, we rolled down the hill to a local town for espresso and a toilet stop, before turning back to the hotel. Passing through quaint, cobbled villages that were almost deserted had become almost commonplace by this point in the ride, until we came to Tinnura that is; the village of the murals!
When I tell you that there were more people painted on the walls than there were people in the village (ourselves included), you'll understand how quiet the area was.
With every wall space covered in some incredible murals showing Sardinian history and myth, It was an incredible sight to behold and we could have easily spent hours there.
However tummies were rumbling and the desire for food took over! A short ride back to the hotel saw us rewarded with another delicious lunch of homemade pasta and salad by the pool.
Certain members of the group (i.e. me) had sworn they were going to swim, however chickened out after paddling in the water. It would've been a great post ride ice bath! After a few hours chilling out (napping), we jumped in the van and drove down to Bosa for a night on the town!
A delight of tiny winding streets; as Mediterranean a town as you could hope to find, with a beautiful Old Town square in the centre.
We were all very surprised however as the Sardinians led us away from the square and through a green door and into an apartment block. It was a little strange, but our trust in our guides paid off as we were greeted by a cellar with just two or three tables in it, complete with fermenting room full of barrels of wine and.
Local brothers Emanuela and Luigi make local Sardinian wine, or Malvasia di Bosa, right there in the cellar, and serve local suckling pig on a ginormous cork platter to go with it. the wine, food and setting was incredibly cool; an incredible local experience we would never have found on our own.
It was hard to leave the brother's amazing cellar, and we definitely drank too much of their wine; but it was only a short drive back to the hotel where we collapsed into bed, ready to do it all again the next morning.
Day 3 - Church Bells, The Coast Road and La Speranza! 
Being a good Catholic country, the Church opposite the hotel rung her bells at exactly 7:30am, ensuring that we were all out of bed and at the breakfast table in good time. Today we were leaving our lovely hotel behind, loading up the support van and riding to the bigger town of Alghero.
Of course this meant we would be riding along the epic coast road we had driven down on Friday. The group were eager to get out on the road, particularly because the sun was already fully shining and it was looking like the beginnings of a glorious day.
With Alain leading the way, we rolled down to Bosa for the last time and started on the coast road. I've ridden in a few different countries now, and I have to say that this road was up there with the best of them! Reminding me a lot of the Cote D'Azur, we hugged the coast and wound our way up a 12km climb (at a fairly gentle gradient) basking in sunshine and congratulating ourselves on our fantastic life choices. 
After a quick road side stop to take on some water and look back at the road we'd just covered, we carried on our blissful way, unaware of the beast that was ahead. Marcello and Simone had told us about a tough climb that was coming up, but everyone was too busy taking photos of the scenery to pay any attention.
How foolish we were! Turning off the coast road, the gradient immediately pitched up to around 10% and disappeared around the first of many, many corners.
Around about 1KM into the climb, I realised that my 'British' style of climbing was not going to cut it as Alain, who lives in a Swiss ski resort and eats Alpine passes for breakfast, sailed past me and disappeared into the sun.
Four kilometres,  and what felt like a couple of hours later, I finally reached the top of the pass and begun to question if I was still alive, or as Maximus had predicted, had actually passed into Elysium.
It was tough going, but everyone made it up (especially Ren, who definitely bagged the QOM for the day). A very tough climb, but a great challenge, and the 'proper climbs' were exactly what we'd come for!
We regrouped after the climb with yet another fantastic Sardinian lunch of bread, cheese, salami and olive oil; this time with the added delight of Fregula, a local dish that's halfway between pasta and couscous.
After 60km in the saddle and two big climbs, we were all a little bit glad to hear that it was all down hill to Alghero. What we weren't prepared for was just how incredible of a descent it would be.
Around 10 switchbacks on a perfectly paved road meant for an awesome ride down the mountain. Of course, some of us got a bit excited (me again) and took the penultimate bend a little bit fast, ending up in a heap at the side of the road. Luckily, a kindly barrier reduced a lot of my speed, limiting the damage quite a lot.
Sadly, a mere 10km from the end, and one corner from the bottom of the hill, my ride was over. Like Contador at the Tour, I climbed into the van and had to watch the others ride off to complete the lap of honour and sprint finish in Alghero old town. The very same road that the Giro D'Italia will depart on in May next year.
After negronis on the beach whilst the sun set (Katherine and Graham) and a quick dip in the hotel roof top pool (Steve), we made our way into the Old Town for our last dinner.
Today's lesson is don't ride too fast down hills and crash at the bottom, you always miss out on some of the fun.
After a tour around the Old Town, we arrived at our restaurant on the harbour wall for 3 courses of stingray, seafood linguini and rabbit, all washed down with more lovely local wine. As it had done all weekend, conversation flowed easily for a group of relative strangers; another reminder of cycling's ability to bring great people together in great places!
After an evening walk back along the sea front to the hotel, everyone turned in and got a good night's sleep. Well, nearly everyone got a good night's sleep.
Steve and I decided that a nightcap was in order and made our way to the seafront bar opposite the hotel to dissect the trip and argue over just which ride was the best.
A good few hours, and a couple of negronis later, we stumbled back to the hotel and into bed. Safe to say, some of the group got up for the early morning breakfast ride, and some did not. I'll let you decide which of us made the ride.
Day 4 - Breakfast ride, Sightseeing and Farewells.
Alain, Renata and Charlotte apparently had a great breakfast ride around Alghero and the surrounding area; Steve and I had very sore heads and massive FOMO.
The sad time had come to break up our merry band and go our separate ways. The Swiss contingent had an earlier flight and made their way to the airport, leaving the DW crew to wander into town for coffee and a bit of sightseeing before also heading to the airport and home.
When the Giro D'Italia announced that it would be starting the 100th edition of the race in Sardinia I have to say I was a little surprised. But after riding on the roads, meeting the people and experiencing the hospitality, I now fully understand.
I can't express just how much fun this trip was. Great company, with a group made up of Swiss, Canadians, Americans and Brits, plus great roads and fantastic food make for an unforgettable weekend.
The addition of local knowledge from Marcello and Simone meant we were treated to the genuine Sardinian experience! I would like to say a massive thank you to Alain and Grand Tours Project as well as Marcello and Simone for all their organisation and expertise. 
If you like the sound of a Sardinian weekend cycling and eating delicious food, then make sure to sign up for one of our 2021 trips - I personally can't wait to get back out there, and would love for you to join us!
Full details and sign up - Click Here