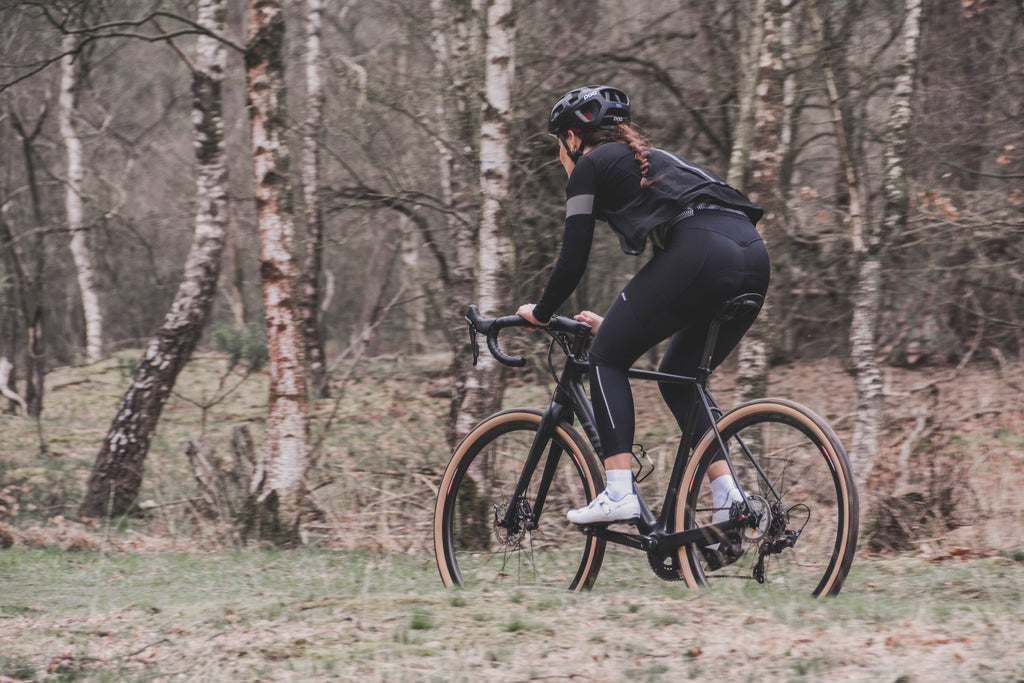 Gravel cycling is all the rage right now. Hitting the trails and tracks has been in the ascendancy for a few years, but 2020's socially distanced riding and a need to get away from it all has seen gravel's stock soar.
Perfect for getting away from the crowd (ewww, crowds) and free(er) from the 'rules' that have come to dictate road cycling, the gravel world is the younger, more relaxed and better looking sibling. Should you give gravel a go in 2021?
But what actually is gravel cycling, and how does it differ from road cycling or mountain biking (or any other type of cycling for that matter)? 
Check out our guide to gravel cycling below, and we'll take you through everything you need to know to get started. The good news is that it's less than you think.
We've also included some London gravel cycling routes that are perfect for your mandated daily lockdown exercise. 
Ok. What is gravel cycling?
Gravel cycling the brand was dreamt up by some bros in the US (probably), who went a little off piste on their road bikes and uploaded it to Instagram. Gravel cycling in actuality has been going on since the invention of the bike itself.
How often have you started out on a road ride, but ended up on a fairly questionable 'road' that's covered in mud, puddles and very little tarmac? That, right there, is gravel riding. We've all done it, regardless of the bike we were on or the type of shorts we were wearing.  
Gravel cycling is exactly as it sounds - cycling on gravel. Of course you're not going to find a route that is 100% gravel, so 'gravel' generally means dirt track, tow path, grass, woodland and usually a fair amount of tarmac. 
At it's very core, gravel riding is just mixed terrain cycling. Ideally, as much off road as possible, but it all depends on what you have local to you. 
As with anything that becomes popular, an entire industry has since grown around gravel. Companies will sell you all kinds of gravel specific kit that you simply must have, but the truth is your normal cycling/exercise kit will do just fine for gravel cycling.
I must need a gravel bike though, right?
The idea that you have to have a certain type of bike for a certain type of riding is a fairly new concept. Back in the day, bikes were bikes and they worked on all types of terrain. 
Do you think the loons who invented Paris - Roubaix (Théodore Vienne & Maurice Perez, trivia fans) stopped to ask what type of bikes the riders would use? Of course they didn't, there was only one type of bike in 1896. The bike.
And the idea that you can't ride a mountain bike on the road or a road bike on gravel, or a BMX bike on a velodrome is one that should be regularly questioned.
A good bike can cover many genres, but over the years the trusty bicycle has been developed to fit certain disciplines more exactly. Meaning that whatever you're into, you can now get a bike for that!
So what is a gravel bike then?
A gravel bike, to most people, looks exactly the same as a road bike. It has the same drop handlebars, a similar frame and geometry, and usually the same size wheels.
The simplest way to think of a gravel bike is a cross between a road bike and a mountain bike. How can this be the case if it looks just like a road bike? 
Herein lies the real difference between a gravel bike and a road bike - the tyres. A gravel bike generally has wider tyres to better cope with the rough terrain and sloppy mud. The main differences of the gravel bike are:
Wide tyre clearance for fatter tyres (better for dirt/mud)
'Easier' gear ratio, sometimes with one front ring
Often will have disc brakes, also better for wet/dirt
More relaxed geometry for comfy ride
Drop handlebars, but often wider and more comfortable
SPD pedals (mountain bike) but that's up to you (see below)
But do I need a gravel bike?
If you intend to do a lot of gravel and off road riding and you can afford another bike then yes you should absolutely buy a gravel bike. They're great fun and will improve your off road riding experience a ton.
If you're unsure about want to play around a bit first to see if you like it, then start off with your road bike on a dry day and some fairly easy trails. If you start to love it, then look at buying a new bike.
The really great thing about a gravel bike is if you fit a set of slick tyres and you've got a perfectly functioning road bike. You might not want to enter a race or fast group ride on it, but it will work perfectly well for most road riding. 
Can my road bike be upgraded for gravel?  
Many modern road bikes now come with wider tyre clearance and disk brakes, so can double up as gravel bikes too. These all-rounder bikes are a great option and provide pretty much everything you need in one bike. Check out Ribble's CGR range. 
If you want to check if your bike is suitable the best option is to take it into your local bike shop and ask them to advise. 
It's worth remembering that you're likely to only be able to fit skinny off road tyres on a road bike. As riding a nice fat tyre through the mud is one of the best things about off roading, going the whole hog and investing is worth it.
Do I need anything else?
Bike and kit brands will try to sell you a whole new wardrobe, but the truth is whatever you're wearing is great. One of the best things about gravel riding is that there's less of the 'right kit' stigma and other nonsense of road cycling. 
Want to ride in a t-shirt? Jeans? Baggy shorts? No problem - you do you. As long as you're safe, comfortable and happy, it's all good. Sadly road cycling isn't more like this, but we're working on it. 
Having said that...
On thing that you might want to look into is your pedal/shoe/cleat set up. If you're using clipless road pedals (the kind you clip into) then you might want to look at an off road set up.
Off road riding usually involves a bit of walking, and trudging through the gravel/mud in road shoes/cleats isn't good for them or you. 
Off road SPDs are the perfect pedals for gravel riding, as you can clip in on both sides (better for slower speeds) and the metal cleats can be walked on for days. 
However if you're unsure or nervous, then stick to flat pedals and old trainers. They're perfect for the mud and you're not attached if you get into trouble.
Where should I ride?
If you've got the right tyres and you're happy and comfortable, you can ride anywhere. Start small and head to your local park to ride on the grass or running tracks. Then build up from there and head into the woods.
Using route recommendations like Komoot are a great way to discover gravel cycling routes and places to ride. You can find a good gravel route near you or build one of your own.
DW gravel route database:
We have been working on a collection of London gravel routes for the last few years, and we're very proud of them. Many of these can be done in lockdown as your daily exercise, and some can be done on a road bike in dry weather. 
Check out the routes here - DW Gravel Routes
Find gravel friends
As with everything in the cycling world, gravel riding is better with friends. More and more groups and clubs are offering gravel rides these days, and riding with others will vastly improve your ability and knowledge.
Dirty Wknd gravel rides happen regularly, as well as plenty of knowledge sharing via the members app. Join the community to meet other gravel riders near you, or use the British Cycling club database to find your local group.
If you have any questions about getting started with gravel riding then drop us an email or connect on social media. We always love to hear how you're getting on so make sure to tag us in your photos (@dirtywknd).