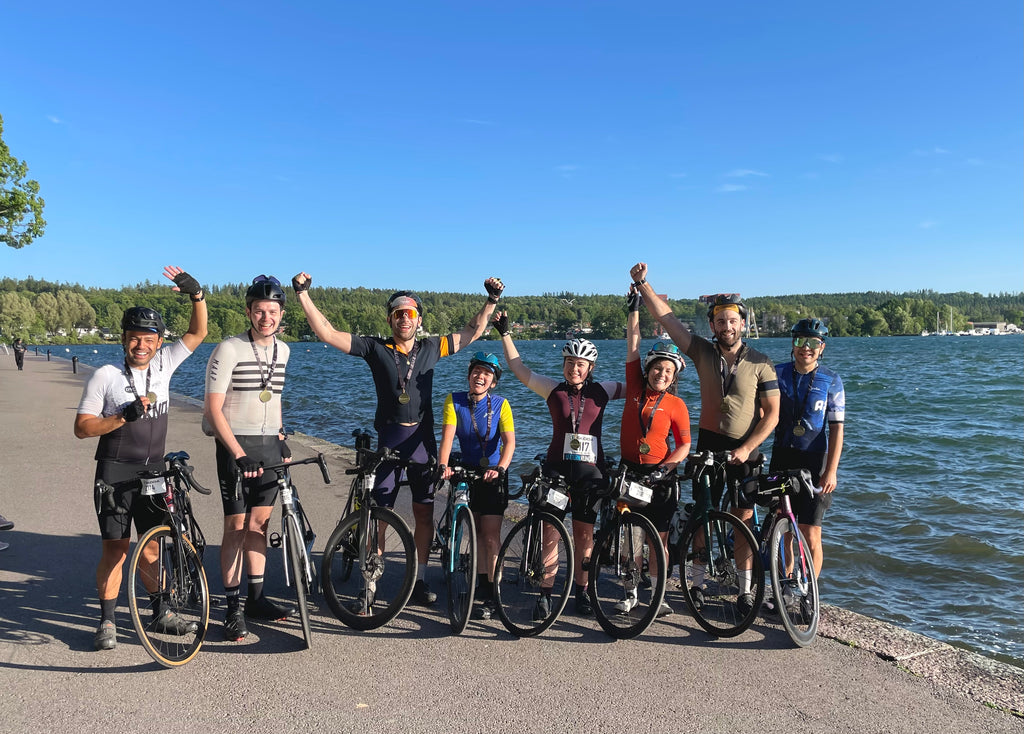 Vätternrundan is a 315km cycle around Lake Vättern starting and finishing in Motala, Sweden.
There are around 23,000 cyclists who take part making it the world's largest bike ride!
In mid June 2022, 15 of those 23k were hardy Dirty Wknders, who had flown out to Sweden to take on this epic challenge.
Below you can read their thoughts and feelings after riding 315km in a day.
Lotta Haegg:
Last year I attempted to cycle the 315km bike ride on my own, and with 215kms to go was picked up by a group of Swedes who saw me to the end.
It was an incredible day of riding and I knew I had to come back, with people I ride with regularly.
"You've got to check out these roads"... "we get fed meatballs!" I remember telling my London ride mates.
I threw the invite out and couldn't believe the response. Organising the trip was a breeze, thanks largely to such an easy going, appreciative, and enthusiastic group of people.
Once the accommodation and transport was sorted I was happy.
On the day of travel, seeing everyone load their bike boxes on the coach, I was relieved. We could truly start our cycling holiday.
I've had a tough start to the year, plagued by injury and consecutive flus, chest infections and sinusitis, so I knew the ride would be hard.
The group were great and waited at every depo if I slipped behind.
At 100kms I was ready to throw in the towel, but was stopped by the sheer joy I saw on the faces of everyone riding.
Also, Harry encouraged me enough to say, "ok, I'll go 50kms at a time." I did exactly that and rolled across the finish a very happy woman.
Highlights:
Everyone's smiling faces, and the joy I could see in their being there.
Being towed back to the group by a German who had drafted us earlier for an hour. "I take you back to your friends."
The joy of a gherkin bun. That's it, 3 gherkins wrapped in a bun. Incredible.
Simon Smith helping me build and disassemble my bike. Truly grateful.
Lowlight:
none, except my sore arse!
Lisa Okawa:
Six of us flew out a few days earlier to Stockholm to enjoy a bit of sightseeing and get in a couple of warm up rides.
It helped set the tone for me to get really excited for the big day as the roads and scenery were incredible. We had also done some fantastic carb loading with Swedish buns and meatballs.
When we arrived in Motala, we realised that the rain would be the heaviest from around 10pm – 4am. 
The thought of not being able to see sunset or sunrise, whilst being absolutely soaked for up to 8 hours, made us take the sensible decision of pushing our start time back to 4:20am.
The trio of Dmitro, Aaron and Marius decided to have a longer lie-in and start at 6am, as they were going to go at a much punchier pace.
They absolutely smashed it at almost 35km/h average but we managed to find them at each of the hot food stations because duh, everyone stops for good food!
The day itself was so special.
What it came down to was how brilliantly we all communicated; the teamwork was second to none.
It wasn't just signalling and pointing things out, but making sure that those who came off the front of our chain gang managed to find their way to the back of our group (as we frequently towed dozens of other cyclists behind us).
We let each other know which feed stations we'll regroup at where we would dine on Swedish snacks (very important) and swap highlights.
Some of the stronger riders would take very long turns at the front into the headwind, or without thought swap sides with you to block you from the crosswind.
It really made me feel so grateful to have found an incredibly inclusive and supportive cycling club, where one person's bonkers idea (thank you Lotta!) forms into an incredible memory for all of us.
For anyone reading this thinking this ride sounds ridiculous, it really was!
It was the longest ride that most of us had ever done but when you find a great cycling club like Dirty Wknd, you have so much fun.
Jay Finikin:
Vätternrundan provided all the elements of my perfect ride - beautiful scenery, smooth and fast rolling roads, great mates to ride with and exceptional feed stations!
Having such a fun and energised Dirty Wknd crew was the real highlight - we were all there for each other when the weather and distance got tough.
Team spirit got us all over the line in one piece!
There were no real negatives, the event was perfectly organised (primarily thanks to Lotta).
The expected lows of taking on such a big challenge were easily negated by our team working really well together, the amazing scenery (worthy of a second mention) and the great support from all of the locals.
Harry Taylor:
This was my first Dirty WKND trip; it certainly won't be my last. An amazing weekend and the ride was just epic!
We had it all; headwinds, cross-winds, tail-winds, torrential rain, grey skies, blue skies, gorgeous sunshine, wet roads, melting tarmac, meatballs (oh the meatballs) and lasagna.
Through it all, the group worked to stay together, each pitstop a flurry exchange of foods, electrolytes and medicine. The best of times.
Highlight: Looking back at the DW train and not being able to see where it ended.
Lowlight: Feeling my shoes start overflowing from the rain in the first 50km. I looked to the person on my left and I couldn't see who it was through the rain and spray, but they looked back and we were both smiling at the madness!
Andy Stanton:
I was pretty nervous before the ride because it was the biggest ride I'd ever done by a long way.
I didn't need to worry because we had a great team and everyone helped each other out.
I had a low point at the meatball stop after a night of no sleep, hours of rain and headwinds, but as Lotta said, I took it 50km at a time and after that it was nothing but high points.
Especially all the support from the locals at the top of the lake!
So if anyone is wondering if they can do Vätternrundan, you can definitely do it with this team


Aaron Remedios:
The team plan (Dimi, Marius and I) was to stick together and surf the groups until a fast one came past, then hop on and rotate with them until the end.
We were going for a fast average speed, but fully intended to enjoy the food stops!
Everything went to plan for the first 100km until the feed station - we found a fast group (complete with its own ride leader dressed in bright orange kit and continuously shouting instructions at us in Swedish!) and were able to chaingang with them before stopping for some delicious meatballs.
The three of us then decided to keep the pace steady and wait for another fast group to come past, however none did soooo....hammer time!
Dimi and myself traded some fast pulls in the tailwind for the next 150km until we both felt sick and had worn ourselves out; thankfully Marius, who had decided to hang back a bit, was far more sensible and was able to keep enough in reserve to drag us to the last rest stop.
Fully revived, it was full gas again all the way to the finish line. Feeling over the moon about our average speed over 320km since we were only a team of 3 for the majority!

Highlights: Fantastic roads, beautiful scenery, lasagna and meatball food stops

Honourable mentions: Dimi and Marius - thanks for the company and draft for 9 hours.
Lotta - couldn't have done any of this without your organisation and support, I think we all owe you a morning bun after the next Regent's Park laps!


Simon Smith:
Highlights were being part of a team which really helped get through the grim 100k rainy headwind.
Also experiencing a sportive in a different country; the atmosphere, friendliness and food….;)
It's a ride which would have been hard to plan yourself so doing it as a group made it a lot easier (especially with someone speaking Swedish) 🤣🤣🤣

Lottie Swindlehurst:
Favourite part of the ride was that we rode together for the majority of the ride, everyone helped each other out when needed and we all looked out for each other which made it really enjoyable.

The course was great, food stops were even better, as shown by our elapsed time (😂 ). The locals cheering on the side of the road, even in the rain, was really encouraging and motivating.

I just really love Sweden!

Laura Wilson:
Crossing the finish line with the Dirty Wknd group was one of the highlights for me, because it meant that we'd worked together and helped each other to get to the end of the ride.
Despite starting the day with rain and grueling headwinds and having to deal with various aches and pains, we'd found time to laugh, take in the gorgeous Swedish countryside and truly enjoy our day.

Nick Butler:
Highlights:
The team love - the support, the food stops, the rotations, the chats, the laughs, the strength
Two man TTs - after a nature calling catching back up to the peloton and for the final stage sprinting to the end
General Swedish craziness - glam ABBA karaoke, man dancing vigorously with speaker in hand alone on the side of the road. The most vintage bloke ever with long locks, moustache Adidas tracksuit bottoms and old school Peugeot single speed. And a mirrored army helmet!
Finding big energy - post veggie meatballs around 100km and then again post lasagne 200km. Riding my bike a really long way is actually brilliant
Performance - sprint finishes matching pro times, 70km/h downhills, tractoring massive pelotons
Lowlights:
Mental wetness bonk - finding a complete lack of energy after a 3hr15 headwind and rain and being particularly cranky about my wet feet
Melting roads through the forest - really not looking forward to cleaning my bike
Carlos Valencia:
Highlights:
Cycling with this group made me feel happy, welcomed and supported. Would do it again!
Meatballs!
The local support- from "hej hej" greeting to a man running alongside me to another person dancing everything from polka to heavy metal
Lowlights:
Mis-managing my energy in the beginning led to a massive bonk with 90km to go :(
A truly inspiring ride from everyone, thanks for sharing your post ride feelings and photos. And thanks to Lisa for collating everything.

If this sounds like your kind of thing then join the community (14 day free trial) to take on amazing cycling adventures with an awesome group or people!