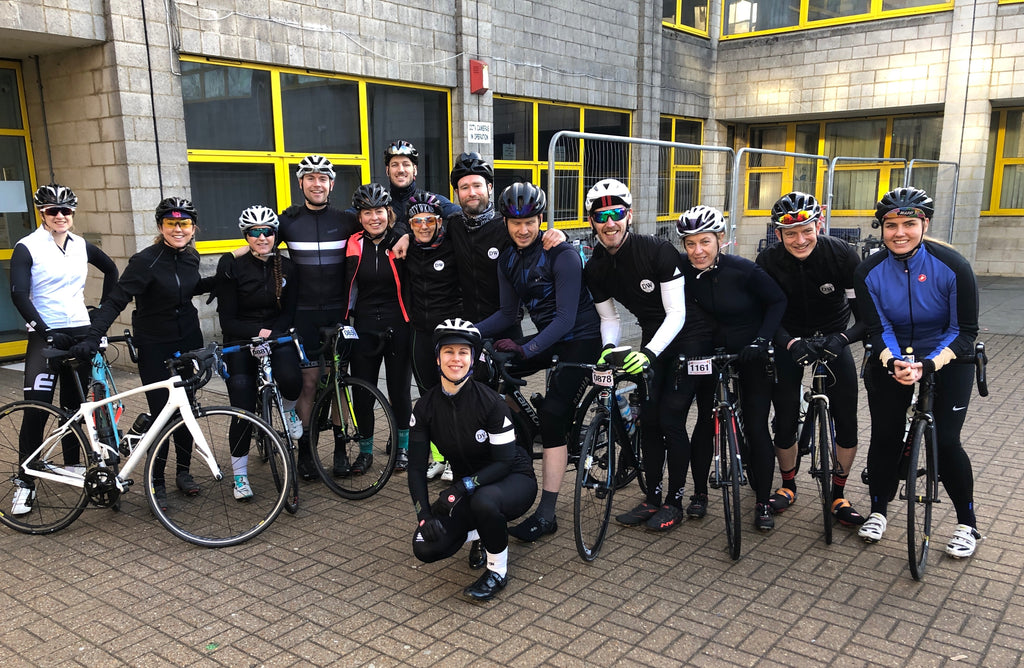 The Hell Of The Ashdown is the best early season sportive in the South East of England and it's back for 2022!
Taking on 10 tough Kent climbs, with a new start and end point at Westerham Brewery, Sunday the 27th Feb is  set to be a great day!
The event is currently sold out, but should 100% be on your list for next year if you missed out. If you're riding then check out our route breakdown below.
I have ridden the HOTA route many times, so the below musings are made up of my memories and some general Strava segment searching. You can scroll to the bottom to see my ride data from the 2019 HOTA challenge, for reference. 
And if you need some help to train for the event then we have some HOTA training rides, hill rep sessions and other events on our members app. Join the community (28 days free in Feb) and get stuck in!
The Route:
The route is very similar to previous years, but around 7km shorter due to the new start/end point. Can't see anyone complaining about that!
Click on the link above to examine the route more closely.
Start Point:
The ride starts at Westerham Brewery just outside, you guessed it, Westerham. Be warned there is no parking at the Brewery; check out these parking instructions from the organisers.
Exiting the Brewery and after a bit of nasty main road (should be fun, post new Highway Code updates!) it's straight onto the first climb (you may want to think about a warm up).
Climb #1 - Toys Hill (Chart Lane) - Strava Segment
The 'nice side' of Toys Hill! Well, it's nicer than the other, so make the most of that. Chart Lane is a pretty steady gradient of just over 5% for just under 3km.
The road is straight as an arrow with little undulation from the start. When you reach the pub on your left you've reached the top.
Be careful over the other side as the descent on the 'north face' is pretty treacherous. -18% gradients and terrible road surfaces can easily lead to accidents, especially in Feb.
Climb #2 - Markbeech - Strava Segment
The really 'fun' thing about the Hell of the Ashdown route, is that it's rarely ever flat. So as well as the 10 categorised climbs, you've got loads of rollers in between too.
Next up on the categorised list though is Markbeech, which rises up out of Hever after you pass the Castle. 4% at 1.7km is not too much to worry about, and from memory the road surface is pretty good. Get it over with and move onto the next!
Climb #3 - Cowden (Blowers Hill?) - Strava Segment?
I can't find any information on this climb, either on Strava or in the old memory bank. Any help here would be great. Blowers Hill is around 2% average, but with a max of 10%, so not nothing. 
My overriding memory of this part of the course however is that it is rolling, with some leg sapping drags, but nothing you would call a mega climb. Still, be wary, it's often those rollers that will cause you the most pain!
Climb #4 - Wych Cross (Priory Road?) - Strava Segment
No mention of Wych Cross on the Strava data either, but next up is Priory Road (I think). 
Nearly 4km long all told but with a forgiving average of 3.6%, don't underestimate this one. It's not that steep, but all the hard stuff comes at the end, and it does go on!
They're coming thick and fast now, so take your time and make sure you keep eating and drinking.
Climb #5 - Twyford Lane (Pillow Mounds Hill) - Strava Segment
Why it's called Pillow Mounds is anyone's guess, answers on a postcard please, it's far from nice and soft. 6+% avg for 1.7km will register, believe you me!
You're deep into the Ashdown Forest now and, if the weather isn't being nice, then this section will be very tough. If it's even a bit wet then you'll have zero grip here, so stay seated and get into a nice gear.
Be careful also, because just before the climb is Twyford Ford, so even if it's not wet you'll still struggle for grip. Fun, right?
Climb #6 - Kidds Hill (The Wall) - Strava Segment
The big one. The main event. The Wall! The only official top 100 climb on the route, Kidds Hill is truly hard. 
8.5% for a KM and a half, but it feels a lot more than that. It starts off gently getting steeper as you go, but the really savage thing about The Wall (TM) is that you can see it laid out before you the whole time. The road is dead straight, and just rises and rises in front of you. Kind of, you know... like a wall.
If memory serves, then the first feed stop is also just before the climb, on Colemen's Hatch Rd (exactly 50km). So not only is it a doubly hard climb, you're also dealing with cafe legs.
It's been over 3 years since I've ridden up Kidds Hill, but I'm doing a little shiver just thinking about it!
Climb #7 - Col de Groombridge - Strava Segment
Legs well and truly ripped off, you do now get the benefit of quite a nice descent from Kidds and a bit of undulation before the next climb.
Mercifully, Groombridge is one of the easier climbs on the route. I even think the 6.8% average on Strava is a bit generous, but it's a climb nonetheless. 
The good news is that you've turned the corner and are heading north back towards civilization - nearly 70km down and just 30 to do. Start dreaming about that beer!
Climb #8 - Hobbs Hill (Top Hill?) - Strava Segment
Another lump on the way back to Westerham, you swing right onto Top Hill and start climbing right away. 
It's actually one of the most beautiful climbs on the route (not that you'll appreciate it at this point) but try and look around as the view/hill is great. 
It's short (0.6km) but steadily steep (8.5% average) so it's not easy, but with just 2 more to go after this one you're nearly home! Your second wind should be coming in momentarily!
Climb #9 - Hubbards Hill - Strava Segment
Hubbards Hill really is, and pardon my french, a total shit. There's no other word for it, at this point in the route, it's really savage. 
Not only is it a tough climb, it's also not a very nice road. Crossing above the motorway, after many hours of climbing, this is where you'll be questioning your life choices (if you haven't done so several times already).
But just keep reminding yourself you're nearly finished. Nearly there. The segment above also belies the whole climb, as it starts a few KM before you really start going uphill.
Rising up a few % at a time, the bulk of the climbing is back loaded, but it's another dead straight road, so you can see the whole climb. For me these are the worst climbs, and I'm begging for a corner or something of interest at this point. 
But as you cross above the motorway, remind yourself that you could be sitting in a car on the M25, so even crawling up hill is better than that!
Possibly a bit sadistically (thanks organisers) the second feed stop falls just before you start climbing Hubbards. 
Climb #10 - Brasted Hill - Strava Segment
The final test, and boy is it a test. Probably the second hardest climb on the route, especially falling as it does right at the end.
But mental strength will play a part here - just get over Brasted (like everyone else, you'll be calling it something else on the day) and you're home and dry.
The organisers have switched from Hogtrough to Brasted Hill for 2022, something you certainly won't thank them for. But in reality by this point in the day it's much of a muchness. You can do it. Just one left!
You'll swing right onto Brasted from Pilgrims Way, and you'll be able to see most of the climb in front of you. There's a bit of flat(ish) road to get into the right gear, but then it starts going up. And up...
The section you'll be riding is about 700 metres long, but at an average of 10%. There's no getting away from it, it is steep. You'll really need to dig in. 
Most of the climb is straight until the very end where it bends right and then left again. This is pretty much the steepest part. You'll go into the trees, and it might seem unending, but believe me you're so near the top.
Once you make the left bend, it's just one final push and you'll crest the top. It flattens out very quickly, as most steep climbs do. And you've done it - start thinking about that beer! 
However please take care on the way down Hogtrough Hill. It's a lovely dowward sloping route, that suddenly drops off a cliff at -16%, with a hidden junction at the bottom.

Take it easy on the steep section - a trip to A&E is not how you want to celebrate completing the Hell of The Ashdown route!
The Finish:
Once you've conquered Brasted and navigated the descent back to Pilgrims Way,  you've just got to roll back to the Brewery for a well deserved beer!
Congratulations, you've completed the Hell of the Ashdown!
Good luck on the ride - enjoy some of the best roads and climbs in the south and what is a really excellent sportive. 
Remember if you want some help training for the event or just to meet some like minded cyclists who are also riding then come and join the community. 
And if you want to check out my ride data from the 2019 edition then you can do so below:
Please tell us your favourite bits of the route or ask us any HOTA questions in the comments below, or get in touch via social media (@dirtywknd) or by email.