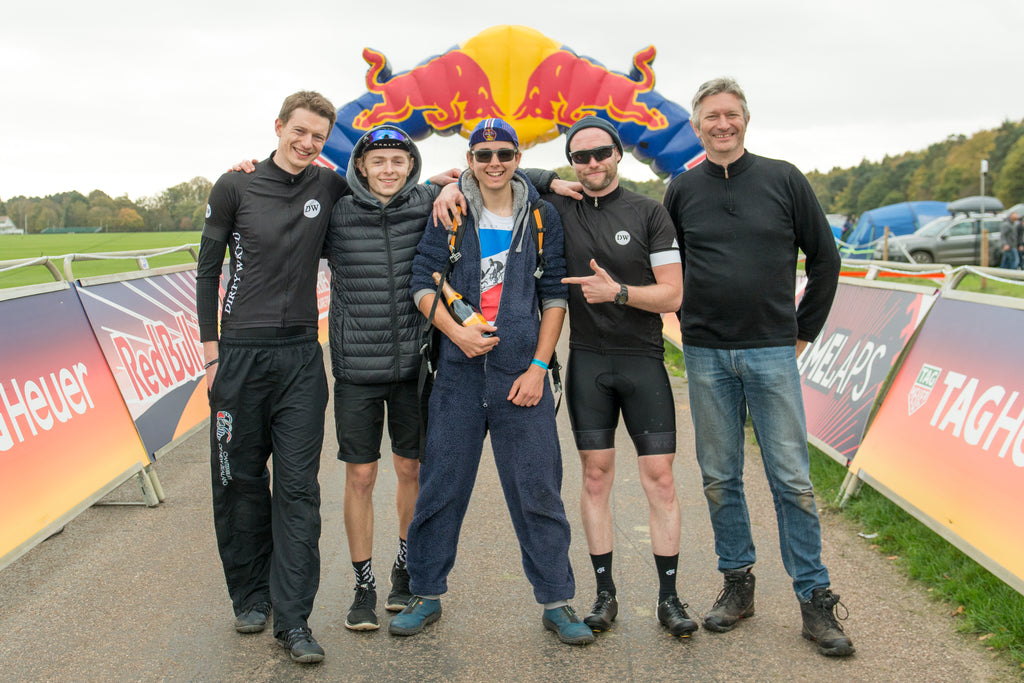 Have you ever ridden your bike for 25 hours? Have you even ever thought about it? No, of course you haven't, because that would be madness, right?
Well how about getting into a team of four mates and splitting up the hours equally between you? Starting to sound a bit better right?
Now throw in an awesome course, loads of cool brands and some of the best cyclists in the country and you've got yourself a pretty sweet party.
You've got Red Bull Time Laps!
When the race was announced a few months ago a team was signed up immediately - this Dirty Wknd had our name written all over it.
The chance to ride as fast as you can with your mates on closed roads over a whole weekend? The fact that the race was being held in Windsor Great Park, setting for so many great club rides, was more than enough motivation.
This was our backyard and we were damn sure going to go out there and give it our best!
Knowing that there would be so many teams of other friends taking part (Queen of the Mountains, Threo, Not In the Peloton et al) made it even more special.
The Team:
Putting a team together for an event like this is easy when you have an awesome group of men and women to call on, but the 3 guys that joined David on the team were stand outs from the start.
We would've loved to had a ladies or mixed team this year but sadly it didn't happen in the end. Next year for definite.
A team of David 'player/manager" Bavin, Fraser "Mr 4AM" Duff, Jake "MVP" Neale and Patrick "Fastest Lap" Deoutil was a pretty strong one and they set out to do their very best.
The podium was a distant dream, but in a 25 hour race, anything can happen. Shoot for the moon, as they say.
Pre Race:
Training for this type of endurance event is tough, bar riding your bike lots. You could set an alarm for 3am, get up and do an hour on your bike before waiting around for three hours and then do another hour, but who is going to do that?!
Unless you race regularly the best thing you can do is ride in a group regularly and do as many high tempo efforts as you can. Good job we've all been doing that for a long time then!
Getting to Windsor for 8:30am is much easier than your average sportive or race, but the team staying at Patrick's the night before the race was a god send.
The plan was to strategise the hell out of the race over pasta and water, but what actually happened was Patrick cleaning his bike at 10pm, David eating chips and drinking beer and comparing rim depth with Jake. Pro preparation indeed!
Packing for an event like this is tough as the 'what if X happens' mentality sets in, and generally you bring way too much stuff. The set however up was pretty on point; two tents, a few sleeping bags and a set of 90mm deep section rims - what more do you need?
To the guys spotted carrying an actual sofa into the pits - mega kudos!
The Race (12PM - 1AM):
The format is pretty simple - the team that completes the most laps wins. There are categories (men, women, mixed and under 25) but all 150 riders are on the track at the same time.
600 cyclists in total on a 7km circuit, with the added bonus of an extra 'power hour' when the clocks go back at 1AM. After gazebo building and more wheel depth measuring (there was actually a pretty solid race briefing and sighting lap - because safety), the first rider in the team lined up at 12pm for the start.
As team captain (and because it was his ball), David put himself into the field first and set off to complete lap one.
It was exactly 15 seconds after crossing the start line that he realised this was no casual sportive. The average speed jumped up to over 40kmph and didn't come down at all.
The front group raced off - this contained the race favourites (the big boys), so David magnanimously let it go and tried to hang onto group two.
This was a race and no mistake. 
Just as the riders started to settle down on lap 3 they were pulled over to the side with a red flag.
Unfortunately a few riders had forgotten it was a 25 hour race, not a 25 lap race, got a bit carried away and came together on the most technical part of the track.
This led to a two hour wait whilst the officials dealt with the crash and made sure the track was safe. Whist it was annoying to have to wait, everyone knew that safety had to come first.
As for David, he was just glad of the breather and hoped the accident would slow the pace down a bit. Spoiler alert: it didn't!
The normal course (i.e. not the power hour course) was pretty much perfect for this type of event.
Long enough and with enough undulation to keep every lap interesting, but not so long that you're out on each lap for two long. 10-11 minute laps for the big boys and around 11-12 mins for team DW. The strategy was a simple 1 hour rotation.
This basically meant 5 laps each session, with a few minutes for a triathlon style transition; running into the pits to swap over an arm band.
Occasionally the rider on course signalled that they were feeling great and would stay out. This usually meant they had got into a good group and were working really well.
A few times they even found themselves in the front group with the big boys and, despite screaming thighs, wild horses wouldn't have pulled them off the track!
The team rotated on and off the track seamlessly with absolutely no faff. Faff is the killer in this sort of race (just ask Team Threo, who executed absolutely zero faff and came 7th!)
One hundred times over our super soigneur Ian proved himself invaluable, but it was in the cutting out of faff on change over that he really proved his worth.
That and an unbelievably cheery nature and constant encouragement really pulled the team through. When Ian selfishly went to bed for a few hours, having driven down from Birmingham at 4AM, the morale really dropped!
Top tip for next year - get a soigneur. Thanks for everything Ian. 
As the race progressed through the afternoon and the sun began to go down the morale of the pits changed. That's not to say it dropped; it just got more determined.
The prospect of continuing to lap throughout the night was beginning to set in and everyone was steeling themselves to the challenge.
Thoughts in camp Dirty Wknd turned to sleep schedules and fuelling. David wrestled with the serious first world problem of removing his 90mm rims in the face of an ever increasing wind.
What was more important - looking cool or possibly being blown into Windsor?
It was a tough decision but common sense won out - 90mm on the back and 38mm on the front. Didn't look as cool, but some sacrifices have to be made in a 25 hour bike race.
Power Hour (1AM - 2AM)
At 1:59 AM the clocks went back, giving 99.99 of the population an extra hour in bed. It also gave 1/4 of the Red Bull Time Laps population the chance for an extra hour at glory.
This was to be the defining moment of the race - the Power Hour.
At exactly 2AM the Power Hour course opened and the chosen rider (self chosen in team DW's case) took to the course to try their best to set as many laps as possible.
Power Hour laps counted for double and were therefore extra valuable. An extra hour in bed or one hour full gas in the dark? Which you pick says a lot about your outlook on life, and possibly your mental state!
The team planned the power hour well, with Fraser coming in a few minutes early to ensure David got to the start of the power hour course at exactly 1AM.
Too early and he would have to go around the normal course again, taking 12 minutes out of the hour. Arrive too late and it eats into the power hour.
Only laps completed by 2AM counted so timing was crucial. Things were looking good as David hit the start of the course at exactly 1AM and surfed the wheel of 'Not In the Peloton's' Sam Hodges in the front group. T
he trick to bike racing is knowing what wheel to follow, and Sam's was a great wheel to follow. Sadly David lost his mind and did a big turn on the front (never a good idea).
Unable to recover quickly enough the group got away and David was consigned to two solo laps hard labour as punishment. 
Thankfully on lap 4 another good group came along and David was able to join in the rotation and pick up some speed. The pace was already high but, crossing the finish line on the 7th lap, it was clear the group had 7 minutes to squeeze one more lap in.
David made this clear in fairly colourful language, and the pace increased.
Full, breakaway rotations started as they tried to make it into the elite group of teams who rode 8 laps in the power hour.
For 'player/manager' team captain David it was as much about ensuring that putting himself into the most important session of the day wasn't a massive mistake!
Either way, the group began to splinter until it was just David and one other guy left. They worked together until the final climb when David broke away for glory.
The heartbreak of crossing the line at 02:00:12, making the entire lap redundant, was extremely tough to bear. However with 10 hours to go David had to tuck his bottom lip in and get on with the task at hand!
The Race (2AM - 12PM)
Post Power Hour Patrick took over and started smashing into a 90 minute stint, being relieved by Jake and then Fraser who both did the same effort.
It was here, and not in the Power Hour, that our awesome finishing position was actually acheived.
The boys putting in some incredible laps in the graveyard shift was the slim difference that separated us from the teams behind. Player/manager David leading from the front as usual - asleep in the Red Bull tent!
A sunrise shift for David in the only rain shower of the weekend quickly reintroduced him to the race and allowed the others to get some much needed shut eye.
It would be nice to say that our tents were well used, however most of the riders soon worked out that the Red Bull hospitality tent had sofas, bean bags and a couple of massive heaters.
It became a kind of halfway house for knackered cyclists, drifting in and out to grab an hours kip and to warm up.
Maybe not what Red Bull had in mind originally but it was glorious. 
With the sun up and the rain down the mood in the pits lifted rapidly. At 7am the race was 20 hours in with just 5 to go, and a kind of euphoric sense purpose seemed to hit the team.
A bit like when you're too old to be out all night, but you've done it anyway, and as the sun comes up and you suddenly feel a bit cool.
Experience is telling you that it's really going to hurt in a few hours, but you push that feeling aside because you're doing something awesome. Yeah, that feeling! 
Lap after lap continued on and in a strange way it kind of got easier. Legs still screaming, but mentally you knew the end was getting nearer.
Two more laps. One more lap!
With Pat, Jake and Fraser all having done their final stints, it was down to David to complete the last 70 minutes. Six laps were needed to secure 16th place overall and 12th out of the men.
It was absolutely gospel in the pits now that riding on your own was brutal, so David thought his luck was in as he pulled onto the track right behind two of the big boys.
Like a fly around horses, they were blissfully unaware he was there as he tucked in behind their beautiful slip stream. Sadly this lasted for roughly half a lap, before the horses bolted, and David was on his own again.
In the depths of a solo effort, the gods of endurance cycling took pity on our David and brought one of the 'Moor To Shore' guys onto the track right in front of his wheel.
The two had been working together the day before, and all it took was a quick nod to fall back into step.
Taking 30 second turns on the front each, the two men helped each other around the final 2 laps, both coming in before 12pm and ensuring that all the laps from that session counted.
A quick handshake in the pits and a mutual nod was all that was needed. Each owed the other a huge debt of gratitude; six laps acheived - job done.
Post Race
We had done it! Not only had we survived the longest night of our lives, but we'd finished in a really strong 16th out of 130 odd teams and we'd loved every second of it.
There were massive smiles and bleary eyes on the faces of every rider as they celebrated with their teams and supporters.
Another plus of the race being in Windsor meant so many friends and supporters could ride over and watch and support, and it really was a huge boost hearing people cheering your name from the sides.
Thanks for coming along everyone!
Watching the big boys and girls take to the podium to receive their frankly awesome trophies (motivation for next year) and spray their champagne was a pretty cool feeling.
They'd beaten us hands down, but you could tell there was a real sense of achievement in the other teams watching the presentation.
Maybe it was because they were just glad it was over, but the lack of sleep, the working together in the dark and the simple act of saying 'well done, keep it up' as you passed other riders.
It felt like we'd shared something more than just the same piece of track for 25 hours.
The winning teams had ridden the most number of laps, but they'd still put themselves through the same 25 hour kicking as everyone else. It was a team effort, and we all felt like we had won.
And that really is the biggest take away from the inaugural Red Bull Time Laps event. I'd love to say something pithy to sign off with, but I just can't.
The overwhelming sense of community that surrounds the cycling scene was at its brilliant best this weekend.
That doesn't mean we all sat around holding hands all weekend, but along with the teamwork shown on track, the 'banter' (for want of a better word), equipment and food sharing and general care shown to each other was pretty special.
Even if it was just someone saying "good luck" as you ran past to start your next session - they knew what you were going out there to do, and you could tell they meant it.
Chapeau, bike racers - until next year!
PC: @photogiro + @Cyclist_Mag