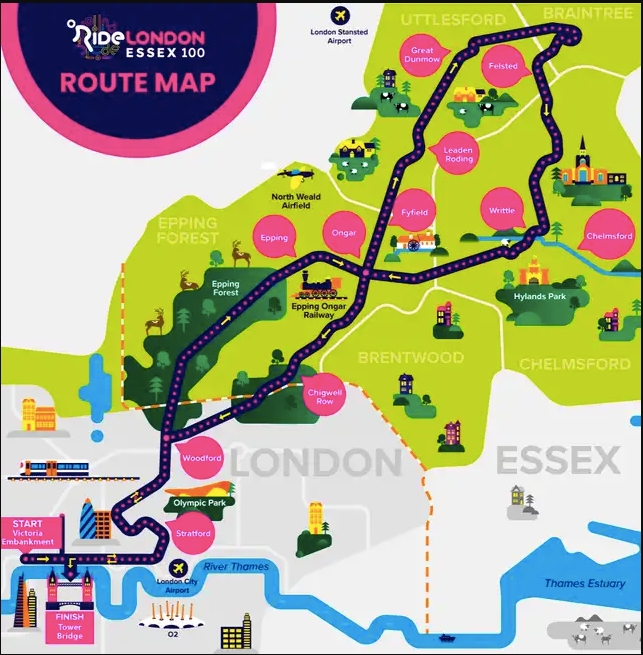 Once in Essex, riders will glide past some of the county's most picturesque towns and villages, including Ongar, Fyfield, the Rodings and Great Dunmow, before joining a section of the 2014 Stage Three Tour de France route
Gone is the Olympic Park start; no more Newlands Corner. Bye bye Box Hill; the Ride London masses will not only return to the capital from an entirely different direction in 2022, but they'll finish in front of an entirely different landmark too.
The 2022 Ride London 100 route is out, and it is about as different from the 'old' Surrey version of 2013-19 fame as it can get (whilst still being in/near London).
The new route starts at the River and heads out east through the Docklands and Stratford (the only bit that's included from the old route), before catching the Epping New Road express way into Essex.
Returning via the same way, for a big photo finish in front of Tower Bridge. Loads to pick over, but let's break the route down into segments and see what's coming up.
You can also read out 'How to Train for Ride London' blog to help you get ready for the big day. 
The Ride London 2022 Route: 
0 - 30km
The Grand Depart of the 2020 Ride London will take place on the Victoria Embankment, just below Aldwych. Quite where they're going to place 25,000 cyclists outside the tube stop is not yet clear!
The old start at the Olympic Park seemed perfect for a mass participation start, so it's a wonder they've moved it. But moved it they have, and it will be pretty cool rolling out along the river in a huge peloton
The roads are very flat, so will serve as a good warm up before the real action begins. You'll wind out past the Tower of London and Canary Wharf, before turning north to Stratford. 
This is the only bit of the route that is the same as the Surrey route, so many will have ridden these roads before.
The big wide roads should give you nothing to worry about, but the groups will be big so practise riding in groups will be very beneficial. 
30 - 60km
From Stratford you'll wind through Hackney Wick onto the Essex express way - Epping New Road. All East end cyclists know it well as the quickest way out of town.
It will be nice to ride this road without a load of Vauxhall Corsas and vans speeding past!
Looking at the elevation profile, it looks like this is quite a big climb but this is a bit misleading. Epping New Road is a gradual gradient, which looks like a big berg on the map due to the river being basically at sea level. It's not that hard.
That's not to say it's not tough, the road is very sticky and feels a lot harder than it should. It'll be very important to stay in as big a group here, and suck wheels all the way out to the M25.
Once you cross the Orbital you'll ride through lovely villages like Epping and Fyfield on rolling roads. It's never flat, but there are no major peaks or climbs. 
60km - 90km
Through 'the Rodings' you'll encounter some very straight roads where the speed should be incredibly high if you're in a big group. It'll be interesting to see what the wind is doing here on the day, but it could easily be a cross tail wind. 
Trying to hide in a group will be vital here, and if you can do that you should be able to eat up valuable KMs until you get to Great Dunmow. 
These roads were used in the 2014 Grand Depart as the pro peloton made its way towards London. From Dunmow you'll head due east (hopefully with a tailwind) to the midway point. 
Either side of Great Dunmow there are a couple of ramps that do a very good job of looking like hills, so keep an eye out for them. The first is climbing out of Dunmow and the second comes just after that (75 and 77km roughly).
There are no details about feed stops yet, but it's likely that the first main feed stop will be around here. 
After the 80km mark, you'll head south again heading towards Little Waltham and another clump of lovely Essex villages. 
90-120km
From the Walthams you'll skirt around Chelmsford, and then start heading west again towards London. This is the Ongar/Chelmsford road and it might be the most difficult bit of the ride.
There is a steady uphill gradient leading to a peak at Norton Heath, which may very well coincide with a nice head wind.
It'll be vital to be in a group all the way to Chipping Ongar, or it's going to feel very lonely on your own.
Assume there will be a feed station at Chipping Ongar around 120km as well, as it's where the route crosses over. Either way the crowds should be really big here, and will give you a big boost for the final 40km!
120km - Finish (160km)
Heading South West now you're on the final stretch, but again be warned you may be riding into a head wind. You're nearly finished, but this could be a really tough stretch.
If you're a London cyclist you're back on very familiar ground now as you come back into Chigwell and Hainault.
There are a few more peaks on the elevation profile to deal with before you join back up at the bottom of Epping New Road.
Once you join back up with the route that you took on the way out, the hard stuff is over, and you've just got to retrace your tyre tracks back to Tower Bridge.
There is a lovely downward trajectory on the elevation profile, just what you want with 90 miles in your legs. Enjoy the ride back into town and finishing under Tower Bridge, a well ridden imperial century! 
How does the route compare?
Certainly less of a challenge than the 'old' Surrey Ride London route, this new Essex loop is a bit more accessible and should be a bit less scary from the outset.
There are no big climbs like Leith or Box Hill, which some will miss. But that does also mean that there should be fewer bottlenecks and hold ups further down the field. 
On the old route, if you didn't start before 7am then you were almost guaranteed to get stuck at some point. Looking at this route that shouldn't happen anywhere, allowing for a more clear run no matter when you start or at what speed you ride.  
It will still be a tough day out, as any 100 mile ride should be. The wind may also play more of a part on the Essex flat lands, so don't count that out. 
It should be a grand day out!
The Final KM
It's unclear as yet where the post ride event village will be - it's not like they have a Green Park by Tower Bridge, but once we know we'll post details of the Dirty Wknd post ride picnic, just like in previous years. 
Wherever it takes place (either in a pop up event village or at a local pub), we'll be congregating to celebrate smashing the ride with club mates, and we'd love to you to join us. 
If you're signed up to the 2022 Ride London then check out our Ride London Training Zone on our members app and meet/chat with other participants. 
There is no better place to train for Ride London and get ready for the big day!
Let us know which bits of the route you're looking forward to on social media (@dirtywknd) or get in touch if you've got any questions about the route or ride. 
Banner image courtesy of Ride London