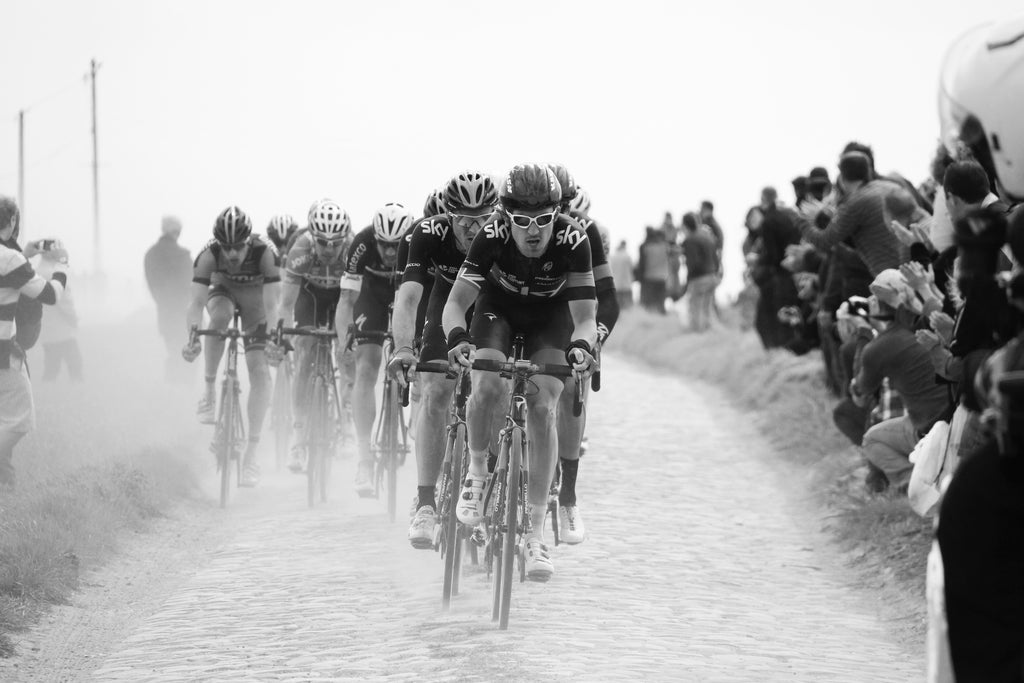 Can you feel it in the air? The snow has melted, the wind slightly less biting. The sun is rising before 8am. It's definitely getting warmer, and that can mean only one thing - the coming of the Classics season. 
Venerated above (almost) all other bike races, especially in Northern Europe, the Classics are a couple of months of pure pleasure for bike fans. It really is the best time of the year!
From the opening race of Omloop Het Niewsblad (this weekend FYI), through the first Monument (see below) to the crescendo of 'Holy Week', the cycling world goes gaga for mud, dust, dirt, cobbles, impossibly steep climbs and more impossibly strong beer.
But why? What are 'The Classics' exactly, and why are they such a big deal? Read on for our beginner's guide to the Classics, and bask in the next 2 months of cycling bliss, dropping Classics wisdom on your next group ride.

Ok. So what are 'The Classics'?
In a nutshell, the Classics, or sometimes Spring Classics, are a collection of one day bike races that take place in Northern Europe (mostly Belgium) between late Feb and the end of April. 
They are also hard. Very hard. Usually well over 250km for the men and 130km for the women, and always including savage cobbles/climbs/dirt/more climbs/more cobbles (delete as appropriate, but the best ones contain all of the above).
They are also one day races, meaning the only thing that counts is what happens between the start flag to the finish line on that day. There is no prize for consistency, just for where you cross the line at the end of the day.
This means the racing is always incredibly exciting. Anyone can win, and most riders actually put their lives on the line to try and do so.
There is no tomorrow for these men and women, so it's usually the best out and out racing of the season. Not 20 days of mostly boring riding, at the end of which someone from Team Sky wins.
So are all one day bike races Classics then?
Yes. No. Maybe. Hang on... There's a huge amount of debate about what is and isn't a Classics race. There are cobbled Classics, Ardennes Classics, Semi-Classics, there are summer Classics, Autumn Classics - it's all very complicated.
How you define a Classic is up to you, but it's generally safe to call a one day race between Feb and April a Classic. And il Lombardia. After that you're on your own...
How did they start?
As with most things in cycling, they were created to sell newspapers.
To add to the prestige, many had the good sense to be created in the 19th Century, making them even more awesome.
Most have only ever been postponed because of a couple of inconvenient wars taking place near the route. Well, wars and now a certain virus we all know so well.
These races are the epitome of 'cycling legend' and make people who are into such things go all misty eyed. From the first winner in Liege in 1892 (Léon Houa) to today, the Classics have grown and grown in size, scope and popularity.
Cobbles Vs Ardennes Classics
Most of the Classics, especially those in Belgium and The Netherlands are split into roughly two groups - Cobbled Classics & Ardennes Classics.
The difference, apart from geographically of course, is the presence of cobbles. The Flemish races mostly have lots and lots of cobbles, the Ardennes races remove the cobbles and replace them with extra climbs. 
Which you think are harder says a lot about your outlook on life.  

The Monuments
The safest bet is to focus on the five monuments. These are the oldest, the biggest and the most lauded of all cycling races, and to many (me) they are more important than all the Grand Tours put together. 
They are the very definition of classic, and if you only pay attention to some of the racing this spring, let it be the Monuments:
Milan-San Remo - 298km, 19th March 2022
A beautiful ride along the northern Italian coastline. It is the longest Monument, and arguably the most boring. MSR Only really gets going in the last 30km as the riders hit the Cipressa & Poggio. In fairness, it's always a good finish.
Pros: Good/tense finish, lots of lovely Italian coastal scenery. Cons: Pretty mundane for 95% of the race, no women's equivalent anymore.
2021 Winner: Jasper Stuyven (Trek-Segafredo). No women's race - boooo!
2022 Prediction: Caleb Ewan (Lotto Soudal) The mini Aussie rocket is flying so will easily make it over the Poggio with the group. If it's a bunch sprint, he's practically nailed on. 
Tour of Flanders - 260km/158km, 3rd April 2021
The pinnacle of the spring season, in my honest opinion. It brings Belgium to a standstill.  The perfect mix of cobbles, climbs and everything in between. You have to be a complete rider to win de Ronde.
New for 2022, the women's prize purse is also the same size as the men's (€50k) with the winner of each getting €20k. The women's race is also longer, harder and more cobbley (going up the Koppenberg for the first time). Bravo, Flanders!
Pros: The epitome of the Classics, has a women's equivalent race, circuits of the best climbs/sections to build tension. Cons: There aren't any.
2021 Winners: Kasper Asgreen (Quick-step Alpha Vinyl) for the men, Annemiek van Vleuten (Movistar)
2022 Prediction: Wout van Aert (Jumbo Visma) for the men. Belgium expects... and Elisa Longo Borghini (Trek-Segafredo) for the women.



Paris Roubaix - 260km/116km, 16th/17th April 2022
La Reine, Hell of the North...nothing is held on as high a pedestal as Roubiax.
Win a cobblestone (the prize trophy) and you'll never have to buy another beer again. One week after Flanders, the only French Classic, but it's a biggie.
For many THE Classic race of the year, and the hardest thing you can do on a bicycle. 
Pros: It does look 'quite' hard, there's always an element of luck, weather plays a huge part, famous finish in Roubaix velodrome is always cool - whether a small sprint of battered warriors, or a solo victory lap for one heroic escapee.
And now, finally, there is a women's Roubaix. Cons: Again, nothing to mention now the women's race is set to start. Maybe... it's not Flanders??
2021 Winners: Sonny Colbrelli (Bahrain Victorious)for the men, the wonderful Lizzie Deignan (Trek-Segafredo) as the first female Roubaix winner. What a ride!
2022 Prediction: Wout van Aert (Jumbo Visma) for the men. He can do it. Lizzie again for the women. Maybe not an 80km attack, but a small group sprint. 

Liege Bastogne Liege - 260km/135km, 24th April 2021
La Doyenne (The Old Lady). The OG Classic - nearly as long as MSR but with 4000+ metres of climbing (yes, you read that right).
That's a hell of a lot of up for a 'flat' little country like Belgium. The final Ardennes Classic and the culmination of the Spring Classics (for some). 
Just look at this route, and the way the climbs fall. The women's route is similarly hard, just a bit shorter. It's insane!
Pros: Seriously tough climbs, one after another. Not cobbled, but that allows more 'pure' climbers to shine. Has a women's equivalent. Cons: No cobbles? Nah, it's pretty great. 
2021 Winners: Tadej Pogačar (UAE Emerites) for the men and Demi Vollering (SD Worx) for the women
2022 Prediction: Julian Alaphilippe for the men (he's got beef) and Kasia Niewiadoma for the women. So close for so long, 2022 can be her year!
Il Lombardia - 255km, 9th Oct 2021
The Race of the Falling Leaves is the only Monument not held in Spring.
Italy's second Monument, this race closes the season for many. Beautiful climbs and scenery around Lake Como; it's definitely the prettiest race. 
Pros: Simply stunning, but also savage. End of the season so any good climber who hasn't won anything yet is going to go hell for leather. Did I mention it's pretty? Cons: No women's race (C'mon Italy!!), cars all over the course (C'mon Italy!!)
2021 Winners: Tadej Pogačar (UAE Emerites) for the men, no women's race - booooooo!
2022 Prediction: It's so far away, check back in Sept. Ah sod it... Nibali! The Shark is going to roll back the years. Probably.
Special Mention: Strade Bianche 
Too 'new' to be considered a monument, the white roads classic is a seriously special race. 60km of gravel sections and that uphill finish in Siena's illustrious Piazza del Campo. 
It also has a women's equivalent, so if it was up to me I would replace MSR with Strade Bianche. I really would.
Alright, maybe just make it the 6th Monument, but if there can be only five...
Is that all The Classics then?
Oh no... there are many, many more and they're all wonderful. Some are on a Tuesday or a Friday, because who cares about work during the Classics season. E3, Amstel Gold Race, La Flèche Wallonne... all are worth your time. 
It's true that many are just different variations of the same roads and hills, but who cares.
Just like in 1892, watching the best of the best from the men's and women's peloton batter themselves over hellish terrain for our entertainment is as close as we'll get to gladiatorial Rome.  
Are there Women's Classics? 
Talking about equality in cycling is difficult, mostly because there isn't any. There is such a long way to go to make women's pro racing equal to men's it is laughable, but it is a small consolation that there are women's Classics races. 
Mostly held on shortened versions on the same courses on the same day, the women's Classics show that female pro racers can not only handle the same courses as the men, but put on just as good a show. 
There are some Classics that still don't have women's races and that needs to addressed (are you listening Milan Sanremo/Il Lombardia).
However supporting the women's classics that do exist by watching the TV coverage, interacting on social media and, if you're lucky enough to, travelling to the races to see if live, is vital to growing and improving these women's races. 
Is there a women's Paris Roubaix?
You betcha! And what a race the first ever women's Paris Roubaix turned out to be! 2021 saw Brit Lizzie Deignan saunter off the front in horrible conditions to finish off an 80km break! 
No doubt the 2022 women's Paris Roubaix will be just as explosive. You can watch the action on Eurosport or GCN Plus - see below for details
The fact that organisers now admit that women are in fact tough enough to take on the 'toughest race in the world' is a great sign.
Let's hope that other race organisers, possibly French ones, take note of the popularity of the women's Paris Roubaix.
What about the weather
The external factor that always plays a part in some or all of the races, is the good old Northern European weather. 
Post storm(s) Eunice, Franklin, Bob and Sandra, the weather is Northern Europe, ahead of Omloop and KBK, looks surprisingly good.
Normally this would get a big booooo from me, but I'm actually riding the Omloop sportive on Sunday, so fingers very much crossed for a nice sunny and wind free day!
My point is, in a totally masochistic way, we all hope that the weather is going to be bad for the Classics. 
Because stupidly long races on awful roads aren't hard enough, we want our heroes to have to battle 50kph winds, icy sleet and, if at all possible, so snow too.  
Also speculating (every year) on whether Roubaix is going to be wet is half the fun. Wet Roubaix in 2021 means that it won't happen again for about another 20 years, but we can dream!
Glossary of Terms:
Pavé - cobbles, but if you want to sound fancy.
Hellingen - the range of spiky, mostly cobbled hills in Flanders (also known as the Flemish Ardennes)
The Ardennes - the actual Ardennes. The lush green hilly area in Wallonia (southern Belgium) home to the longer, paved climbs that make up some of the Ardennes Classics.
Belgian toothpaste - mud, spit, blood, vomit (other) on your face during a ride
Puncheur - a Classics specialist: a rider who can sprint, climb and is as tough as 10 year old SPD cleats.  
Muur/Mur - Flemish/French for wall. Like the Muur van Geraardsbergen or the Mur de Huy. Very unpleasant climbs that appear on many of the best races.
'Berg - hill, but it sounds cooler. Like Koppenberg, Paterburg etc etc.
How can I watch The Classics
If you're in the UK then the best options (and coverage) of the racing will be on Eurosport/GCN. They are both owned by Discovery+ now, so the coverage is the same on both. 
If you just want cycling content and loads of extra videos, get a GCN subscription. If you like other weird sports and motor racing, then Eurosport is a great option. 
Subscription is about £30 for the year, which is a steal for endless hours of bike racing. If you don't want to pay, then direct your VPN to Belgium and go to Sporza.be
Dutch commentary makes it more atmospheric!
Further reading/watching
Anyone who wants to learn more about the Classics, you've got so much great material ahead of you.
From beautiful hardback books that adorn your coffee table to free Youtube films and races to watch, there really is a lot to get through. Lucky you.
A Sunday in Hell (film, above) - The best cycling film you will ever find, focusing on the 1976 Paris Roubaix. For many still the golden era of cycling.
A Sunday In Hell (book) - William Fotherington at his best, describing the race, film and background of the above 1976 Paris Roubaix.
Rapha's 'Pick of the Classics'. Some of Rapha's favourite Classics races through the years, including links to watch each race on Youtube.
1991 Motorola Classics Team. A look behind the scenes of the '91 Classics season from the viewpoint of one of the big teams.
The Ronde - Inside The World's Toughest Bike Race. Everything you need to know about the best race on earth.
The Spring Classics: Cycling's Greatest One Day Races. All the best stories from all the best races, all in one place. Lovely photographs too.
De Ronde 100 - Behind The Scenes. A great film from behind the scenes of the 100th Ronde (2016). The view from the media tent, team car and more. There are also films for De Ronde 101, 102, 103... so much Ronde! 

That's it. Before anyone starts shouting about the races I've missed, or how Milan Sanremo is actually a great race, I am fully aware that I've missed loads out.
This is an intro to The Classics for new fans and riders, feel free to go as deep as you like in your own time. And I'm only (partially) joking about MSR.
Whatever I've missed/got wrong, please feel free to tell us at length on social media (@dirtywknd) or in the comments below.
I really hope you enjoy the 2022 Classics season - it's going to be a cracker. If you have any questions during the races drop us a DM or an email.