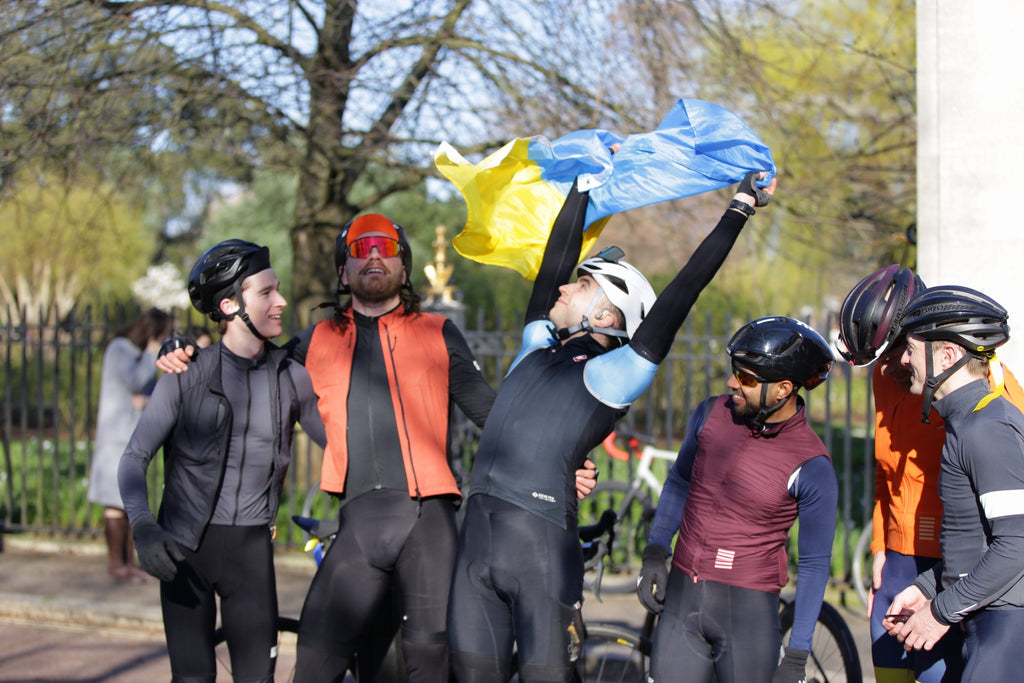 On Friday the 18th March 2022 Dmitro Khroma and a group of London cyclists set off on a 505km ride to raise money for the Red Cross' Ukraine effort. Taking on 505 laps of Regent's Park Inner Circle, the distance from Kyiv to the Polish border. 
What would follow would be an epic night of friends riding together, supporting each other and spreading love. Strangers would join in, local cafes would deliver food and supplies, and a huge amount of money would be raised! You can read Dimi's story below (link to donate at the bottom).
On the 24th February, Russia invaded Ukraine. The events that followed sent ripples of distress and anxiety through the Ukrainian community. I disengaged with the news just as I usually do with tragic world events. We've always been in conflict with Russia. Besides, if I can't control it, why worry about it? 
On March 1st Mum delivered my Birthday cake to work. We sat together in her car as she cried in despair over what was unfolding at home. The rain ran down the windshield as it sank in that this isn't just news, this is hurting my mum, my family and my people.
My 78 year old Grandma Nina lives in Ukraine. We tried to work out if and how we should evacuate her to come live with us in London. On one hand civilians were being indiscriminately killed in the conflict.
On the other hand, Nina's entire life was in that small village home. Her animals, her neighbours, her memories. Also the long journey was complicated and dangerous, especially for the elderly. She ultimately decided to stay home and support her country the best way she could.
That week was a low point. I spiralled into a news doom scroll on everything that was going on. I followed every battle, every announcement and every death. I stopped eating, sleeping and looking after myself properly. I felt completely helpless in the face of the immensity of the situation.
I shared everything I found with my friends to keep them informed, but really it was a way to communicate that I was not ok and I needed support. Amongst these posts, my brother and I shared the Red Cross Ukraine Crisis appeal. Within a few days this had raised over £1000 and I suddenly felt like it was making some difference.
I wanted to raise more money and attention, and the idea finally clicked into place. I will combine this with my passion for distance cycling and do the most insane cycle possible.
505km was chosen as the distance a Kyiv citizen would need to travel to escape to Poland.
505 laps of Regents Park Inner Circle was chosen to be suitably mentally challenging.
After posting some feelers out, I was surprised to hear some of my cycling buddies think it was a good idea! I also recruited Jess and Lisa who would help with much of the early organisation and outreach. Before I knew it, we had a Strava and JustGiving page, and we were live!
We had to raise the initial target of £1000 within a day as the response was incredible. Big thank you to everyone who shared in the early days and got the word out.
Hunter treated it as his own fundraising and challenge and personally reached all of his friends and colleagues. Lotta put in a word at BBC Radio London Sport which later turned into an live interview!

My clubs DirtyWknd and LFTC reached out to their members. All my cycling friends reached out to their clubs too - ICC, GFTL and CGC. Fettle reached out to support the event by extending it into a 2 week long challenge for anyone to join. 
And of course the one and only Sigrid was slated to be joining - thanks to an invite by Stewart. Before I knew it, we had reached £10k. And what I had agreed to do started to sink in…
Friday 18th March. Start of the ride...
We gathered at the round road that would become home for us for the next 20 hours. There was anticipation and buzz in the air from our starting group of riders and about 20 supporters gathered together in the cold to see us off. We all busied away preparing the stand and attaching blue and yellow ribbons to everything that moved.
Unfortunately Hunter's bike had other ideas! On the way there his gear cable snapped. After 40 minutes of attempted roadside bikework, we decided he would have to ride single speed until our saviour Wilker (Willy's Wheels) could arrive on an emergency callout.
Around 7:45pm, we all lined up and before I knew it, we had set off.
The first cheer on the first lap was a nice surprise! I remember wishing I could get a cheer on every cycle ride I go on.


Shout out to Eric who made a valiant effort on his Brompton and a massive kudos to Gruff who made a big dent into the distance on his gravel bike too!
Fueled by pizza, the early hours of Saturday were characterised by a single paceline with both Stu and Carlos taking notable and valiant pulls at the front.
Spirited sprint efforts were reined in as the wise elders reminded the young nippers that there was plenty of road ahead. The group pedalled on into the night.
As the night went on, the support crowd thinned out and the cheering became more distinguishable as individuals. Huge kudos to Russ and Lisa F who stayed up until 5am diligently cheering us on throughout. I started to worry about their energy levels more than my own, and made sure I cheered them on with every lap. 
Just as our spirits started to tumble and our conversation thinned out, Tendayi emerged from the depths of the night. A fist-bump to the troopers and a promise that Wilker was on his way injected a well-needed sense of relief into the group.
We set off and just as had been prophesied, a flashing beacon of light in the distance grew brighter and stronger. Wilker was here.
Tendayi and Wilker brought with them fresh legs, metronomical pace, and welcome shelter from the wind when we needed it most.

Shout out to Tom and his friends who joined us after their heavy D&B night out at around 3:00 am. He kept at our pace on a boris bike, despite looking in a worse state than we did!

We knew it would be hard, but nothing can prepare you for the mental struggle of the 4-5am section of a night ride.
Every part of your body is telling you to stop and go to sleep. Your inner voice is so reasonable and convincing. Stop pedalling, lay down for a bit, and rest your eyes.
It takes whatever mental strength you have left to fight those urges and keep your eyes open and focused on the road. Luckily at this time the road was clear and the wind was chilly.

Wilker and Tendayi's heroic 2:00 am to 5:00 am stint (a.k.a. the 'graveyard shift'), with little to no rest from the wind, saw the pair leave to whatever the cycling equivalent is of a standing ovation.
As if choreographed, the very same lap that saw those diesel engines depart, Chris Toppon swung in for the birdsong shift. The morning light had started to pierce the dark of the night and Chris' energy was infectious.


By that point we were also joined by James, Dovey, Nathan, Carlos, Laura, Stew, and Stu.
James and Dovey would continue on to the very end, doing a monumental 300km with us.
Every time a new rider joined we would get a new boost of energy. I wish I could remember more names but by this point my memory is only from the photos that were taken!


Glorious sunrise and birdsong. The worst part was surely over.
Also the ground support began to return. Jo arrived again and proceeded to adorn every item of blue and yellow she could find. She was closely followed by Jess who brought a much needed care package of warm McDonald's breakfast muffins and hot drinks. Those disappeared quickly!
We were not left without support for more than an hour.
Nutrition was the hardest part to get right for me. It's hard to prepare for an event this long. I tried eating pizza and burger king, but the greasiness didn't go down well. Also everything I had bought in the last-minute panic suddenly was not appetising.
What I settled on was double strength Tailwind Berry in my bottles, which towards the end turned into Copella Cloudy Apple juice. During the stops I would chug down Hunter's Chocolate Oatley and flapjacks.
That was mild enough to settle in the stomach and filling enough to balance out the insane amount of sugar I was ingesting on the bike. Only at the last hour did I switch to Haribo Tangfastics for that final boost of finishing energy!
From this point the level of support steadily grew. More riders from the club and further afield started joining. Luka had ridden in from Cambridge. Josh was on his way to Bristol.
Seeing so many ribbons ahead of us helped keep us going as we rode past halfway 250km.
The last 200km was an emotional rollercoaster. My mood would swing wildly between determined excitement to anxious despair, sometimes within the span of the same lap.
I would have to carefully monitor the effect of any change in what I was doing to remain focused and riding. Do I talk or stay silent? What should I eat? When to stop? Am I too warm?
What worked best for me at this point is putting on a playlist called "Gateway House" which is full of meaningful tracks that I first listened to at uni, and sing them at the top of my lungs.
This would be enough to distract me from the complaints of my body and mind. Apologies for any riders within earshot.
Sigrid comes along for the ride! Check out @skintension for his story!
Mum Lana and Little Brother Danny join for a few laps!
Cerys, Russ and Georgie join in as well!
Ollie and baby Scarlett join too
The final 100km were a rush of excitement. Along with a bigger support crowd and louder cheering, was a more crowded park. Calls to avoid cars and pedestrians became more frequent.
Full focus was needed to avoid any accidents. Luckily for us our front riders were experienced group riders and kept us all safe.
There was also drama at basecamp. Regents park rangers were concerned that our event had grown too large.
We reached a compromise and agreed to slow down and break up into smaller riding groups until the end. I'm glad we were able to finish the ride.
Last Lap!
Danny supporting from the crowd.
Coming in to the finishing line
This is where the scale and gravity of the event started to hit. So many friends, family and strangers were cheering us on at the end.
I could not have done it without the riders from start to finish - Aaron, Hunter, James, Dovey & Christoph.
How it started 👆
 
How it's going 👆
And we definitely could not have done it without every one of the 505 cheers from our supporters who came along on the day.
Thank you all for bringing the atmosphere and energy, and giving us a reason to push through to the end.
Thank you Jess for your emotional support, and countless late nights with post-it notes and google docs meticulously planning every detail together.
Special thanks to DirtyWknd Cycle Club. It was through you I had met my group of cyclists who pushed me to ride further that I ever thought I could.
Also special thanks to Lisa who is a fundraising guru. She came with all the ideas and ambition to make it much bigger than I ever thought I could.
Thank you to Charlie and Russ who did an excellent job of capturing the emotions and atmosphere of the event through photos and videos. And thank you to everyone else who took and shared photos.


Thank you to all my friends who took time out to cheer us on, skate with us, bike with us, bring us food, share the story, or donate what they could. I never expected it to turn out like this and it was very much thanks to you all.
Thank you Mum and Gran. I did this all for you.
I originally hoped that my ride would raise awareness and donations to a great cause.
Thanks to the incredible support of my family and friends it surpassed my wildest expectations and we managed to make an incredible impact, raising over £20,000 by the end of the event. 
During the ride I voluntarily put myself into an emotionally and physically challenging place. This is nothing compared to what the millions who are fleeing their homes to save their lives would go through.
My ride is over and I get to go back home and recover in peace. For many others the journey out of Ukraine is only the beginning of their hardship.
The war in Ukraine is not over, and neither is my efforts to raise money and support.
This will not stop until I am reunited with Gran in our small village farmhouse in Ukraine. 
Please continue to support here https://www.justgiving.com/fundraising/ridewithukraine
Thank you Dimi for such a full and honest ride report. Please keep supporting the effort by donating on the link above and by spreading the word to your friends and family.