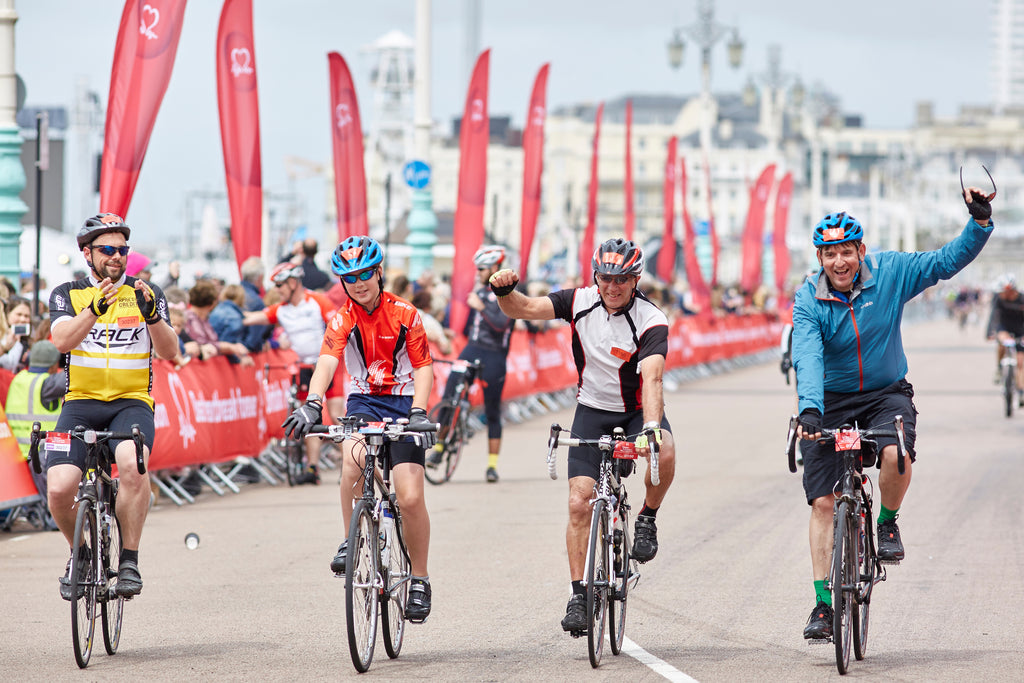 We are thrilled to again be the official training partner for the British Heart Foundation's London To Brighton Bike Ride.
Every year on Father's Day (Sun 19th June), thousands of people ride from Clapham Common down to the Brighton seafront, and we'll be helping you along the way.
As official training partner we will be providing a training plan and blogs, some group rides via our members app and other top tips to help you complete the 50 mile ride.
Not only that but some of our friendly and encouraging members and ambassadors will be riding the route with you on the day.


Enter A Team:
If you wish to enter a team of four into the ride on the 16th June, then Dirty Wknd members get 10% off the entry fee. Riding down to the coast with your mates on a sunny day (last year it was 28 degrees) is a great day out. You can enter as a complete team of four and get 10% off.
If you wish to join as an individual that is also possible - we will match you up with similar level riders to create a team of four. So you can join as an individual and still enjoy the fun of riding to the coast in a team. You still get 10% off, and you get to make some new mates!
Please Click Here and then sign up for the event  selecting either 'team of 4' or 'individual' (you won't be charged right away) and we'll send you all the details and a discount code!
Training Rides:
We will be running London to Brighton specific training rides in the run up to the event on the 16th June. These will be held in South West London and increase in distance and difficulty to help get you ready for the big day.
These rides are specific to BHF London to Brighton entrants so will not be listed on the website with the other rides. Once you are signed up to the event we'll send you all of the details of the training rides
BHF Training Hub:
We will also be regularly providing training blogs covering equipment, nutrition and training tips specific to cycling London to Brighton in the run up to the event. These will be hosted on the BHF Training Hub and will help you to prepare for the event.
If you have any questions about the London to Brighton Bike Ride then please Email Us and we'll get back to you for a chat. The event is open to all levels to cyclist (our training rides will cater for beginners upwards) and Dirty Wknd members get 10% off the entry price. 
See you on the road!
Team DW