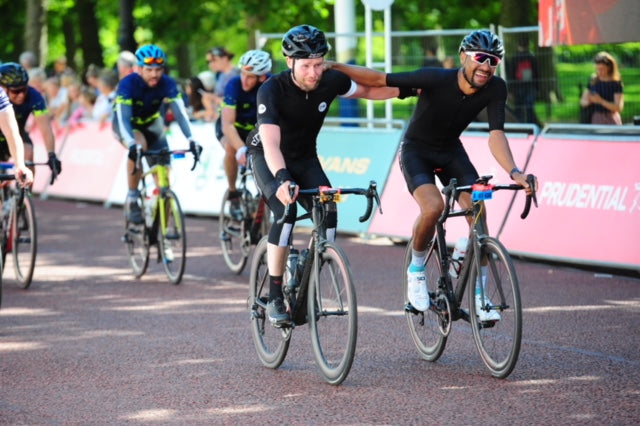 It's the final week of your Ride London training, and the nerves will be starting to build.
Unless you started panicking as soon as you got your acceptance letter, in which case this is your normal state now!
But I am here to tell you not to worry. Easy to say I know, and such a throw away statement might not help you right now, but hopefully the below final tips might. 
I've completed the ride 3 times, and Dirty Wknd has helped a few hundred members to smash the ride too, so hopefully we can help you too. 

Final Week Preparation List:
1) Taper, Taper, Taper....
It's incredibly hard to take it easy in the week running up to the ride, especially if you're a bit nervous and think you haven't trained enough.
However a big effort this close to the ride isn't going to make a huge difference to your overall fitness.
All it will do is deplete your energy levels and hinder your performance on the day. You've done your training and you can handle the ride - trust yourself! 
Our advice is to do a couple of small, very low effort spins to keep the legs moving (think chatty Regent's Park laps, but rest up for the remainder of the week.
British Olympic Cycling has a good mantra for this: 'If you can sit instead of stand: sit. If you can lie down instead of sit: lie down.' And they know a thing or two!
2) Eat, Eat, Eat...
A big ride like Ride London will need all your energy stores, so it's crucial that you fill them up ready for the big effort.
However before you rush to the fridge it's a good idea to plan out how you're going to eat 'all the food in the world'.
Carb loading is only really effective when started a few days before the ride, and doesn't mean eating 17000KGs of pasta in one go!
It means upping your carb intake a few days before the ride, so that you have slow releasing energy to burn on the day.
Plan out your meal schedule before the ride and buy everything in advance - no extra walking to the shops for you. Also make sure to only eat things you are familiar with before the event.


The most important meals of this week is the night before (pasta, potatoes etc) and the morning of the ride.
A good breakfast is the key to any bike ride, but it's doubly important on Ride London day. Our favourite is always porridge - it is high in energy, super slow releasing and keeps you feeling full for ages.
Don't believe me, just see what all the pros eat the day before a Giro stage (above). Except the ones that have pasta, that's just weird!
Whatever your breakfast of choice, stay away from heavy fat, as it will delay the absorption of fuel later on (no full English, sadly).
Pro Tip - you'll be held at the start line for ages, so take a couple of extra bars to use up then if you get hungry quickly. That way you won't have tucked into your ride snacks before you even start.
3) Prepare your bike:
You may still be able to squeeze in a full service with our partner Willy's Wheels, but if not then that's not a problem - you can do plenty of checks and tune ups yourself at home.  
Give your bike (especially your chain and gears) a really good clean and check your brakes/brake pads aren't worn and are working fine.
Also check your tyres for signs of wear (small cracks/holes). Punctures are very uncool on Ride London day, so if you've got old tyres then change them before the ride.
And on tyres - make sure yours are pumped up to the correct pressure. Check out this handy pressure calculator for what that means for you. 
If you're unsure about your bike's fitness then take it into a shop ASAP and get them to look over it.



4) Prepare your nutrition & study the course:
Knowing what what and when you're going to eat and drink is vital to enjoying your ride - the dreaded bonk is only ever a missed feed stop away! 
You don't want to change anything before the ride when it comes to nutrition, so make sure to stock up on products that you've trained with.
Whether that's bars, gels or peanut butter sandwiches, stick to what you know and get them ready in advance.
For bars, open one end so it's easier to get at whilst riding.
Pro Tip - don't do this with gels. Hell of a mess!
Practise packing your jersey pockets, and wear said jersey around, also practising taking things in and out of the pockets.
You'll look pretty silly, but who'll be laughing when you've avoided bonking? You, that's who!


The second part of nailing your nutrition involves studying the course and working out when you're going to fuel.
Hopefully your training rides have given you a good idea of how often you need to eat, but a good rule of thumb is to eat something every hour, and to drink every 15 minutes.
You'll know if you need more or less than this, but the golden rule is drink before you're thirsty and eat before you're hungry.
Study the route to see where the feed/water stops are and work out which ones you plan to stop at and how far into the course they are.
That way you have targets to aim for and can work out how many bottles or bars you'll need between each one. 
5) Prepare your body: 
As a continuation of point one, I really can't stress enough how important it is to rest and relax this week.
Not only will it increase your performance, but it's a great excuse to get your loved ones to do everything for you whilst you lie on the sofa!
If you do Yoga then a session at the beginning of the week to loosen you up might be a good idea; likewise if you use massage therapy - booking an appointment in the early/mid week will certainly help.
Good old fashioned stretching and foam rolling throughout the week will also really help.
Lastly of course, a good night's sleep will do wonders. Not easy when you've got an alarm call at 3am to get to the start line, but something to aim for.



Once you've completed the ride and are hopefully sitting in a local pub or park,  sipping on prosecco in the blazing sunshine (think positively people), we really hope that taking on such a massive challenge gives you that 'what's next' feeling.
There's no feeling like it, as you realise you can pretty much conquer anything on a bike with a bit of training and a good group of people.
Good luck and enjoy the ride. Whatever happens, the fact that you put your front wheel across the start line is a huge achievement!