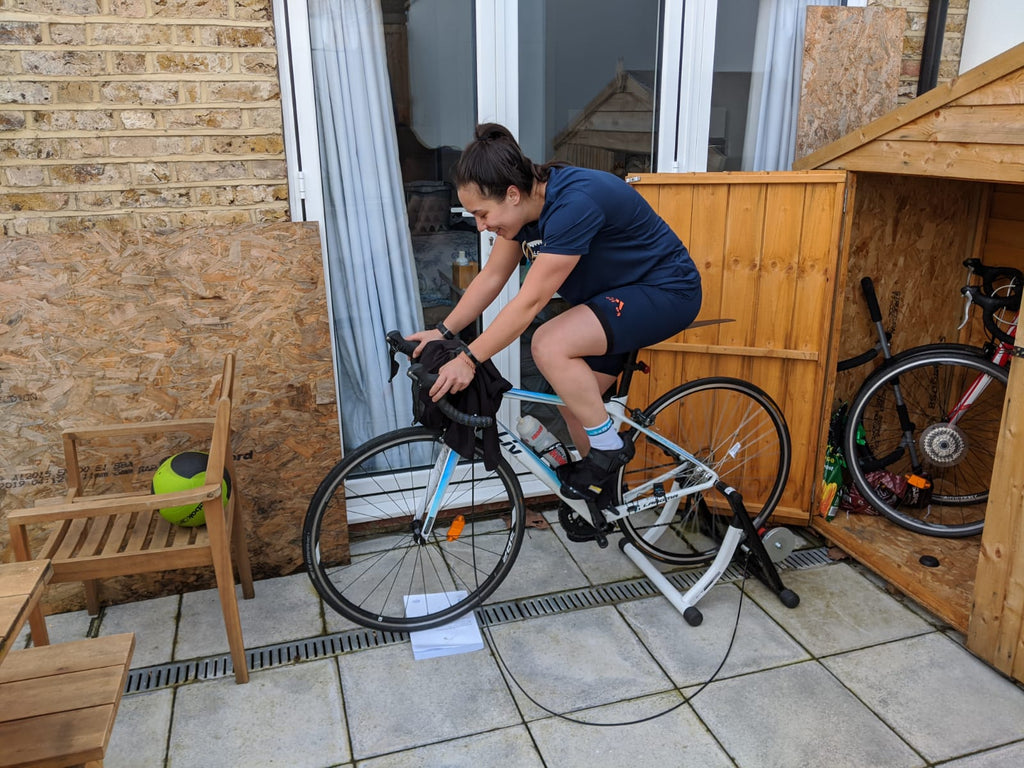 Club member Sheree has been having such a great time getting started on Zwift that she offered to share her experience with us. If you're a new rider, a beginner Zwifter or have been thinking about getting stuck in, this blog is for you. Thanks a lot Sheree, you're smashing it!
I felt like I'd won the lockdown lottery when I dusted off the untouched turbo trainer I'd been given for free three years previously. It had been sitting unloved in the shed for ages, but 4 weeks ago I decided to dig it out and get stuck in.
It seemed like turbos had become the hottest commodity since toilet paper during quarantine, and I felt pretty lucky to have one. The only problem was I didn't really know what I was doing.
As a somewhat beginner cyclist (I've been cycling on and off for a few years, but never consistently), spending time on the bike has always been more valuable than having the latest technology.
I figured the best way to start was just mounting my bike on the trainer and getting going. 
I'm now an expert at taking my rear wheel on and off, as well as understanding the importance of regularly cleaning your bike (chain grease is a nightmare to get off your clothes!)
My turbo is what is not very kindly known as 'dumb', which means it isn't a smart trainer that changes the resistance automatically. It has five resistance settings, plus of course my bike's gears, so it took some getting used to.
I started by spending 20-30 minutes at a time getting used to being on the turbo and how the resistance settings worked with my gears. Wow, that was boring!
Zwift is all the rage right now, just behind Zoom. I'd heard all about it from fellow cyclists and triathletes, but it seemed like something only serious cyclists used. However, I was assured that it really was ideal for any level, and made turbo training infinitely more fun.
There was nothing to lose from trying the free seven-day trial, so I signed up. But first, I needed to make my "dumb" trainer "smart".
Getting Set Up
I bought the Tacx Speed and Cadence Sensors which you need to send the relevant data to Zwift, giving me an estimated power, enabling me to ride. I also bought a heart rate monitor to send heart rate data to Zwift as well.
Zwift is pretty easy to use once you've got the above; you just sign up with some info, click "Ride" and off you go! The rest you can learn as you go and there's tons of extra tips and tricks and I've found online. The Zwift Insider website is pretty useful too.
With a "dumb" trainer, Zwift calculates estimated power based on your speed and their virtual power curve, which allows you to complete workouts and compete in races based on your FTP and w/kg. That's Functional Threshold Power and watts per kilogram, for the uninitiated.
I'd done an FTP test in December, so although Zwift underestimates your power on a dumb trainer (I knew my Zwift FTP was too low) it stood as a benchmark and improvements are improvements! 
You don't actually have to do an FTP test to start Zwifting, but it does help the system to give you a more accurate workout. You can easily do a Zwift FTP session (it's one of their workouts) and they'll 'coach' you through it. 
Training Rides
Onto the training. Luckily Dirty Wknd were ahead of the game, and had already replaced most of their regular group rides with Zwift rides.
It helped a lot knowing that my first virtual group rides would be similar to my normal rides. I.e. virtually going round Regent's Park on Thursday mornings and taking on pesky Swains Lane on Fridays with my club mates.
The group rides are amazing on Zwift, as you can still have a "no drop" policy where everyone is kept together in a group. We also use Discord to have voice chats during each ride, so there's always someone to hear you complaining about yet another hilly route that David has forced upon us! In all seriousness, I would not have completed many rides without the group voice chat! 
I eased myself in with the weekly group sessions, getting used to the bike position and also the continuous pedalling - no free-wheeling or coffee breaks I'm afraid!
You can do loads of cool stuff in Zwift, like ride in their different worlds, enter the (many) Zwift races or take on their workouts and training plans. You can even create your own custom workouts and do them as a group.
Race Day
My first big test was the start of the Dirty Wknd x All Things Ride race series - the Tour of Flanders aka 'Ronde Van Zwift'. I knew the ride was not "no drop", but foolishly thought it would be more like a sportive.
There were 30+ riders, and from about 20 seconds in I found out it was a race and I'd be bringing up the rear for 68km. I wasn't giving up however; what doesn't kill you and all that.
The regular Thursday and Friday sessions got me the mileage that I needed and I could already feel some improvements, including a better performance in the next race, "Paris Zwiftbaix".
The shorter 47km course allowed me to push myself harder without fear of crashing hard towards the end. Discord was much less "chatty laps" and rather more "race radio" in this scenario!
As someone who's never cycled consistently, I knew I would see some improvements from my three Zwift sessions a week. However, during the third race in the series, the 'Amstel Zwift Race', I really surprised myself.
It was the same course as the first race, so it was a good opportunity to assess my gains. A 26 minute race improvement and 34 watt FTP increase would do nicely! 
Enthused, I entered my first "proper" Zwift race, the British Triathlon Race (Cat D), which was a flat 29km effort. Racing on Zwift is a great way to simulate real-life racing, without the stress of potential crashes and mechanical issues.
It is also really reassuring being in a category with similar level riders as myself. I couldn't tell you where I placed, I only know it wasn't last and I increased my FTP again by 22 watts. So in the space of a week, my FTP went from 116W to 172W. Success!
We ended the Dirty Wknd race series with 'Liège Watopia Liège', which at 108km with 1600m climbing was certainly no mean feat. That type of ride was something I would have definitely struggled with four weeks ago, but with my new found Zwift fitness, I was able to take it all in my stride.
Although some of the guys  are in a league of their own, I was still able to feed off the Dirty Wknd community atmosphere as you'd expect, and everyone was encouraging right until the end.
Although I can't wait to get back riding outside (and test out my new found power!), Zwift has offered an amazing alternative, and with the support of the Dirty Wknd team I've made more progress than I could ever have imagined!
So if you are interested in trying out Zwift, even if you're a virtual novice like I was 4 weeks ago, I'd really urge you to take the plunge and give it a go.
If you have any questions then please drop me a DM on Instagram.