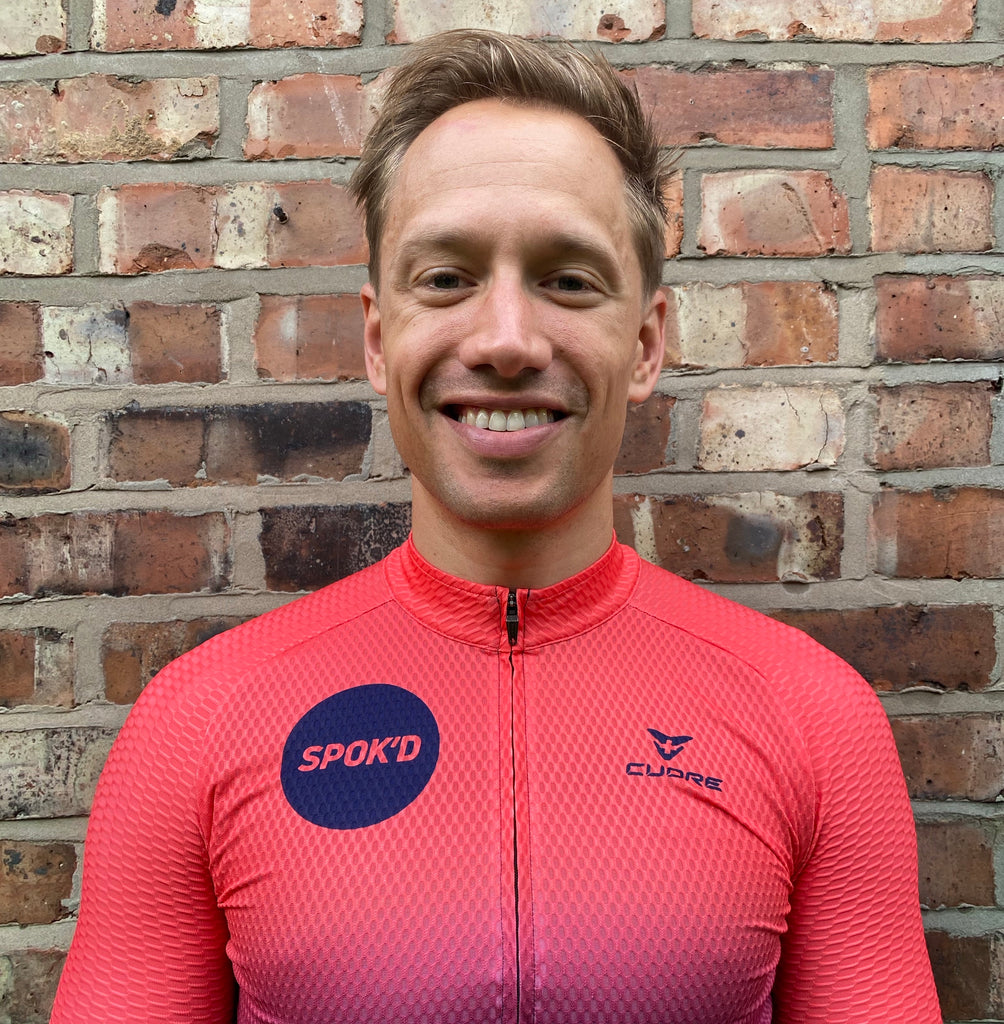 SPOK'D is an online coaching and training platform that we've had the pleasure to be partnered with for just over a year now. Many Dirty Wknd members are improving their cycling and fitness with the platform, so Dirty Wknd founder David (virtually) sat down with SPOK'D founder Rich for a chat.
To be crystal clear, SPOK'D are a partner of ours and members get a 15% discount on the £9.99 monthly fee. But nothing else has changed hands for this blog.
Hi Rich. Where are you right now and what are you up to?
Hey David. I am currently back in Manchester having spent the Christmas period back home in Sydney. It was the grey skies that brought me back.
Though since being back it has taken a little time to get adjusted again. But currently, I am getting stuck into building and growing SPOK'D plus enjoying my dog Bella the beagle. 
Tell us who you are and what your cycling background is?
My name is Richard Lang. I am an Aussie who lives in Manchester. I used to race bikes on a semi professional level. I was able to represent Australia at the U23 World Championships in 2011. Then in 2012 I was fortunate enough to race for Rapha Condor Sharp. 
So you're pretty handy then!!! Why did you decide to create SPOK'D?
After my cycling career, I followed my passion of health and fitness and was coaching a number of riders. I reached a point where if I was to coach more people, my level of service would decrease. It wouldn't be personalised anymore.

Then if you flip this to a rider's perspective, cycling coaching is expensive and it's a big commitment. So in 2017, the idea for SPOK'D was born. We wanted to make personalised coaching accessible.
Explain SPOK'D in 3 sentences? 
I can do better, I'll describe it in 8 words. SPOK'D is an online coach powered by algorithms. 
For a beginner cyclist, what exactly is an online coaching system?
The best way to think of it is as structure to help you maximise your time on the bike. You set the goal, your time to train and as you follow the plan it will adjust around you.
What's cool is it looks at your ride data but what's equally important is it listens to you. SPOK'D asks you how the session felt, how you slept and your energy levels. Just as a cycling coach would ask, but you don't need to pay over £100 per month for the same level of service. 
You wouldn't happen to have all this information in a handy visual media format would you...?
As it happens, I have...

OK, what then are the benefits of a training plan, for a 'normal' club cyclist (like me)?
Peace of mind. It removes the stress of thinking, what do I need to ride today. You only have a set number of hours to train per week and you want to make sure it's working as hard as possible for you. 
So having a training plan that adjusts to you ensures you get that balance just right between volume and intensity. This is where I see a lot of people go wrong. Smashing the group rides and racing all the time is good, but from a pure physical standpoint it does cook you. A training plan that flexes will help you get that balance just right. 
So coaching and training plans aren't just for pros?
I believe anyone who has an attitude of wanting to improve on the bike would benefit from a training plan. With this attitude, you are competitive and have a mindset wanting to make sure you're riding the right type of work. So having a training plan levels you up. 
Do I need loads of expensive equipment to use SPOK'D?
Not at all. You can train just by feel, which I think is undervalued in this world of data. I believe we should all start by feel and then layer in the heart rate and power and we would become more holistic cyclists.

But yes, if you have heart rate or power, SPOK'D collects that data to impact your training plans. Plus you can push your sessions in your Garmin Connect, Training Peaks accounts and download it to Zwift too. 
What if I don't have a turbo trainer, can sessions be completed outside?
100%. We have unique algorithms that account for the variability of riding on the road so your session scores are not all out of whack. 
Riding on the road is slightly trickier but if you can master it, you'll be able to pace your efforts a lot more efficiently. 
How much feedback and advice will I actually get?
We have a strong viewpoint at SPOK'D on simplicity. So this means we want to remove that sense of overwhelming data. 
You'll get the right amount of feedback that is simple and easy to understand. For example, you'll receive a session score out of 200, that is coloured (green is good, red and amber less good). You instantly know how well you rode, and then you can dig into the zone breakdown if you want to. 
Then the areas that you receive feedback on are from a session, week and plan level. This will help you answer the questions on how well am I riding and where are going. Every rider is different, so it's up to you how deep you want to go. 
How flexible is the plan? Will I get virtually told off if I miss a session?
Super flexible. Any time during the week you can adjust your time to train and SPOK'D will ensure there is a session to match the time you can commit to training. 
Plus from an algorithm perspective, SPOK'D analyses your weekly workload. So this means it looks at your planned vs. actual ride data as well as the perceived effort, sleep and energy. If you miss a session or override a session it gets all factored into next week's workload. 
What about if I actually want some human interaction? Is there a way to speak to a person about my training or plan?
If you need help understanding your plan, results of progress you can arrange a call with one of our team. We can walk you through it and help you to make the most of the platform.
Is using a training plan enough to improve? Or should I be supplementing it with other activities?
This really depends on the time you can commit. If you're tight on time, focus exclusively on the bike and aim to supplement it with some form of stretching for general wellbeing.

One activity that requires no extra time is analysing and improving your nutrition. It is so common to under fuel, so if you can nail this you'll increase your performance without having to commit any more time to the bike. 
What happens if it's too hard or too easy? Can I adjust the plan once I've started?
SPOK'D learns how you ride through the weekly algorithms. The key thing is to be honest with your answers when you upload your ride into the system. Being honest when SPOK'D asks you "this session was a 6 out 10 - how did it actually feel?" means that the platform can judge if the intensity is right for you. 
Having these consistent feedback loops is super important to ensure the workload is just right for you. 
Do you used SPOK'D? What are your riding goals for 2021?
I am not on a plan currently, but my intention is to jump on a 5 month plan shortly. I am just waiting for a new turbo to arrive, plus I am a little soft when it comes to riding in the cold.

My goals for 2021, is to be able to ride a solid 3 hour loop and smash a few shorter segments. Since my racing days, I perhaps struggled to follow a plan but building SPOK'D I've developed that love for it again. Just need it to warm up now.
How is lockdown 3.0.1.0 going for you?
Well most of it was spent in Sydney, where life was pretty normal. Since being back, I've set myself other goals to keep me moving forward. For example, doing a bit of yoga and working on my posture.
Thanks Rich - we really appreciate your time. If you are interested in hearing more about the SPOK'D training platform you can watch some videos here, then get in touch with Rich. Don't forget Dirty Wknd members get 15% off the monthly fee. You can read all about joining the community here.