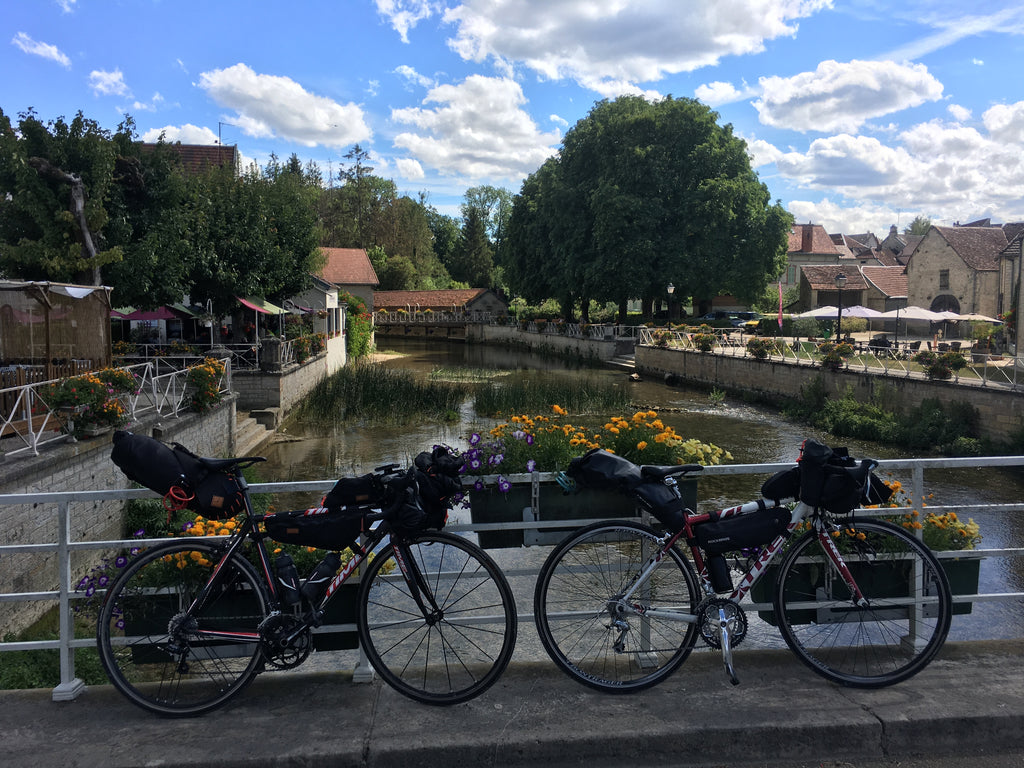 Bikepacking has been on the rise for many years, as an adventurous form of cycling, but also as a fun (and green) way to travel. However, for many, it's seen as something that only 'proper cyclists' do.
Huge on Instagram, it always seems to be men with beards and/or tattoos sitting around an open fire. It looks great, but surely not something that a beginner cyclist can get into?
Well I am here to tell you that bikepacking, like cycling, is for anyone who has a bike and sense of adventure.
Whatever your level and experience, it's absolutely something you can do. There are different levels of bikepacking, some of which are more extreme than others, but you don't have to take on the TCR right off the bat.
A weekend cycling and camping in the South Downs is still bikepacking, and probably a lot more fun too!
Read on for my beginners guide to bikepacking, as well as a few handy tips to inspire you to get out and adventure by bike.
What is bikepacking?
Not to put down a very popular and much lauded form of cycling, but bikepacking really is just riding a bike whilst carrying some kit.
In general you're unsupported (i.e. you don't have your mum in the car behind you), and involves a night or more staying somewhere that's not your home (often camping).
But that's it -that's all you need to go bikepacking. Ride your bike to one or more destinations, carrying some stuff, and stay over for the night. At the base level, that's it.
There are a few different forms, some more extreme than others, but it's really up to you how deep you want to go. 
The difference between bikepacking and bike touring, as far as I can see, is really just the bags you use (bikepacking bags instead of panniers).
At the end of the day, carrying your stuff by bike is carrying your stuff by bike, so it really doesn't matter what you call it. I guess bikepacking just sounds cooler!
What are the different types of bikepacking?
Purists might tell you that there is only one kind of bikepacking - fully self supported, wild camping under the stars and trying not to go near a shop.
And whilst this does have a getting-back-to-nature appeal, it's a lot for a beginner to take in.
Not only that, but it means buying and carrying absolutely everything you will need for the whole trip, which again can be daunting. If this idea excites you then I would recommend building up to it.
The opposite of the above is known as 'credit card touring' and is also great fun. The idea being you only really need to carry your credit card, buying what you need as you go.
Obviously you'd be advised to carry the usual basic repair stuff, but you'll likely stay in hotels and eat out all the way, so carrying all your clobber isn't as necessary. A few spares, a (light) change of clothes and your toothbrush and off you go! 
In the middle, and for me the best form of bikepacking, is a mix of both. This means carrying a tent (or bivvy bag), but camping in official campsites as opposed to wild camping. It's not as 'hardcore' in some people's eyes, but I'm quite happy with that, and will often stay in a hotel a few times during a trip too.
It's nice to mix things up, and if you're stopping in a bigger town, the campsite will be way out, limiting your options in the town itself. 
Also the best part of bike packing for me is meeting other travellers along the way.
If you're wild camping off grid then you're less likely to meet others with whom you can share stories (and beer) with.
Depending on where you are (France, for example) campsites will often have a restaurant, swimming pool and, if you're really lucky, a makeshift Europop disco. Always lovely after a long day riding.

What kit do you need?
Another worry for many beginner bikepackers is not having the right kit. But what if I told you I cycled from London to Nice in 2013 with nothing more than a backpack?
There is A LOT of kit out there, but it is totally possible to get by with what you have when starting out.
Ease yourself in and figure out what you actually need as you go. You don't want to spend a wad only to find out you don't need it, or worse, you're just not into it.
So yes, you can just use a backpack (make sure you practise with it first). If you do want to invest in some gear though, then check out my 'must have' list below:
Bike - There are loads of adventure/touring/gravel bike options, but for getting started your trusty steed will work just fine. Just make sure you get it serviced before leaving.
Bags - A good backpack with a support and waist/chest straps will work just fine, but check out the huge amounts of 'bikepacking bags' if you want to invest. I use club partner Restrap (10% off for members) and love their products. A classic pannier rack also works, but does add a lot of weight.
Tent - Your home away from home. Weight and dimensions are key - smaller = better. I have a small 2 man tent which is perfect for solo or 2 person trips. You can also go for the bivvy bag and tarp option (if you're more hardcore). I've also seen people using an adventure hammock tied between two trees. Cool idea, but if there are no trees...
Sleeping bag - Again, size/weight is key here. Get as thin a bag as the temperature will allow and save packing space. I use a very thin cotton sleeping bag liner, which is tiny. Great for France in summer, not so much for Scotland in spring!
Mattress - You know the drill now, as small as you can find. You'll be knackered after each day, so don't need a four poster, but a little blow up mattress/pillow will certainly help you to sleep.
Charging block - you will always need to keep something charged, so a really good block is worth the investment
Sprays & Creams - Suncream, mozzy spray, after bite... The sun will get you, but the mozzy's will get you worse. Be prepared!
Usual ride essentials - You can't carry everything you could possibly need, so don't try. I will usually carry 4x tubes, patches, multi tool with chain breaker, hand pump, chain link and a spoke. However, the thing that will break will inevitably be the one thing you didn't bring, so don't sweat it.
Others will list out all of the 'essentials' that i've missed above, but most of that will be personal to them.
Like them, you will learn over time (and a few trips) what is essential for you. Start thinking about your kit well in advance of your trip and pack everything a few times to check it all fits.
And if you can, definitely do a practise ride/weekend with all the kit. You'll learn loads and can get used to riding a fully loaded bike.
Route planning & navigating
Now we're getting to the fun bit - where are you going to go? As I said before, you don't have to ride off grid for 3 weeks in order to be bikepacking, so don't heap a load of unachievable distance on yourself for no reason.
Especially when you're starting out; an easier and shorter trip is often the best option to get into it. You can save the huge trips for later in your bikepacking career. 
The first question when planning your route is where do you want to go? If you're doing an A to B trip (say London to Manchester) then how long is the journey and how many days do you want to do it in.
Figure out the distance and split it down into manageable days. Also be sensitive to the terrain. Are some parts more hilly than others? If so add a bit more distance to the flatter days, and keep the hilly days a bit shorter. 
When you start to break down a trip, it does become more manageable. If you are covering 1000km in 7 days, then that's 142km each day.
Sounds a lot, but when you've got 8 -12 hours per day to complete the distance, it starts to look a lot more achievable.
Then you just need to plan how many times you're going to stop and how much you're going to eat. Getting more appealing now isn't it!
In the past I have used Google Maps, Strava and Ride With GPS to plot routes. I have also bikepacked all over France and Scotland with nothing more than the names of the towns we needed to pass written on my hand.
Navigation can be done in many ways, so don't worry if you don't have a GPS device. If you want to use an old school OS map then more power to you. At least it doesn't need to charged!
Having just returned from another week long trip through France, I will now use Komoot for most future trips.
It's so easy to use, very flexible if you need to update the route (which you usually will), and never failed to take us on great routes. Check out Komoot here (free regions for club members). 
Plan your trip, but also be flexible
If it's your first bikepacking trip then you will no doubt have planned every little detail and every inch of the route.
This is absolutely the correct way to go, and the more you plan out your trip, including a few back up options & plan Bs, the more success you will have.
However, as any experienced bikepacker will tell you, it will rarely go completely to plan.
This can be due to a 'problem' like a mechanical or an injury, or it can be a conscious decision to change the route because you've decided to go another way (usually after a chat with other bikepackers at the campsite).
All of these things are ok, and you have to go with the flow a bit. The bikepacking mantra is 'it's all part of the adventure'. Adapting and changing as you go is all part of that adventure.
You won't love every second of it!
I wish I could say you will, but during the trip there will be 'moments' when you'll wish you were anywhere else but on a bike.
If you've planned well and brought the right kit for that specific trip, then there will be fewer 'moments', but you'll still get them. The key is to not let these 'moments' overshadow the day or trip. 
From experience, they'll usually come towards the end of the day, when you're exhausted, hungry (hangry?) and just fed up with bike riding.
You've been riding for hours and your body is empty, it's pretty normal to be a bit glum! But you will get to your campsite/hotel, you'll shower and eat (everything), and it will all be ok again.
In all honesty, these 'moments' of hardship are the ones you will remember the most vividly. Repeat the mantra - 'it's all part of the adventure'.
Mental strength > Physical strength
Making the jump from cyclists to bikepacker isn't so much a physical leap as a mental one. It matters less how fit you are (or how much kit you have) than how mentally strong you are.
Mentally adjusting your outlook from 'I can't cycle 500km' to 'OK, I'm going to try and cycle 500km, how long will that take me?' is the first step.
Once you've got that in your head, you can ride anywhere.
It is totally understandable why bikepacking can be scary from the outset. There are many extra things to think about, but it really is just a case of adjusting your mindset.
You know how to ride your bike. You know how to camp (probably). You know how to plan a route (and if you don't you can get help on the Dirty Wknd Members App) and you know how to make sensible decisions on the fly.
All of these things mean you can start bikepacking. The key when you're starting out is to start small and build up - you don't have to ride 1000km on your first trip.
Start with a weekend trip in an area that you're familiar with, ideally with a few bail out options (train stations) as a safety net.
If you can find a ride buddy to share the adventure with then all the better (again, check out the members app to find willing adventure seekers).
Once you've got the bikepacking bug (and you definitely get it) you can start planning longer trips and amassing loads of extra kit (can anyone say 'adventure bike').
Then all your weekends will be spent exploring the wild, both near and far!
I hope that helped. If you're interested in bikepacking and have questions then get in touch on social media (@dirtywknd) or drop us an email for a chat.
Happy Bikepacking!