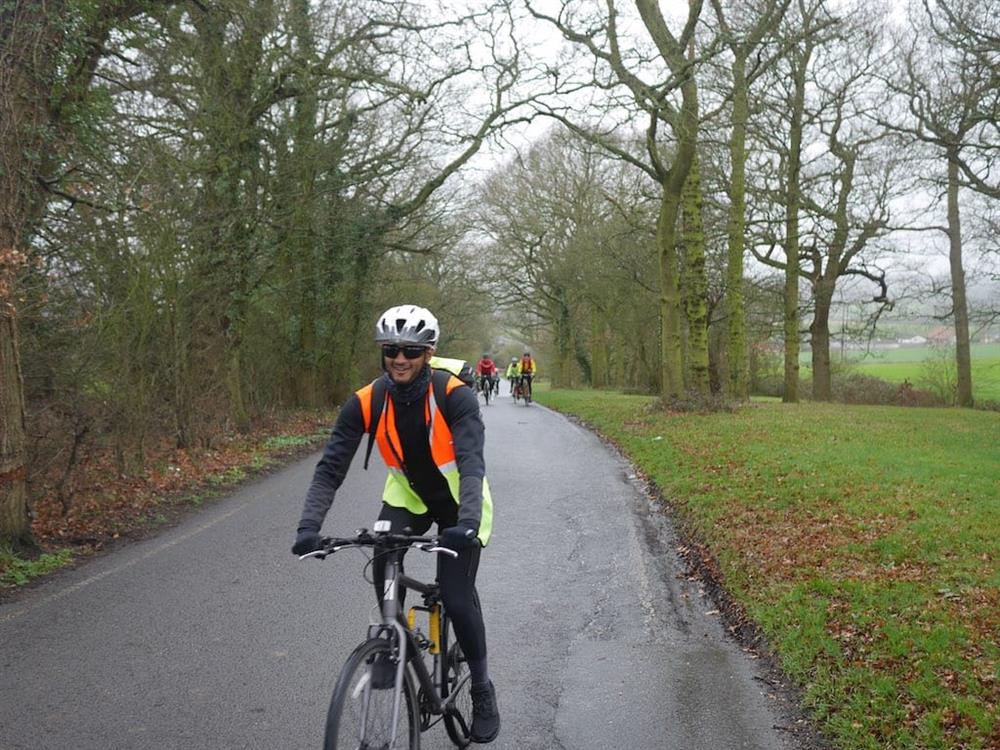 Amol Chalisgaonkar is a Dirty Wknd member and an absolute pleasure to ride with! His infectious smile never fails to brighten up the group and encourage everyone around him. 
Amol was swiftly made a club ambassador and he's been inspiring and helping new members ever since. Read how he got into cycling and what he's learnt in two short years... 
Two years ago today I was diagnosed with Non-Alcoholic Fatty Liver Disease. That's why I started cycling – and it saved me, physically and mentally. It also gave me a community and freedom that I truly cherish and want to bring to others.

I was four months into a graduate job as a trainee solicitor and life was good. I spent most weekends like your average yuppie: drunk on Clapham Common with no real regard for my health. Exercise? I don't know her.


On 9 July, the evening after an annual health check-up, I got a call from a private number. "Amol, I told you I'd call you if there was anything unusual on your blood tests. I'm sorry to tell you there may be something wrong with your liver."
I had early stage Non Alcoholic Fatty Liver Disease. It was manageable, but if I didn't make significant, healthy changes to my lifestyle I would die early.

I was determined to beat it, including by starting to exercise. But how could I carve out an hour each day when work already left me with no time?
I decided to try commuting to work on a Boris bike. Google Maps told me the 6 km each way would take half an hour – the same as my Central line commute and about as sweaty (lucky my office has showers).

So on the 11th of July, off I set. I hadn't exercised in forever, so it was tiring, but I liked it and kept doing it. In September I bought a Pinnacle Lithium 0, Evans Cycles' most basic hybrid bike, on the Cycle to Work scheme.
I thought I'd stop over winter when it got too much but I never did. I was feeling better than ever, physically and mentally.


The more I enjoyed it the more I wanted to try cycling on weekends for fun. But I felt nervous seeing images of really fit men on expensive bikes in lycra.
I just had a hybrid bike with a pannier rack, Adidas shoes, thermal tights, a hi vis vest and a backpack. But just before Christmas I found a friendly-looking club and went on my first social ride: 20 km around Maida Vale and Regents Canal.
I messaged my parents afterwards, exhilarated and in disbelief that I had cycled such a big distance.

The next few months were a roller coaster. The hybrid bike and Adidas shoes stayed, but I got into lycra (which I found more comfortable and practical) and ditched the backpack.
On a whim I signed up to Ride London 100 – and then panicked! The Prudential Ride London, for the uninitiated, is a 100 mile ride through London and the Surrey Hills, including some of the biggest hills in the area. 
I couldn't cycle a 100 miles! Could I?
Luckily I found Dirty Wknd, and joined their series of Ride London training rides. That's how I ended up whizzing through the Surrey Hills every sunny weekend, increasing my distance and speed week on week.
I felt so free, exploring the world around me, with a community of diverse, young and welcoming cyclists. I was the fittest I'd ever been. And I made some amazing friends – I'm even moving in with one of them next month!


Only 7.5 months after my first social ride, I finished Ride London on my trusty hybrid in just under 6 hours (see pictures below).
When I stopped pedalling, I started crying. I couldn't believe how far I'd come: literally and metaphorically. I got there because I had the support and encouragement of more experienced cyclists, the resources to pick up cycling, and a bit of application of Rule 5: Harden The Fuck Up (or, more politely, you have the ability to do so much more than you believe).

That's why I feel sad that some groups find cycling harder to access: especially women, BAME people, and people on low incomes.
I am brown and live in East London, one of London's most diverse areas, yet I have only met two other brown people through cycling.
Still, I am proud to be part of Dirty Wknd: I don't hesitate to say we are London's most diverse and encouraging club and we work hard on doing better every day.

But as individuals, we've still got work to do. I invest a lot of time in cycling with beginners (particularly from underrepresented groups) to build their confidence, signposting to resources, and listening to and amplifying quieter voices.
I'm trying to play my part in bringing the sport I love to them, whether they want to pootle around on a Dutch bike in everyday clothes or grind out an audax in lycra. I hope you are too.
If you're thinking about getting into cycling, want to start commuting or join a group ride but have questions, then get in touch with me on Instagram (@amol_chalis) for a chat. Follow me and send a DM, I'll help in any way I can.
Thanks for your insight Amol, you really are a credit to the community! You'll often find Amol riding in Regent's Park on our morning laps (when he can get away from his desk), so come and join him on one of our intro rides.