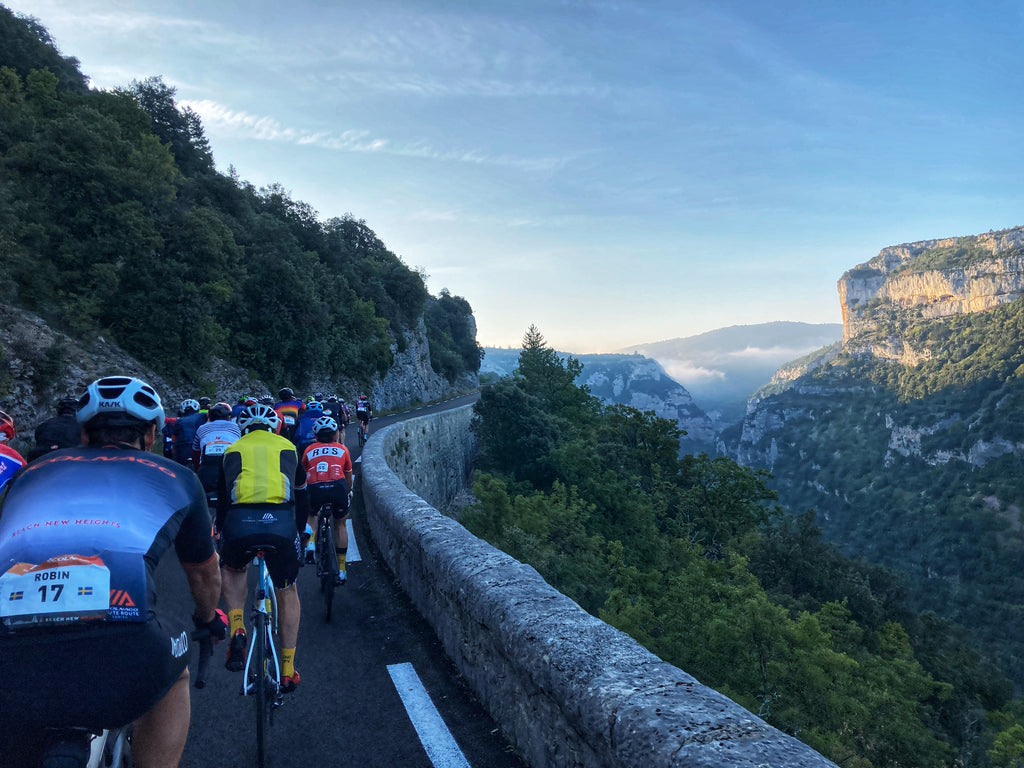 Haute Route cycling events exist to offer the amateur club cyclist a high level, professional cycling experience. Multi day stage races, from 3 to 7 days, with all the trimmings you would expect from watching (too much) Tour de France on TV.

From aggregate General Classification timings and motorcycle outriders to post stage massage, it's not your average Sunday sportive. 


Two weeks ago I took part in the
Haute Route Ventoux 3
day weekend. Reflecting on the event now that my legs have recovered, I have to admit that it was one of the best cycling experiences of my life.
I wasn't expecting that, for a few reasons. I think I was expecting the event to be a bit on the serious side, with lots of serious riders all taking themselves very seriously.  

And it was a serious event. 285km and 8000 metres of climbing in a weekend is serious.

We'd all trained hard for the ride and wanted to do our best. Unlike some other events I've ridden in the past, I didn't see anyone downing rosé the night before stage one!


However the fact that riders were focused didn't stop everyone socialising, helping each other out and mixing well. The balance was good, which I was very thankful for.

Pre race 'warm up'
I arrived in Bedoin on the Wednesday, after a very pleasant and reasonably priced train trip from Brussels (please take note, UK trains).

I immediately went for a little ride to shake the journey out of my legs. A quick trip up the very nice col de madeleine confirmed that it's not 'just the Ventoux' around here.


On Thursday I picked up my race pack (numbers, jersey, socks, bag) from the event village, sized up the competition (i.e. looked at their bikes and legs) before joining an Haute Route ambassadors warm up ride. 


Around 30 of us rolled out to a local hotel for coffee via a few small climbs to warm the legs up. Being on my own at the race, it was a great opportunity to meet other riders.

After the ride we had the first stage briefing - a run through of day one's route and general race rules, followed by a pasta party to make sure we were all fully loaded for the next day's 114km.


After checking the bike for the thousandth time and laying out my kit (snazzy new Le Col Haute Route jersey), there was nothing to do but try and sleep.

Bedoin itself seemed a buzzy little town with loads of restaurants, and a pretty perfect base for a Mont Ventoux cycling weekend. I'll be back to explore more of the area for sure. 


Stage 1 - Bedoin to Mont Ventoux: 114km // 3000m (Strava Data)

Arriving at the start at 8am the rest of the field was already there. Haute Route provide a bag shuttle service, so you have some warm clothes waiting at the top for you. Which will turn out to be a very good thing.


8AM rolled around, and our excellent speaker/compère Fergus counted us down. Following the red commissar's car, we rolled out of Bedoin and onto stage one.

At the end of the 1km neutralised zone, it of course kicked off! The contenders at the front collectively put the hammer down, and the race was on.

Thinking myself a contender, I had of course spent the neutral zone elbowing my way to near the front for the flag drop. Yes I was that guy.

Of course, when the hammer went down, any notions of being a contender came crashing down around my aero socks!


Starting a 20 minute Zwift race, or even a 1 hour crit race, at full gas is one thing. But starting a 3 day event with over 8000 metres of climbing at full gas is completely different.
After 30km, I had been distanced by the leader group and was on my own. Just like the rest of the world, gas was in short supply.
Pacing has never been a skill of mine, so when the second group came up behind me, I couldn't hang on to their wheels either. Or the third group, or the fourth. 


I had blown my bloody doors off, and was starting to get a bit despondent about another 85km solo. Luckily a group did finally form on the Col de Lagarde, the penultimate climb of the day. T
ough work at 11km and just under 7% average, so a group was very welcome.
The group mostly stayed together; picking up new people and dropping others as we climbed, descended and stopped for food.
After the Col de Lagarde, we descended to the bottom of the Ventoux, for our first ascent of the weekend. 

Mont Ventoux Ascent #1 - via Sault (24km @ 4.9%)
The ascent from Sault is said to be the easiest, but then at 24km long it's still the longest climb most will have attempted. The average gradient is 4.9%, which does sound lovely. 


And the first 18km or so is actually
quite nice
. The surface is good, the gradient pretty shallow and the changes of scenery offer a bit of variation. You're also sheltered from the wind, which is a massive blessing. 
But when you get to the (in)famous Chalet Reynard, the Ventoux really bites.

The last 6km is about 10% average and really saps your legs. This is where you enter the 'moonscape' that is always shown on TV, and the wind really starts to play its part. 


The famous radio tower appears as you round a right hand bend with about 4km to go, playing the very clever trick of never seeming to get any closer.

You lose sight of it, then it appears again. Is it closer? Are you hallucinating? Inch by inch, you crawl towards the summit, until you're finally in its shadow.


As you round the last bend, still about 10%, you start to hear the euro pop blasting from the speakers, and see the other riders laughing and patting each other on the backs. You've made it. 

After downing all the quiche I could manage (top marks for the feed stations, by the way - great mix of real food, gels, bananas etc) and obligatory photo taking it's a case of getting off the mountain sharpish.

It's baltic at the top, so I was incredibly thankful for the bag shuttle. The only way down was back the way we'd come, so it was a 20km descent back to Bedoin to finish off the day's riding. 


On arrival back in the event village, I booked my 15 minute massage slot and watched some of the Tour of Sicily. The massage room was both a sombre and jolly place all at once. 


Riders that had worked together at some point on the stage were recounting their rides loudly in all manner of languages. Others were silently staring at the ceiling, reflecting on their life choices!


I'll be honest, as I rode back to my little Air BnB, I wasn't sure how I was going to manage the next day. With the heaviest of legs, and a slightly broken spirit, I was less than enthusiastic about 150km the next day. 

I stretched and foam rolled repeatedly and ate everything I could get my hands on. One thing was for sure, I wouldn't be racing off the line in the morning. 


Stage 2 - Bedoin to Mont Ventoux: 153km // 3500m (Strava Data)

The queen stage. Everyone had their eye on Saturday's route, the profile causing much nervous chatter in the village. Whatever your level, it was a big day on the bike.

It clearly wasn't just me who had gone out too hard on day one; the roll out was almost pedestrian in comparison to yesterday.


Abject fear of riding solo had also taken hold, so a decent sized peloton formed early on, making the first 60KM or so a total dream.


Rolling through the Gorges de la Nesque, the perfect road for a large group, was stunning. A kind gradient mixed with a perfect road surface and a beautiful view to deliver cycling nirvana.

The mist was just burning off in the morning sun, the sound of chatter and very expensive carbon wheels drowning out the local wildlife. 


We rolled on, the perfect combo of high speed and low power. Over the Aulan and onto the Fontaube, where the increased gradients caused the group to thin.
It was still a bit cagey, with our collective mind focusing on the looming 22km long, 7% average climb at the end of the route. We were saving our powder and keeping our matches dry. Or something like that. 
The rest of the route, from the bottom of the Fountaube to the foot of the Ventoux, rolled through beautiful vineyards. It was essential to be in a group, and luckily I found 3 big blokes to work with. 
Mont Ventoux Ascent #2 - via Malaucène
As we reached the bottom of the 
Malaucène ascent of the Ventoux, we were scratching our heads a bit. This huge, savage stage of 3,500 metres vert was nearly over and we all felt pretty good.


2000 metres of climbing and 130km in, at the final feed stop, we'd averaged 32kph. Not just 32kph, but a fairly 'easy' 32kph. A massive contrast to day one - that's what riding in big groups can do for you!


However, in a tale as old as time, a bloody great big hill will always lay your plans to waste.

You might intend to hold onto this group or that wheel, or average a certain power or speed, but it all comes down to what your legs will do when you ask it of them. 


Despite our perfect run to the mountain, it was still a brutal 1.5 hours of climbing. And groups don't tend to stay together on this sort of climb, so it quickly becomes a very solo affair.
The Malaucène side is much more steady than the previous day. The early KMs range from 4-9% average, then you get a bit in the middle of about 5km in the 10-12% range, before it eases a bit for the last KMs.
This middle section of 10-12% average was truly horrible. After the stage, everyone was talking about 'that' section of the Ventoux, so it certainly did some damage.
No let up, no more gears, no plan or way to make it easier. Stand up, sit down. It was all the same.
All I could do was keep running the maths. The average is 7%. It was 4 before - it's 12 now. It must be coming down soon. Please be coming down soon!
Like many of the famous Cols, the Ventoux has these very useful KM markers telling you how far to the top, and what the next average gradient is. So when you see 'pente à 12%, sommet à 15km' your heart sinks. 
But equally when you see 'pente à 4%, sommet à 7km' you get a real boost.
Personally I love these markers as they let you know what's coming and how much you've got left to do. It also reminds me that I'm lucky enough to be riding up a mountain in the south of France, and that not everyone is so lucky. 
Approaching the tower from the other side to yesterday, it doesn't get any closer any more quickly. However the approach is kinder, with a more steady 6-8% gradient, as opposed to the 10% of the Chalet Reynard side. 
I would say that this approach (the last 5km of the Malaucène side) was my favourite. The variety of scenery, emerging from the trees onto the barren peak, made approaching the tower from the 'back' somehow feel nicer. 
The scene at the summit is the same as day one; relieved faces quickly pulling on layers. Loads of coffee and quiche, with a heavy dose of Euro pop. 
I was feeling much more positive at the summit on day two. I had paced the day much better, rode in some good groups and had been able to enjoy what was a pretty spectacular route. 
With the weight of the queen stage thrown off our shoulders, spirits in the event village were high. With 'just' 21km to ride the next day, the mood was a lot lighter. 
I was also delighted to see that Haute Route were showing the women's Paris Roubaix on the big screen. We cracked open a few of the Abloc beers that were floating around. At 1.2% (by far the lowest gradient of the weekend), caution was firmly thrown to the wind.
I even had two!
Stage 3 - Mont Ventoux Time Trial: 15km // 1100m (Strava Data)

One of the factors to contend with at Mont Ventoux is always the weather. You hear about weekend trips that have involved merely sitting around in Bedoin because it has been so awful. 

So the shortening of the final day's time trial to 15km was disappointing, but with two great weather days in the bag, we could hardly be too aggrieved.

Safety had to come first, and the 100kph winds were deemed too dangerous to ride all the way to the top.

As with the 2016 Tour de France, the stage would be stopping at Chalet Reynard. Whilst it probably would have been faster, I was left hoping I wouldn't need to run at any point.

Mont Ventoux Ascent #3 - Via Bedion 

Thanks to the hard working Haute Route staff a TT start ramp had miraculously appeared overnight. They didn't even have one of these at the recent British TT champs. 

Riders were set off based on their overall time in 20 second intervals to try and avoid drafting (it sort of worked). It felt quite busy on the road which, after two days of solitary climbing, was very welcome.

We rolled out of Bedoin and over the timing mat to start our effort, immediately greeted by a very strong wind. If it was this bad at the bottom, imagine the scenes at the top.



The Bedoin side is said to be the hardest, and it's pretty easy to see why. Descending this side after stages one and two doesn't really prepare you for the almost 10% average in the early slopes. 

After leaving Bedoin there's a few (very open) KMs before you reach the forest and the wind effect subsides. But here you reach the 10% gradient, so you really are stuck between a rock and a windy place. 

I was trying to measure my effort and not get carried away. I could definitely feel 2 days climbing in my legs and wasn't keen for a repeat of day one.

However at this point, there is only so much you can actually do. Hidden reserves of strength will either present themselves, or they won't. All you can do is pedal.

I was overtaken by other riders coming up behind (ahead in the GC and clearly having a really, really good day) and I managed to catch a few people in front too. Using the riders ahead as a target was my only strategy, as I again inched forward.




Everyone finds their place in a stage race like this one, and you generally finish where you're meant to. 

So generally you see the same people during your race, and can build a bit of a rapport. I tried to encourage everyone near me - those going by and those I was passing.

At one point I had a whole conversation about gearing with another Brit as I passed him (that's how slowly we were going!) 

The atmosphere on the road was great though, with plenty of 'chapeaus' and 'bonne chances' expelled whilst gasping for air. Despite our collective suffering, bonhomie was high.

The gradient of this most famous side of the Ventoux stayed pretty constant until the last few KMs before the Chalet, where I was able to pick it up a bit. I even managed to get into a sprint race to the line.

Haute Route did their best to create a party atmosphere at the finish, including a rendition of Sweet Caroline from effervescent event compère Fergus, but the weather was pretty bad.

After a bit more quiche and some rosé it was back down the way we came to the event village. 

I'm not sure anyone went for a post stage three massage. Actually, they probably did, but I didn't even think about it. The ride was done and all I wanted was one of those sweet 1.2% beers!

The prize giving ceremony and BBQ in the village coincided with Paris Roubaix on the big screen. As post event entertainment goes this was pretty good. 



I was expecting a serious race where no one spoke to or helped each other, and instead I experienced a friendly atmosphere and some absolutely brilliant organisation. 

The routes are serious, because they are designed to push the riders to their limits. But the 'professional' element of a Haute Route was most evident to me in the organisation, as much as the cycling experience. 

From Fergus the speaker to the admin and ambassadors teams, the Haute Route staff laid on a seamless event, which just felt a level above other cycling events I've done in the past.

So thank you Haute Route team. I am already planning my next Haute Route experience for 2022.

Question is whether to go for five days in the Dolomites, or seven days in the Alps??

If you are interested in learning more about the Haute Route 2022 events then get in touch for a chat. Dirty Wknd is an official Haute Route partner, and we'll be bringing you more events and content throughout 2022.