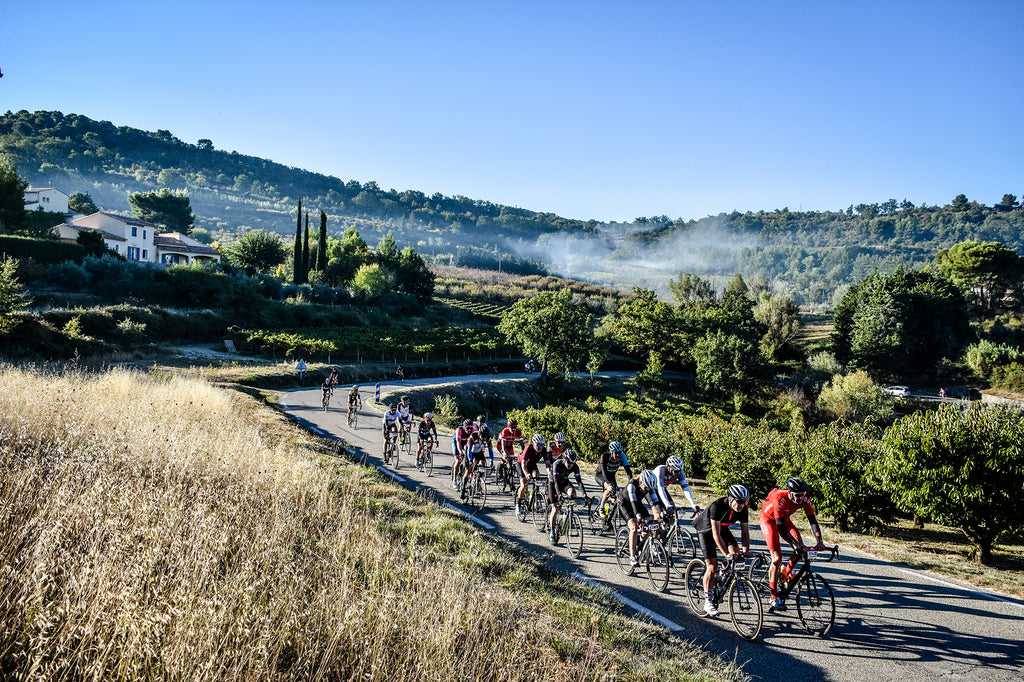 I am sitting on an SNCF train from Brussels to Bédoin. My bike has been precariously placed on the top shelf of a large luggage rack in a thin fluro bag (train rules, it's luggage apparently).
 
As I head towards the Giant of Provence and the Haute Route Ventoux amateur cycling race, I wanted to write down my top tips for training for a Haute Route event, especially if you don't have much time.
Just in case anyone is thinking about making Haute Route their 2022 or 2023 cycling challenge.
I'm not trying to suggest I've gone from 0-60 in 4 weeks, I ride my bike a lot. But I usually ride 'for fun' without a real goal in mind; a mixture of crit racing (very short, very hard 30-60 minute efforts) or cafe rides with mates, as well as some gravel/MTB too.
Training for a mountainous event like Haute Route Ventoux is a different kettle of bike ride, so it did require some different training.


Why then did I only give myself 4 weeks to train? Well, because life, that's why. A mixture of pandemic restrictions in the early part of the year, two weeks holidaying in Italy (no bike, just eating) and weddings/parties meant that my training plan was pretty sporadic.


Can you tell I'm getting my excuses in early…



What is Haute Route?
For those who don't know, Haute Route is the professional cycling experience for amateurs.

That can sound a bit serious to some, but actually it's just a really well organised 3 or 7 day stage race. Each rider gets an accumulative time at the end of each day and a position in the general classification (GC).


You basically get treated like a pro cyclist - support vehicles, feed stops, post stage massage, all the perks we amateurs don't usually get to experience.


But how you treat the ride itself is totally up to you. Some people will be racing up at the front, jostling for position, pretending they're Slovenian, but others will just be enjoying the ride, the challenge and the atmosphere.


No doubt it's a tough weekend, but as cycling goals go a Haute Route event is up there with the best.


So, how to train for Haute Route, especially if you've got a busy schedule and not much time?


See below for my top 5 tips. Please note that these tips are what I used to train, and may not necessarily work for you. Also, if you can, don't leave yourself just 4 weeks to train properly. The more time you have the better.
1. Get a training plan
I normally don't normally like to tell people to train in a certain way, or to get a coach or a plan, but when you have very little time it really helps to have some structure.


How far you go with this is up to you - employing a coach for a month to help you prepare is a great shout if you want someone to set you a plan and hold you to it. Check out Dirty Wknd partner
Stephen Byrne
if you're in London. 
Or if you don't think a physical coach is for you, then what about a virtual one? I use
SPOK'D
(also a club partner, 15% off for members) who can set you a training plan in a few minutes for as long as you need (like say, 4 weeks).

This gives you structure, a planned work out and plenty of feedback on how your training is going.

You also don't need to have all the training gear like a power metre etc. You can train on heart rate or feel (perceived rate of exertion). 


2. Ride up some hills
Haute Route translates as high road or mountain pass, so you can be pretty sure you're going to be climbing. The clue is in the name, but there aren't many (any?) flat Haute Route events. 
Events usually take on some of the most famous, bucket list mountain passes in the world. I myself am about to take on Mont Ventoux 3 times in one weekend, so you can be sure the other events are also tough but once in a lifetime challenges.

Living in Northern Europe and cycling in London and Brussels respectively, it's not so easy to find those long climbs to replicate a mountain pass. But it is possible to be smart about it, and work with what you do have. 
Ride the hills near you. Find hilly routes in the lumpiest areas near you
Run to the hills! It's really easy to take the train to a hilly area and ride up as many long climbs as you can. From London you can get to the Peak District, South Downs, West Country or Wales for a day's training. Take a route from our database and off you go! I have travelled the Ardennes a few times to train, the hilly area of Belgium made famous by Liege Bastogne Liege et al.  There is nothing to replicate the 21km of Ventoux, but it's a start.
Hill reps. Find the hardest hill near you and go up and down it as many times as you can. Don't discount these short/sharp sessions (perfect for before or after work) as they can make all the difference. Find a group to ride them with and these sessions can almost become enjoyable.
Go away for the weekend. International travel may be tough, but a UK cycling weekend in somewhere like the Lake District will do wonders. Back to back training days will help get your body ready for the stage race you're about to take on. If travel is possible, then a weekend or week in somewhere like Mallorca is great prep. Just make sure to give yourself a bit of rest before the event.
And if you live somewhere really flat (hi, Cambridge cyclists) then it is possible to train for mountains on totally flat ground. Read this from Col Collective or watch the GCN video below: 

3. Use all the tools and resources available
You might be training through summer, so the thought of getting on the turbo trainer might make you feel physically sick, but some static training can be really beneficial.
Especially if you use a platform like
Rouvy
or
Zwift
, where you can replicate a long climb or effort. On Rouvy you can actually ride up the 'real' Ventoux, or via zwift you can do your efforts on the Alpe du Zwift or Ventop.
Either way sitting on a hill (albeit virtually) for an hour or more will really help get your legs ready for the real thing. 


Ask for advice. Whether from friends, from your cycling club mates or on social media. Getting the inside track ahead of time will mentally put you at ease and help you to prepare.

I have been cycling for a really long time and have done many different events, but I still felt the need to ask for advice from those who have ridden an Haute Route.


I was specifically interested in the mechanical support and feed station details (i.e. how much stuff do I need to carry) and their advice really helped me out. 


And yesterday whilst I was cleaning my bike (very important training tip!) I watched all the Youtube videos about Mont Ventoux I could find. From GCN how to videos to Armstrong vs Pantani from 2000, it all helps. Use the tools and resources around you. 



4. Get your bike checked over
Four weeks isn't a great amount of time to get your body ready, but it is loads of time to get your bike fixed.
Yes, there are mechanics on site as part of the Haute Route service, but what if you get to the event and they say you really need a certain part that they don't have?
Get your bike serviced a good amount of time before the event. You will train better on a properly functioning bike, and if anything goes wrong post service you've still got time to get it looked at.
The Haute Route mechanics can then just give you a quick tune up before the race starts.
Check out
Willy's Wheels
 mobile bike servicing if you're in London (great discounts for members) or
Coureur Cycles
or
Hors Catégorie
if you're in Brussels.
However your legs feel before the event, having a fully serviced and super smooth running bike gives you huge confidence and peace of mind.
And if you've been eyeing that upgrade or new part waiting for the moment to pull the trigger - now's the time. New bits always give you a lift, which is a training aid in itself.
Just make sure you've got time to train with it so you know how it will perform at the event. 
5. Study the details
The old adage 'train smarter, not harder' applies two fold when you don't have much time to get in shape for a big challenge. The same goes for 'forewarned is forearmed', and the best way you can arm yourself in a short time is by knowing what's coming up.

Your legs are where they are, nothing you can do about that in the week before the event (except resting, more training won't help now), but a good knowledge of the route, specifically the climbs and feed stops, can make all the difference. 


Forget the idea that you'd rather not know what's coming up; that way lies disaster. There's a reason pro teams study routes and road books, and you should do it too.


Knowing where the climbs are, how long they are, and where the feed stations fall, is some of the most important info you can have.
It will be the difference between a really enjoyable ride, and a hellish one where you don't know when the climb will end or where the next feed stop is. 
Any good event should provide you with a route link and ideally a road book/description well in advance. Haute Route certainly does, it's 39 pages long, and I will certainly be studying it before the ride.

There is also a briefing before each day and I imagine a top tube sticker containing route/climb info. These are all important training aids, and will help you tons during the ride. 


Also make sure you ask questions of the organisers, ambassadors and other riders. It's a good way to make friends and to learn a bit about what's coming up.
There's a really silly idea in road cycling that it's not ok to ask questions. It's nonsense - most people are lovely and only too willing to help. Don't be shy - forewarned is forearmed remember!

If you're taking on a cycling event next year then I hope these tips help you out. 

As I said, the more time you can give yourself the better, and the above tips still apply in the run up to an event like Haute route whether you've got 4 weeks to train or 4 months.

As I sit here, train hurtling torwards Ventoux, I'm not feeling totally confident in my legs with 3 big days ahead of me. But I know that I've prepared everything else as best as I can.


I am where I am, and what will be will be. Just have to enjoy the ride now.


I will do a full write up after the event with what I learned and how I got on. I'll also be posting regular updates via the Dirty Wknd
Instagram
and
Twitter
accounts, as well as a Youtube video or two. You can also follow along on the
Haute Route live page
if you're interested. 
Images courtesy of Haute Route.