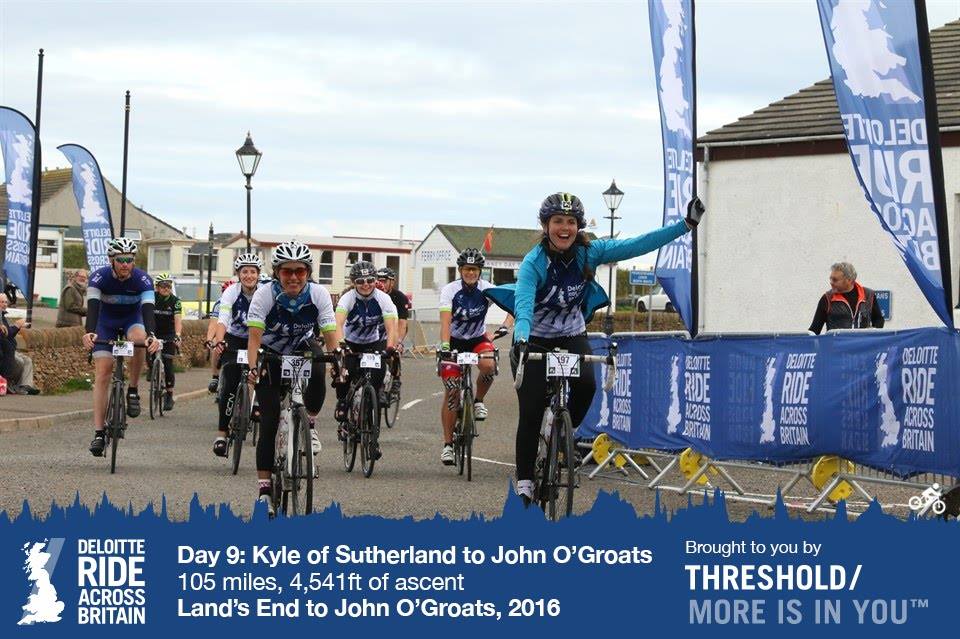 Hello and welcome to my new regular blogging spot. My name is Jo Goodall, I work as a Management Consultant in the City by day but like to spend the majority of my time training for and taking part in endurance/adventure challenges.
I am also training to be a Personal Trainer so I hope to bring some of that new found knowledge to you via this blog.
Previous challenges of mine have included a trip to Borneo for a tri-expedition through the rainforest; running The London Marathon; cycling around Lake Geneva in a day; and most recently completing Deloitte Ride Across Britain 2016 – cycling 969 miles in 9 days from Lands' End to John O'Groats.
I must also mention that I am a fairly new cyclist – I only bought a bike 6 months before completing RAB!

So in honour of the upcoming challenge, I thought I would give you my 5 top tips for Deloitte Ride Across Britain 2017:

1). Don't pack any food
I don't think I have taken part in an event which is as well organised and catered for as RAB. As a new cyclist, I was so conscious to be overly prepared with drinks and snacks on my training rides and I thought that would be the same on RAB.
However, do not fear, the catering on RAB is next to none! The team at Threshold have thought of everything and breakfast, lunch, dinner and pit stop snacks are all catered for to the highest level. You won't go hungry that's for sure!


2). Take some short welly boots
I know your luggage is limited but my welly boots were a life saver, especially when waking up at 5am and trudging through fields to reach the food tent.
We were so lucky with the weather and it was mostly dry, but if you aren't so lucky, you will be thankful for warm and dry feet in the mornings and evenings.

3). Be organised with Ziploc bags
I used Ziploc bags when packing. This might sound overly organised but I was so grateful for them on those dark, early mornings.
By the end of the day you are so tired that you really don't want to faff around organising kit for the morning.
With the Ziploc bags all you need to do is pack one full day of kit and then it's ready to grab as soon as you wake up and you know you won't be scrabbling around your bag for that one sock.


4). Buy the hoodie
I know the costs of RAB do quickly add up, but one investment I believe worth making is in the hoodie.
I didn't actually wear it during the event because I didn't want to get it dirty but I wear it all the time (with pride) now. Not only is it super comfortable, it is also a great conversation starter!
It has the UK map on the back showing the route and when people ask about it, they are always amazed to hear that you actually cycled it…

5). Enjoy it, take your time and take photos!
Last but not least, and it's a massive cliché, but enjoy it!
RAB was an incredible experience for me and even though it was so tough at times, I look back with such fond memories. It's not a race, so if like me you are new to cycling, don't worry about being slower than the more experienced cyclists.
The chaperones and the whole Threshold team are there to help you and they want you to enjoy it, not to race and feel miserable the whole time.
Take lots of photos. The scenery is amazing but also take photos of the campsites, people you meet, you on the bike – everything! I created a framed collage of photos and every time I look it, I still think "wow".


Let me know your top tips if you have also completed LEJOG, or comment below if you are taking part this year!

You can follow my adventures on Instagram @annigoodall