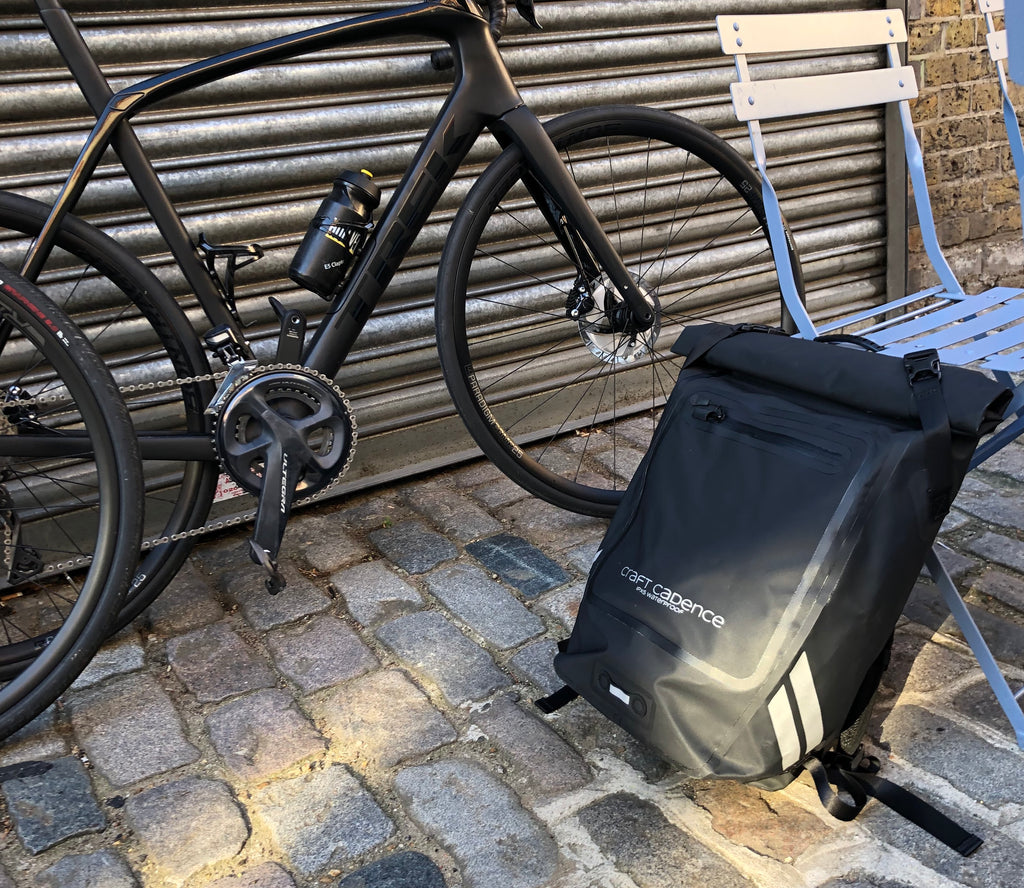 Paul is one of club ambassadors (ride leader of the year 2019 dontcha know), an avid cyclist and a long time commuter. Our new club partner Craft Cadence (12.5% off for members) kindly sent us one of their excellent back packs to test, and we could think of no better person than Paul to put it through its paces. 
Bike luggage has noticeably evolved in the last few years.
We've moved from heavy pannier racks to inline seat packs, frame bags and handlebar bags, then all the way back to pannier racks except this time excruciatingly expensive and made from carbon fibre.
Through all of that, the humble backpack has persisted. It's hard to beat for practicality on short trips, commutes or shopping trips.
Craft Cadence are a relatively young manufacturer who sent the club one of their new backpacks to test out. It's targeted at commuters and - given that I've commuted and run most of my errands by bike with a backpack for more years than I like to think about - it's over to me to give some impressions.
It's traditional to add a disclaimer that no money changed hands for this review but they did send it to me for free, so make up your own mind about the extent to which that compromises my opinion.
Shape and Fit
Craft Cadence are treading a line with this bag between keeping a slim exterior profile and allowing as much interior space as possible. It's a tricky balance but I think they've just about done it.
The depth is quite shallow so it sits neatly along your back. Perfect for keeping aero during the daily Commuter World Championship race down the Embankment cycle path.
Cross-dimensionally it's a bit of a different story. I've personally found it to be unobtrusive but I'm 182cm tall with quite broad shoulders.
At our group lap sessions, some members of the club immediately asked if there was a smaller version of the bag, which there isn't, but a couple of them who tried it on found it wasn't really as bulky as they imagined.
I think part of the issue is that the shape tapers down from the top to bottom, which feels geared towards male torso profiles. The main body of the bag isn't especially wide, but the top corners, with the roll top closure, do protrude a bit.
The main body of the bag isn't especially wide but the soft corner flaps on the top do protrude a bit at the exact height of a Transit van's wing mirrors (go on, ask me how I found that out.)
Exercise care when filtering through queues of stationary traffic if you want to make van drivers fractionally less angry.
Exterior
A big selling point of this bag is that it's completely waterproof. I can confirm that's true after riding home through a downpour so heavy that it left puddles on the road that came up to my wheel axles.
I arrived looking like I'd just crawled out of the sea, while everything inside the bag was still bone dry.
The top closure is a neat roll-top system with velcro to help it stay tightly gathered and keep the water out. Curiously, on mine the velcro tabs were misaligned with each other, so only 50% of the available contact surface was used.
It still worked fine, but hopefully it's a pre-production quality control glitch that will be resolved for the final product.
Once you've rolled the top down, there are 2 clip-buckled diagonal straps which go over the "shoulders" of the top corners.
It's oddly cute, like the backpack is wearing its own little backpack.
In practice this is fantastic, because you can open the bag by pushing these straps over the shoulders and unrolling the top. No need to bother unclipping and re-clipping the buckles every time.
On the front there's an extra zipped pocket for easy access. It's relatively shallow but big enough to squeeze a full-sized Kryptonite U-lock in there. Just below that is a handy point to clip on a rear light.
The sides have big, helpful reflective strips to light you up in car headlights. The logo on the front is in the same material but is fairly small.
If you want more reflectivity you could go for the high viz, yellow version, or always spray the back with Life Paint. The bottom of the bag has a strong reinforced panel to help it deal with road spray and being set down on the ground frequently.
The rear is very comfortable thanks to 4 deep, plush pads. I think manufacturers often claim that these help with airflow too but let's be honest: on a hot day you're going to get a sweaty back.
Interior
The interior immediately beats every other bag I've ever used. It's bright! Luminous greeny-yellow, in fact.
Have you ever scrabbled around blindly trying to find that one thing that you absolutely, definitely packed but is now perfectly hidden? Well, now you can see it, because there's actual contrast in there rather than a gaping void.
This high-contrast section fills the whole interior but is actually a separate, velcroed-in pouch which you can remove entirely for cleaning or if you just need a tiny bit more space.
The pouch has a couple of big zipped mesh organising pockets and a padded laptop sleeve which cleverly suspends the computer away from the base of the bag. A 15" Macbook Pro fits in with room to spare and I even managed to cram in a 17" Alienware desktop-replacement monstrosity borrowed from my office.
The outer material used means that there isn't a lot of stretch if you try to shoehorn too much inside but that's going to be true of any waterproof bag and the actual space available is a lot more than you'd guess from the outside.
Strap In
There are no shortage of straps on the bag: A top carry handle, nice wide shoulder straps, diagonal ones holding the roll top in place, and chest and torso straps for stability while riding.
They're all sturdily put together and feel like they'd stand up to heavy use. I'd really like it if the chest and torso straps were either removable or had little pockets to tuck them away into when not in use though. Maybe something for future iterations. 
Most of the straps have elastic loops attached to stop the ends from flapping around, but the main shoulder adjustment ones don't. I ended up buying some of my own and sewing them on, so it would be nice if they were included by default.
The chest strap even has a little whistle built into the buckle. It's not loud enough for a mountain rescue but might help if you catastrophically bonk on the way to Shoreditch and need to be shepherded to the nearest avocado toast vendor.
Price
Because we'd been sent a review model, I didn't actually look at the price of the Craft Cadence until I'd been using it for a few weeks.
I'd been mentally putting it in the same bracket as my own long-suffering Timbuk2 backpack and various Ortlieb waterproof bags but, at £80, it's noticeably less expensive than both of those, equally well made and - I'd argue - more practically designed and thought out for cyclists.
Would I buy one?
Overall I think yes, I would. There are some tweaks I'd make for future versions - slightly tidier straps, maybe add a stretchy side pouch to hold a water bottle - but they're pretty minor.
Finding a bag in that sweet spot of holding a lot of stuff, having well-considered interior organisation, not being too bulky, and being able to survive winter riding in an inner-city is really rare, and Craft Cadence have nailed it.
Thanks to Paul for reviewing the bag, and to Craft Cadence for sending it out. Members can access the exclusive discount code on the members app, or you can shop the range here.