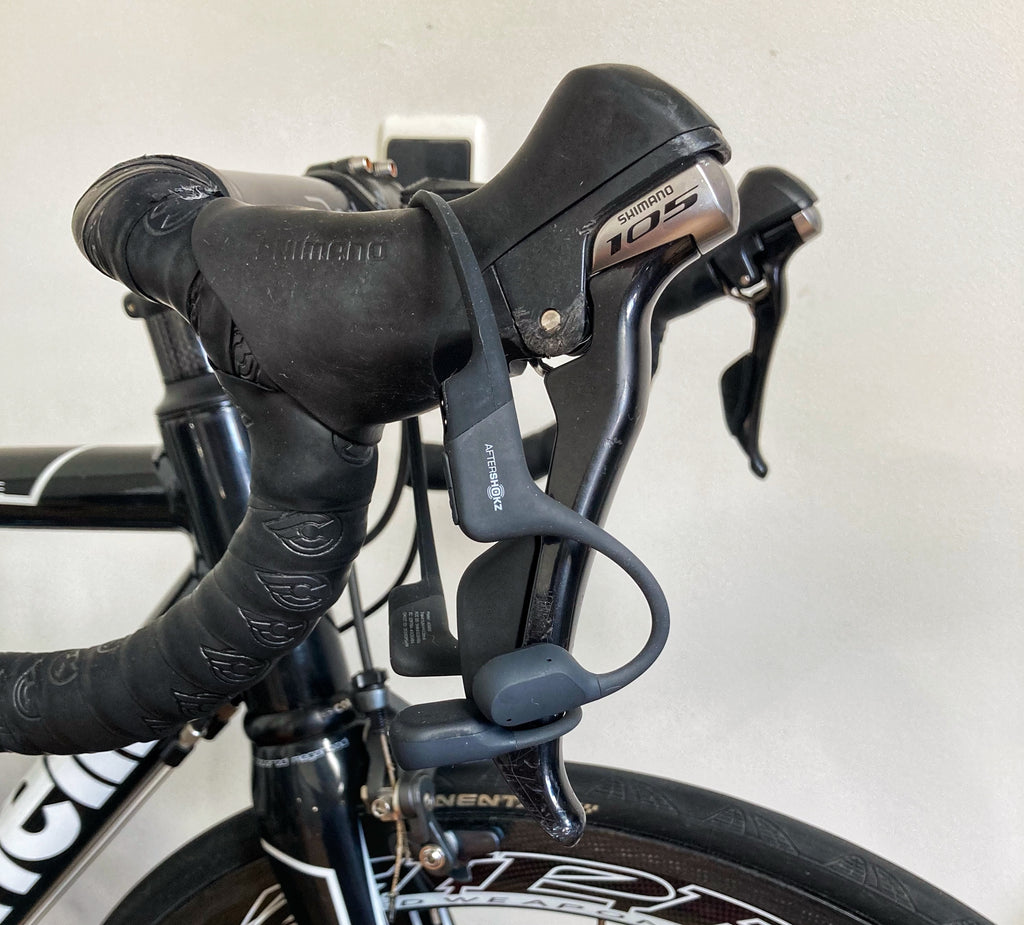 It's maybe not a surprise that headphones have become pretty important in our lives during lockdown. Zoom calls, solo exercise sessions and those much needed moments of sanity away from family/flatmates.
Podcasts have exploded, any new music has been pounced upon, and if you're like me, you've been listening endlessly to the same news over and over again. My headphones might as well have been surgically welded into my ears. 
Now there are a million different types of headphones, and everyone has their favourites, but what are the best headphones for exercise?
Whether or not you should even wear headphones whilst exercising (especially cycling) is a big bone of contention. Part of the reason Aftershokz created their first open ear headphones back in 2012. 
Not just making listening to music safer during exercise, the company's ethos revolves around opening up the personal listening experience, rather than closing it off with noise cancelling, leave-me-alone technology.
Being more open is something I think we can all aspire to after the year we've had!
I was very pleased to be sent a set of the top of range Aftershokz Aeropex headphones to test out. My trusty old Iphone 6 headphones are a little tired after endless Zwift sessions and yet another family pub quiz!
I've been following Aftershokz for a while, always wondering how the technology actually works and whether they're worth the £100+ price tag.
As I said I've been using old Iphone headphones for years. I know they're not great, but they do the job, so how much better could a snazzy high tech pair be?  
What are Aftershokz AeroPex Headphones?
At their core they are wireless bluetooth headphones. They allow you to listen to audio, they have a microphone for calls and controlling your phone. But they are also pretty different to any headphones you've used before.
Afterskokz use bone conducting technology to allow you to hear the audio clearly, without covering your ear. Therefore you can hear the noises of the world around you whilst listening to your favourite podcast or Britney Spears album. Win win!
Bone Conducting Technology:
To try and simplify a pretty in depth technology, Aftershokz makes vibrations in your cheekbones which create sound in your inner ear. Much like when you can hear yourself chewing. This allows you to hear clear sound without plugging or covering the ear. You can read a more in depth explanation here.
Listening to Music whilst cycling?
To go back to the bone of contention re exercise - I've always worn headphones and listened to music/podcasts/the radio whilst riding my bike.
I am of the belief that it's totally fine to do so if you're careful. I've never used noise cancelling headphones and I keep the volume low enough so I can hear pretty much everything around me. 
I'm not suggesting everyone should listen to music whilst cycling, especially if you're nervous or unsure on the road. I'm a very confident rider and have been cycling all over London for nearly 15 years, so I feel very comfortable.
However during testing the Aeropex over the last month I found the experience to be much more intuitive. Not having my ears plugged or covered has allowed me to experience so much more around me, whether commuting through town or out on a solo ride in the sticks. 
Not only did I feel safer in my surroundings, I felt more present. Maybe not what you want when you're sitting in your bedroom, but out on the road this was really positive.   
Verdict:
Before I get to the testing, I'll post my verdict below, for those that just want to know if they should buy a pair or not. Those who want to read more about the tests can do so below:
So - are they worth the money? £150 is a lot for headphones, so you want to be sure. For me it's definitely a yes - they're a great mix of sound quality and usability. For the safety aspect alone they're worth it, but they also perform loads of other functions too:
Pros:
Safety - makes riding/running outdoors a lot more safe
Presence - feel more present in your surroundings
Battery - very quick charge, and very long lasting
Speed - very easy to switch on and connect to your device. Less than 5 seconds
Fit - sit snuggly behind your ears. Fine for glasses/sunglasses wearers
Comfort - You do forget you're wearing them. No wires in the way, earbuds don't fall out. Easy to put on and go.
Style - they look cool and are very understated. Other colours are available if you want to stand out more.
Cons:
Price - they're expensive, but in line with other high tech headphones
Vibration - slight vibration on the cheek if you turn the volume up to absolute max. Takes a little getting used to.
Winter kit - difficult to fit with full winter head gear/ear covering skull cap.
Volume - Trying to ride on the turbo and watch Netflix at the same time. I was struggling to hear the dialogue on my Scandi noir drama. Suspect this is more an issue with my TV & Zwift combo choices!
Noise cancelling - if you want block-out/noise cancelling, perfect sound, these are not the headphones for you.
The pros far outweigh the cons with the Aeropex from my point of view. I would definitely recommend this product if you're looking for a great pair of headphones for exercise. 
They also perform everyday functions really well, with easy to reach volume/command controls on the side. Super fast connection, very clear audio/speech for zoom calls etc so can easily double up as work headphones.
As I have said above, the only real con I could find was the sound quality in some instances. The Aeropex don't compare to the sound you get from a pair of noise cancelling can headphones. But then that's not what they're for, and what you gain in safety and usability is worth the slight loss in sound quality. 
Outdoor test:
Thanks to almost all of Northern Europe being blanketed in snow when I received the Aeropex for testing (remember that?), I was able to test the headphones in loads of different conditions.
Off road/gravel/forest ride:
An off road ride in the woods (thanks to the snow) was my first test, away from much of the usual traffic noises. Fewer cars to listen out for, but I definitely felt more part of my surroundings, whilst still being able to listen to music.
In the past, with earbuds, I would just bash through the trail focusing on what I was listening to, ignoring much of what was around me.
Listening to music with the Aeropex allowed me to do both, which was a new experience. I was also riding with a mate, who I could hear chat to, without having to take my earbuds out or turn the volume down.
This is where the Aeropex really come into their own. Cycling through the busy city, at rush hour, listening to the news or music without my ears covered, allowed me to hear every sound around me. 
Riding on the road with mates too, I could chat to them whilst listening to some motivational music. For people who love to exercise to music but crave social interaction this is a big plus. 
The battery also lasted the full ride, over 3 hours constant use, so no worries there. 
Second opinion/member test:
It's always good to get a second opinion, so I asked member de jour, pro amateur cyclist and all round good guy Ilya Gridneff to also review the Aftershokz Aeropex:
"I've always respected the safety advice to not use headphones while riding whilst also lamenting a lack of music to help when training. This device seems to offer a happy medium to this. 

I'm not sure if I would use them in heavy traffic areas or in town but they did seem perfect for the open road or in a more controlled environment like a forest or park.

At the start they took some getting used to but I was able to chat and listen and be spatially aware as our ride went on. Perfect, probably more so, for solo riding and short intense segment efforts." 
Indoor test:
I've probably done enough indoor riding for one lifetime this past year, so I've got a pretty good idea about headphones and Zwifting. Bar a couple of things, mentioned below, I think that the Aeropex are the best headphones I've used for indoor riding so far. 
There are no annoying wires to get in the way or pull on when you reach for your bottle in desperation, and no ear buds to fall out when you go for the sprint, definitely ruining your chances of winning that race back in May 2020. Not bitter at all.
The Aeropex connected to my Spotify perfectly, as well as simultaneously connecting to Discord so I could chat to my team mates during the ride. They sit so securely in place, I never had to worry about adjusting them or losing sound. 
The only downside from the indoor experience I could find was again with the volume. With loads going on - music, discord chat, turbo hum, it can be hard to hear your music or podcast, compared to ear buds.
Especially watching Netflix whilst training. But who does that, right? Seriously, I struggled to hear some of the dialogue whilst watching TV on the trainer, so something to think about.
Of course this isn't why the Aftershokz headphones were invented. It's also probably time I stopped watching romcoms on the turbo anyway, so no bad thing!
All in all, I am very impressed with the Aftershokz Aeropex headphones. If like me you're a headphone wearer whilst cycling, they will help to keep you more safe and present on your ride. 
If you're like Ilya and you don't believe in listening to music whilst riding, then you might want to give the Aeropex a try - they might change your mind. 
You can buy Aftershokz products directly on their website, or from most of your favourite online and retail options. There is currently no Dirty Wknd member discount or partnership with Aftershokz.  
If you've got any questions about the headphones then please get in touch. You can reach out on social media (@dirtywknd) or drop us an email for a chat.