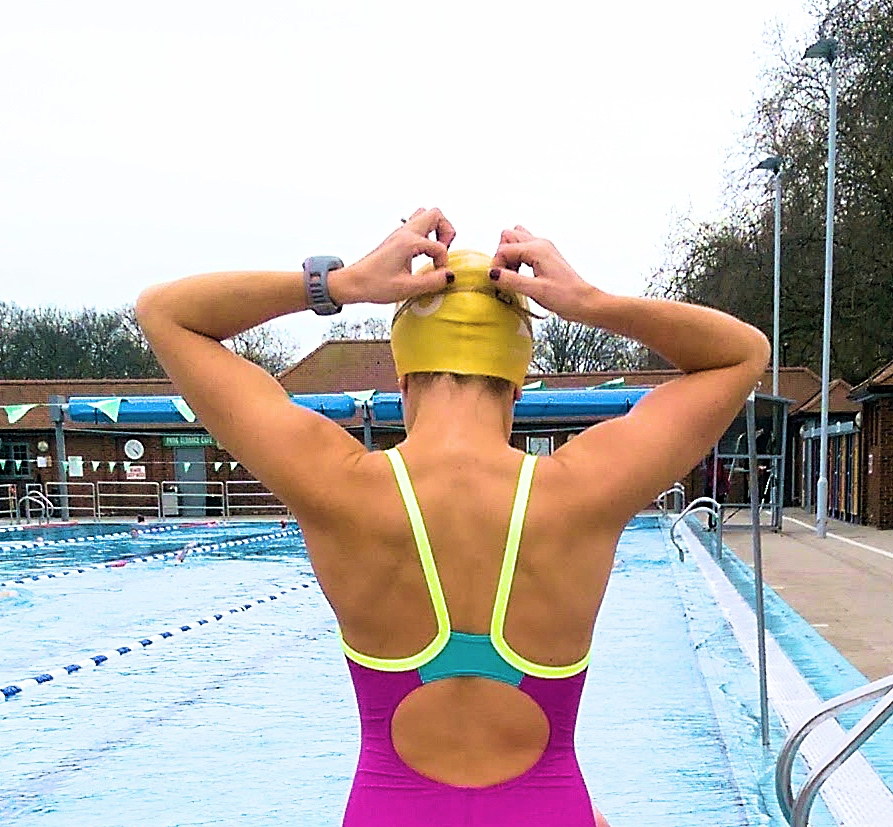 Guest Blogger @Aliceclarefitness has been kind enough to share her top swimming tips as well a few basic swim sets with us. A keen Dirty Wknd member and Liv Cycling ambassador, Alice has a background in competitive swimming and now takes part in triathlon and Ironman. She recently overcame her open water swimming fear and swam 14km in the Thames Marathon... twice!
Perhaps I'm biased as I've loved swimming since I was old enough to run and cannonball into the water, but it's seriously one of the best "all round sports" I've ever tried.
By that I mean it is ideal to build on your cardiovascular endurance, build muscular strength and, thanks to its virtually non impact nature, you're less likely to get the same niggles and injuries as you do with running or, dare I say it, cycling.
It's the perfect cross training sport to tie in with your cycling and ideal if you are recovering from injury. 
So, in light of the above, I've put together my top tips and sessions to get you started and keep you motivated.
Depending on your swimming/triathlon length, or time available to train, I would recommend training sessions between 1,000 and 2,000 metres.
For each session you should come equipped with a planned swim set (see below). I mean, you can swim laps for a set amount of time, but you won't get as much out of it!
Check the pool distance with the lifeguard so you can count your lengths (if you don't have a fitness watch/device to do that for you). Most pools are 25m, apart from super old pools which tend to be a random distance such as 33m!
So here are a few of my initial top tips if you wanted to get into swimming:
Technique, technique, technique

. An efficient stroke means less drag/resistance in the water, and thus you'll conserve more energy. If you are feeling rusty and in need of technique tweaking, I'd highly recommend getting a few swimming lessons with a teacher, or to join a coached swim session.

Swim Etiquette.

Take note of each lane speed. Most swimming pools dedicate lanes to slow, medium or fast. There will also be a sign telling you to swim clockwise or anticlockwise (you'll soon know if you're in the wrong lane ;)

Swim Equipment

. In addition to swimsuit, goggle and a swim cap (note a cap is for streamlining and not for keeping your hair dry, which it won't do!) it's also worth investing in a pull buoy, kickboard and paddles for drills (some pools will have these for general use).

Bilateral Breathing

. This is breathing either side, usually every three strokes. It really helps to swim more efficiently.

Tumble Turn/Flip.

To help with a continuous workout I'd recommend learning to tumble turn at the end of every length by a coach or experienced Swimmer.
I've put together a few sets to get you started. See how you go and you can adapt the set to your swim level (increase rest time or decrease amount of sets to lower distance).
SET 1 - 1,500m
Warm Up
Easy gentle 200m front crawl to warm the muscles.
Main Set
5 x 100m with 1 minute rest between each one
Build (increase effort) over the 100m (25m slow pace, 25m steady, 25m stronger, 25m sprint)
6 x 50m (30 sec rest between each 50m)
25m sprint/25m easy
2 x 200m
Try to count your strokes in first 25m of the 200m, and then maintain that amount of strokes in each subsequent 25m
Warm Down
An easy and gentle 100m front crawl
SET 2 - 1,500m
Warm Up
200m front crawl - relaxed pace
Main Set
10 x 100m decreasing your rest time!
Rest (1.30, 1.20 ,1.10, 60, 55, 45, 30, 35, 25)
14 x 50m on 45 seconds (or 1 minute depending on fitness level)
Every 3rd 50m HARD pace!
Warm Down
A gentle 100m of your chosen stroke.
Thanks for your tips and swim sets Alice! We will be sure to put them into practise at our next session. If you are training for a triathlon or swim event, want some help with your technique or just to swim with other people, then join the community to meet other beginner triathletes and cyclists.