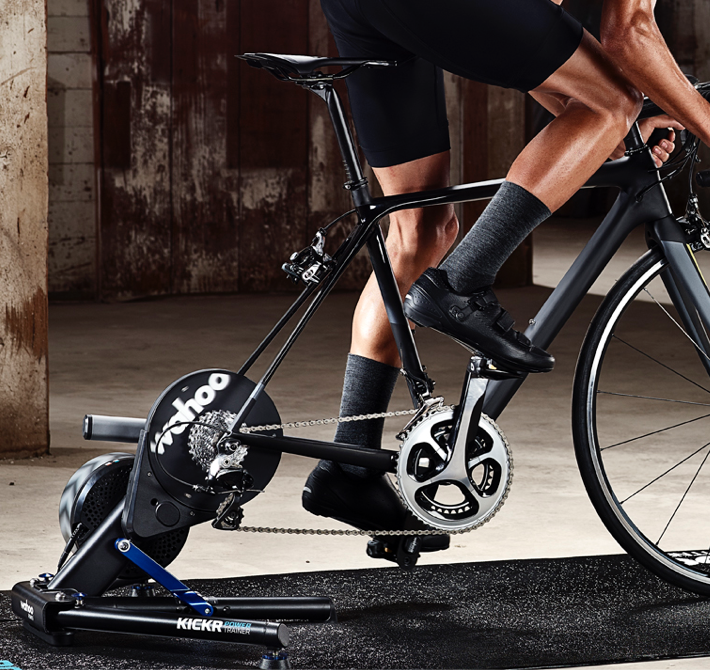 Dan Boyd of Complete Physio is the club bike fit partner and has kindly written a this blog for us on how to make sure your bike set up not only delivers you the best results, but will also help to prevent your getting injured on the road or turbo trainer.
Dirty Wknd members get 30% off bike fits with Dan, check out the Members App for full details and to book.  
Keeping active is one of the best ways to support your respiratory health and many of you will be doing this on the bike or turbo trainer. Cycling is a great way to maintain cardiovascular exercise.
But how do you, a relative beginner cyclist, set up your own bike at home to avoid injury and maximise your performance. The good news is that, whilst a proper bike fit is preferable, you can adjust your bike at home to improve your position and comfort. 
One of the most common things that I see (and change) on a bike fit is saddle height. Most people have their saddle too high, which leads to problems.
The widely accepted knee bend range is between 35 and 45 degrees, when measuring the angle of the knee bend in the 'BDC' position (your foot/pedal at the 6 o'clock position) on your pedal stroke.
Think of doing a bicep curl – your arm is much stronger in your 'mid-range' rather than when your arm is dead straight.
The same is true of your legs when pedalling. If your leg is completely straight at the bottom of your pedal stroke (because your saddle is too high), you won't be as powerful through the stroke. 
The 'correct' saddle height will increase your power, cadence and reduce your aerodynamic drag. Win, win, win!
But you need to get it right. As a rough guide your knee bend should be a little less than 45 degrees at your BDC (6 o'clock position).
My general advice, unless you've already had a bike fit, would be to set your saddle a little lower than you think. If you have a protractor or a goniometer get a friend to measure you – make sure that you remain in your cycling position for this.
Another method would be to video yourself and measure the range by pausing the video.
Next on my shortlist would be 'KOPS' position (knee over pedal spindle), which should be measured at the 3 o'clock position on your pedal rotation (i.e. the foot you're measuring forward) and can be easily 'plumb lined' with something heavy and a piece of string (again recruit a friend or pause a video of your cycling position).
The plumb line should go from the edge of your knee dropping down through your pedal spindle.
This position is altered by moving forward or backward ('fore' and 'aft') depending on your plumb line. See below for a video I recorded for Dirty Wknd to see how to measure your plumb line (as well as the other things in this blog).

Arms would be my next focus – and the reasoning for this is to stop isometric muscle contractions supporting your body weight, letting the blood run through to your legs instead.
This will affect your performance on harder efforts and longer rides. Also a nice relaxed arm position prevents one of the most common complaints – neck pain.
You should have between a 15 and 25 degree bend in the arms, with the hoods of the handle bars supporting your wrist in as close to neutral position as possible. It should be comfortable!
The above is a basic 'at home' set up you should be able to do on your own bike. In my role as head bike fitter at Complete Bike Fit we take things a little more seriously.
We use Dynamometry to measure your muscle groups involved in cycling, analysing ratios of strength and parity relative to cycling performance.
We also utilise GebiomizedÆ software and video analysis to fit cyclists in the most accurate and evidence based way possible.
If you are interested in finding out more about bike set up and bike fits, then get in touch by email or phone (020 7482 3875 or dan@complete-physio.co.uk) for a chat. Don't forget Dirty Wknd members get 30% Off! 
Happy Cycling! 
Thanks Dan, great insight. If you're interested in booking in with Dan either in the Chelsea or City clinics then head to the Members App for full details and 30% discount code!