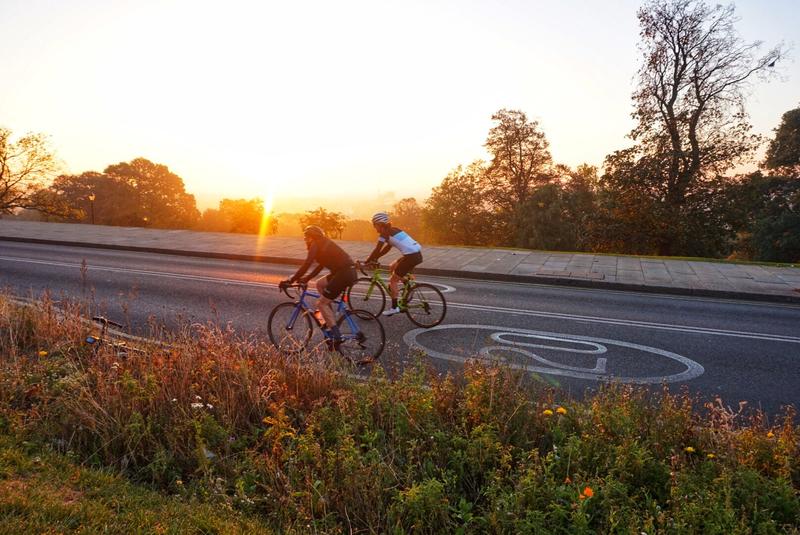 With the lockdown continuing and the British press ganging up on law abiding cyclists, we thought it a good idea to produce a list of central London cycling routes that can be completed in around an hour. 
Also the roads of central London are pretty quiet right now, so this is a good chance to ride some otherwise busy roads in relative peace.
All of the below below London cycling routes start and end at our clubhouses (cafe partners), but please pay attention to their distancing rules. If they are doing take away then try and organise a pick up to coincide with the end of your ride.
All of the routes can be adapted to start and end at your home, but please make sure to adhere to official guidelines about social distancing and staying close to home. Please take it easy - you really don't want to end up in A&E right now.
Join the community now to access the members app and make use of our full route database, containing some of the best London cycling routes. Just £39 for the whole year, you'll also get 10-50% off with our partner brands.


North London
North London Hills II
An updated version of our Norf London Hills route. Take in all the 'big boys' of the north London cycling scene - Swains, Ally Pally & Muswell et al. Easily customisable to start/end where you are, and also skip/add any loops you like - Route Details
Swains Lane Laps:
The most famous north London climb? Well deserved and a great place to get your 1 hour of heavy breathing. Take on a 3 - 5 lap challenge and you've got a hell of a work out - Route Details
Hampstead Heath Hit Out:
This route takes you up past lovely Hampstead Heath and up to Whetstone where you turn back to Muswell Hill (going down, thankfully). Optional jaunt up Ally Pally for those so inclined - Route Details
Totteridge Toddle:
Starting at Velasquez van Wezel, head north up to Barnet and Totteridge, before a spin up Dancer's Hill and back to Crouch Hill via Whetstone. Rolling hills all the way - Route Details


East London
Westfield Laps
A normally very busy part of East London is now quite car free, so you can loop around the Velodrome with ease. Do as many laps as you like, you can also divert through the Olympic Park to add an extra loop - Route Details
Lea Valley Tow Path:
Taking in some tow path and the quiet roads around the Tottenham/Walthamstow reservoirs, this route is a lovely quiet spin that can be done in under an hour - Route Details
Chingford Chaingang:
A short ride up to Chingford to take on the 'Death mount climb' (not as scary as it sounds) before looping back to East London - Route Details
Wanstead Flats:
Head out east through Stratford and into the Wanstead Flats, before taking on Buckhurst Hill and returning through the Olympic Park to East London - Route Details


South East London
Palace Hills:
Hill reps pack in the most punch for your daily hour, so check out our hilly loop from Four Boroughs. It loops back on itself a few times, so you can skip any climbs you don't want to do - Route Details

Greenwich Hills:
Similar to above but starting and ending in lovely Greenwich Park, taking on the best of the climbs around Greenwich Park, Blackheath & Eltham - Route Details

Bromley Bash:
Heading a little further out of town this south east London cycling route is rolling rather than hilly, and loops passed (not through) leafy Bromley before returning to Greenwich - Route Details

Spout Hill Spin:
Also heading a little further out of town, from Four Boroughs in Crystal Palace out to Beckenham and Addington. You then have the choice of taking in the extra loop to Warlingham or looping back. Either way you'll have to head up Spout Hill to get home ;) Route Details


West London
The 'Not' Richmond Park Loop:
It's not Richmond Park, but it is a good loop around the outer edges from the Putney Dynamo. A few god climbs, it'll definitely test you. 1 lap should take about an hour, and you can jump onto the route where it suits you best - Route Details

Tour de Thames:
Starting in Putney, take on a large stretch of the Thames heading east to Canary Wharf. Mostly bike paths and lanes, if you want to cut it short just head over one of the bridges - Route Details

Wimbledon Hills:
A shorter version of our official Wimbledon Hills route. If you want to skip any loops, or add any in, then it's very easy to do so - Route Details

Kingston Cruise:
Head out through Richmond and Bushy Park to Hampton Court. Option to loop around Molesy or jump on the tow path and head back to Kingston. If you'd rather take the road head through Thames Ditton and onto the A307 bike path - Route Details

West London Way:
Head out west and ride past Wembley stadium and up to Stanmore Common, before looping back to Harrow before home. Starts and ends at Notting Hill Gate, but easily adapted to start at your house - Route Details
Please let us know how you get on using our routes - we always want to see pictures of you out (solo) cycling, so make sure to tag us (@dirtywknd) so we can virtually applaud. 

Please take care whilst riding outside - stick to the official guidelines and keep your distance from others. Absolutely no group riding!
If you wish to Join the community at this time we'd love to have you as a member. You can access the app, make use of our full route database and cash in on some great cycling discounts. Just click the link above.

Have fun!