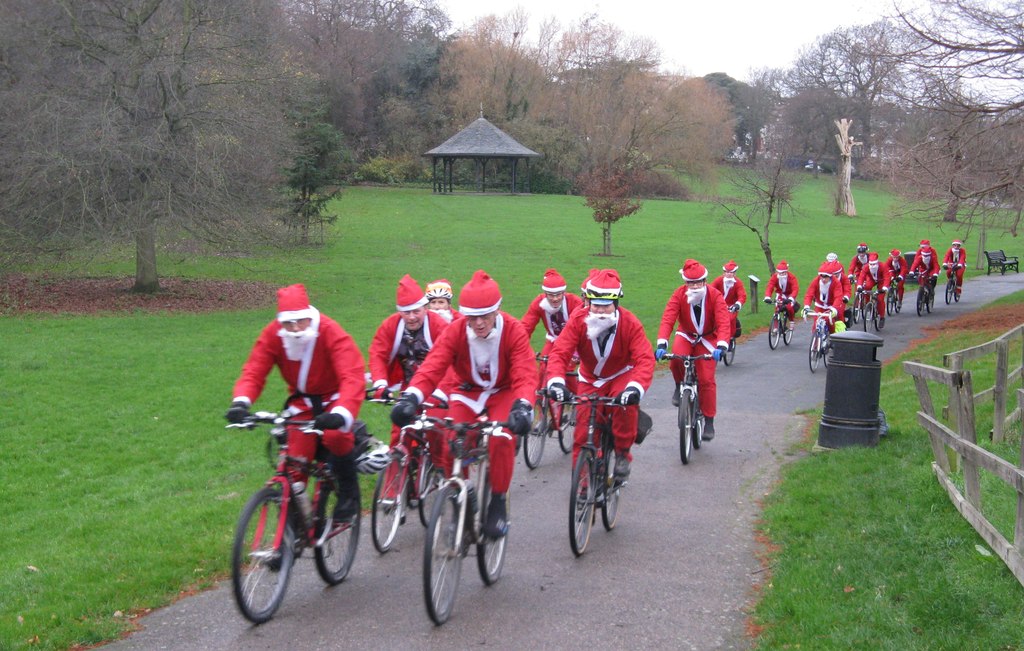 The time of year where we have to impress our loved ones with Christmas gifts is upon us. And few people are as hard to impress as cyclists!
Every year, poor unsuspecting non-cyclists have to rack their brains to buy their loved ones something that they a). really want and b). don't already have.
It's the second part that's so hard - they already have so many subscriptions, gadgets and funny bits of kit! How are you supposed to know what the cyclist in your life actually needs? 
If you're looking for the perfect cycling Christmas gift for 2022 then read on. If you have questions then get in touch, we're here to help.
You will notice that our list does not contain generic bits of cycling kit, gadgets or things like 'new wheels'. This is very much on purpose - we believe in the experiences not things mantra.
Also cycling paraphernalia is incredibly personal and specific to each cyclist, the buying of which can be very difficult to get right.
If you are certain they love a particular bit of kit then go for it. If you are unsure then play it safe with some Rapha or Wiggle vouchers. 
And don't just buy them a generic t-shirt or pair of socks with a bicycle on it. You can do so much better than that!
Bike Fit
There is no better performance upgrade than a bike fit. Forget new wheels or aero kit - if you can buy your loved one the gift of comfort and extra performance, wouldn't you do it?
The added bonus is you're giving them something to look forward to in January, as well as much less complaining around the house about aches and pains.
The downside is they'll probably tell you at great length everything they've learned about themselves during the fit. Sorry, but it will be worth it for their ongoing happiness. All down to you. 
If your cyclist is a London cyclist, then check out our bike fit partners Dan @ Physio on The Green (SW London) or Laurence at All Angles Bike Fit (N London).
I you're not London based then a bit of goggling should bring up plenty of results.  
Mechanics Course
Similarly to the bike fit, a good mechanic course is the gift that keeps on giving. Your cyclist will be able to learn more about how the bike works, how to maintain and keep their own bike and save some valuable cash. 
The best thing about this gift is you'll be giving them a skill, one that they can hone over years and years of bike riding. The downside is, again, you'll have to listen to them talk at length about gear indexing, bottom bracket standards and spoke tension. Sorry. 
Check out London Bike Kitchen for their class and one on one courses. 
Full Bike Service
Even with starting a mechanics course, no one will be able to get your loved ones bike(s) in shape like a pro mechanic. 
There's no greater feeling than the first ride after a bike has been professionally serviced, and that's quite a gift to give! 
Again you can give them a voucher to use when they're ready, which will likely be at the beginning of Spring. The perfect time to have a perfectly functioning machine.
Have a chat with Dirty Wknd servicing partner Willy's Wheels. The servicing options are numerous and the quality levels are sky high. Plus members get huge discounts!
Charity Donation
There are loads of great charity initiatives that centre around the bike and cycling, so donating to one of these in your cyclists' name will give them a warm fuzzy feeling on Christmas day.
There are loads of other cycling charities so do some research, find the cause that is closest to yours and your cyclist's hearts and make a donation. 
Club Membership
Give the gift of community and friendship. Your cyclist may already be a member of countless clubs, whats app groups and Reddit discussion forums, but if they're not then a year's club membership is a great gift idea. 
Especially if they're a beginner rider, joining a club will help them to gain confidence riding on the road and meet other cyclists near them.
The downside for you is that they'll start setting the alarm at 05:30 in the week to make it to morning laps, and spending 4-6 hours off cycling at the weekend. Sorry.
You can gift your loved one a Dirty Wknd membership for just £39 for a year. Just drop us an email for how to sign them up (don't worry, they won't get any info until after Christmas Day).
Or we'd highly recommend buying them membership to the London Cycling Campaign or Cycling UK as well. Two great organisations that are doing loads to help cycling safety in London and the UK as a whole. 
Komoot Subscription
Our partner Komoot is the best of the best when it comes to outdoor cycling apps. An annual premium subscription is about 40 quid and will give them nothing short of a wealth of inspiration! 
Physiotherapy and Massage
You're probably sick of listening to your cyclist moan about 'this pain' or 'that ache' so this is as much a gift for you as it is them. 
Cyclists are famously bad at looking after themselves; as likely to stretch after a ride as drink carrot juice instead of a pint with their post ride pizza. So a present of physio treatment or a sports massage will do wonders for their overall health.
Check out our partner Bodyset for studios all over London and an unrivalled knowledge. 
Event Entry 
Now you could go out on a limb here and pick an event for them, but you'd be a very brave companion to be sure they haven't already done it!
A much better approach is the 'you find it and I'll pay for it' method. 
This way the gift comes in two parts. Actually completing the event, and, almost more importantly, the months of planning and research of said event.
Strange bunch, cyclists. But hey, you love them right?!
And that's all we've got! No doubt this Christmas will be incredibly tough for many so do think about giving to charity or what you (and your loved one's obsessive love of cycling) can do to help. 
If we've missed anything then please let us know on Twitter. We'd love to hear your thoughts on the best Christmas gifts for cyclists. We may even add them to the blog. 
Have a great Christmas and good luck with the shopping!
Main image credit - cc-by-sa/2.0 - © Dave Pickersgill - geograph.org.uk/p/4763856