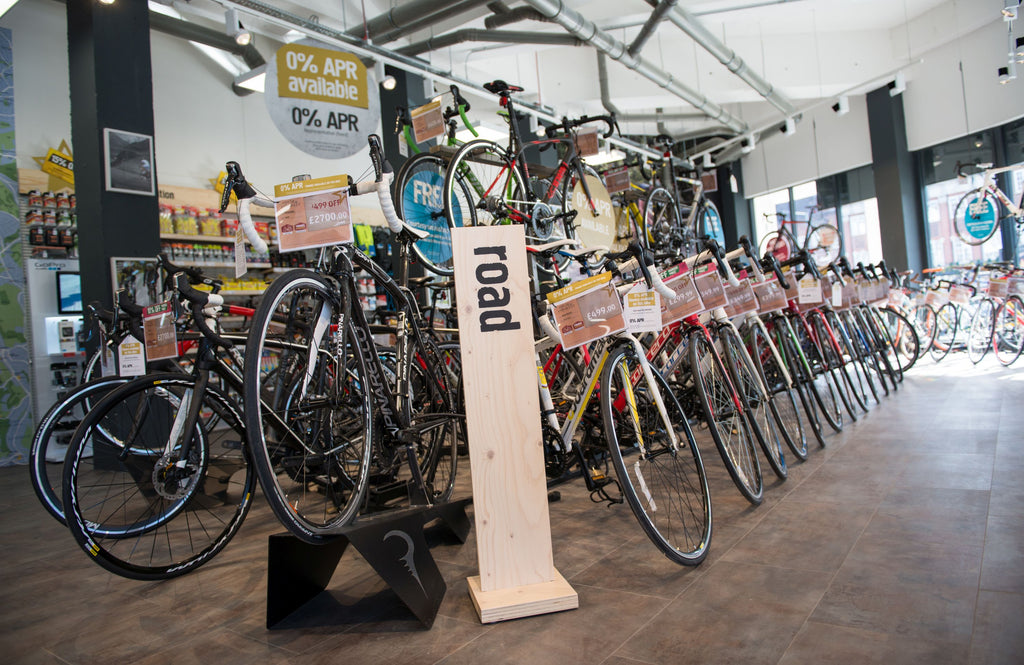 Buying your first bike is a wonderful experience. You're purchasing nothing less than freedom and the chance to explore, increase your fitness and meet other cyclists in your area.
You've made a wonderful decision. Really, well done you.
However it can be a bit daunting from the outset. There are so many different types of bike out there, so many different shops; where do you start? Buying your first bike should be anything but a stressful experience, so we're here to help. 
First things first - what type of riding do you want to do? Road riding or off road? What about a bit of both? Either way it's a good idea to research the different types of bikes before you start. Once you know what you want you can start shopping!
Local Bike Shop vs Online?
This debate will run and run, and there are certainly upsides to both. If you shop online from one of the big retailers you will likely get a better deal, but you can't test ride before purchase and taking it back if there's a problem or if you're not happy is tricky.
We would always recommend using your local bike shop (as long as they're good), especially if you're a beginner cyclist and a bit unsure.
Go and speak to a knowledgable human, ask them loads of questions and test out as many bikes as you can. If you build a relationship with your LBS they'll look after you well, which is worth more than the savings online. 
Seek Advice
Whether it's your local bike shop, joining a cycling club or speaking to you're mate Kev who knows 'everything there is to know about bikes', you should really seek help. Research online, read magazine reviews and ask other cyclists for their tips.
We cannot recommend joining a cycling club or group enough. You'll be surrounded by various levels of rider, all of whom will have experiences of the dos and donts of buying a new bike. And, because they're cyclists, they'll be more than happy to go to great lengths telling you all about it! 
Time of Year
A good tip is to pay attention to the time of year. Most bike brands will put the current stock of bikes on sale at the end of the cycling season (typically Sept - Nov) to have a clear out before the new stock comes in.
If you don't mind riding 'last year's colours' (and if you do, you need to have a word with yourself) then you can pick up a bargain. 
Cycle To Work Scheme
If your company is signed up to the cycle to work scheme then you should absolutely use it to buy a new bike.
How does the cycle to work scheme work you might ask? Well, you can read all about it here, but essentially your employer buys the bike for you, and you pay it back in monthly 'salary sacrifices'.
You and your employer then save money on national insurance contributions. If you spend the full £1000 allowance then you'll end up paying back about £600 in the year, so it's a really worthwhile scheme.
You can either use the general Cycle Scheme option (above), where you pick the shop you want to use, or you can use a specific scheme attached to a chain - i.e. The Cycle Republic scheme (20% off kit/parts for members).
Either way it's a great way to save some cash when buying your first bike. If your company isn't signed up, then get them on the scheme. It's very easy. 
The other great thing about using the scheme is that it applies to essential cycling items too, like kit, helmet, shoes and accessories.
So you could spend £1000 and get a bike and all the necessities to start riding right away. You should also spend the full £1000 too, as the repayment amounts aren't much different. For those big spenders, you can also go over £1000, but you have to add the rest as it's not tax deductible.
Buy Second Hand
As you learn more about cyclists, you'll realise that they go through bikes and kit like wildfire. The bike they bought 6 months ago is no longer fast/flashy/expensive enough, so they have to buy a new one.
This means the old, hardly ridden and perfectly good one goes up for sale at a much reduced price. 
This is a bit more risky if you're a beginner cyclist, but there are loads of bargains to be had in the second hand market. It takes a little more research and no small amount of trust, but it can be really worth it. Below are your best options:
Facebook marketplace - This is a game changer and now the go to place to buy second hand bikes. Search 'cycling swap and sell' on Facebook to find groups, or just search in the marketplace function
Ebay - Still a great place to buy second hand if you're willing to put the time and effort in. Ask many questions from the seller and always try and view
Join A Club: If you're a member of a cycling club, that's direct access to loads of riders who will undoubtedly have old/spare bikes and kit they'd love to get rid of. Join a cycling club and meet these people instantly. Dirty Wknd for instance has a members app with a dedicated 'Buy & Sell' section.
So there you have it. Buying a bike isn't that scary when you break it down. The biggest piece of advice we can give is exactly that - seek advice!
Join a cycling club to meet and talk to cyclists about new bike buying (although you might start to wish you hadn't ;) and definitely do go into your local bike shop to ask about what's available. 
You hear some horror stories about rude, obnoxious bike shop staff treating you like an idiot because you don't know what a drive train is. If they do this then walk out - give your money to a nice bike shop that treats you with respect. 
If you have any questions about buying a new bike then please get in touch. Either on social media (@dirtywknd) or by emailing hello@dirtywknd.com. We're always keen to chat about bikes!