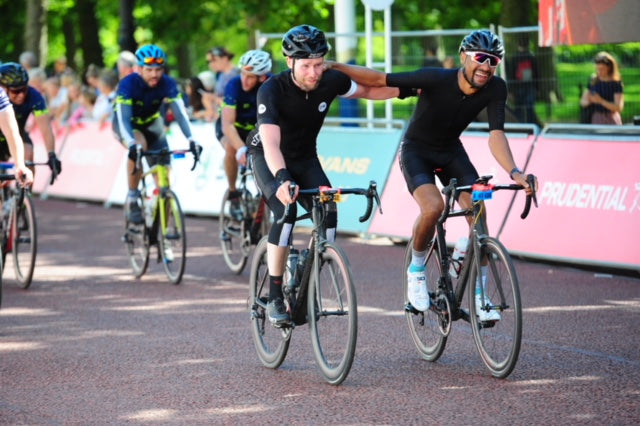 With just a few weeks to go now until Ride London Essex 100, riders thoughts will turn to final preparations and tapering ahead of the big day.
If you're an experienced cyclist or Ride London regular then you might be thinking about beating your 100 mile PB on the flat(er) course and wide open Essex Roads.
However if you're a new rider or Ride London debutante then you might be filled with anxiety and worry, with roughly 1 million doom filled scenarios running through your head.
One of them being finishing within the time cut.
If you weren't aware that there is a time cut for the ride then sorry to break it to you like this, but there is a maximum amount of time to complete the Ride London route.
We've had a few emails about the time cut, so thought it would be helpful to give some tips on how to complete Ride London within the time cut.

Having coached hundreds of new cyclists through Ride London in the past few years, we've got some pretty good tips on how to complete the ride happy, healthy and safe!


What is the time cut?

Ride London operates a maximum ride time to complete the course, which is 8.5 hours from when the last groups leave the start. 

This means riders will need to travel at a minimum average speed of 19.5kph (12mph) not including stops to beat the broom wagon (cut off time).

To be clear, if you aren't going to make the cut off time then you won't be stopped on the road and told to get off your bike and walk home - the organisers will funnel you through a diversion to cut the course.
So you'll still ride back to London, you just won't be able to ride the full 100 miles.

If you do get diverted then follow the organisers advice, take the diversion and enjoy the rest of the route. It's just a bike ride at the end of the day, and you can enter again to take on the full 100 miles in the future.

If you want to give yourself the very best chance to beat the time cut then see our top Ride London tips below. And it doesn't include 'just pedaling faster!'


Quick Feed Stops

So much time is lost at the feed stops!
It makes sense - 100 miles is far, and stops are a great chance to get off the bike, walk around, take in the atmosphere and grab some food.

This is all fine if you're making good time and can relax a bit, but if you're worried about the time cut then it pays to be really efficient at the feed stops.

Get in, go to the loo, get your bottles filled and get out again!
I'm not saying treat it like an F1 pit stop, but try and cut out any faff. Plenty of time for that when you're celebrating at the end of the day with a beer and your medal!

And for an extra tip (also important for anyone trying to set/beat a specific time), try and avoid the first feed stop altogether. It's always really busy and takes double the length of time it should.

If you've got enough pocket space or handlebar/frame bag space then start with extra snacks and ride right past the 1st stop and keep the momentum up.
The field will have thinned out by the next stop and it'll be much quicker.
It's also a really good idea to practise eating and drinking whilst cycling. The roads are going to be closed so you won't be stopping at traffic lights so eating and drinking on the move is a great way to save time. 
Of course if you really need to stop then do so, staying fuelled and hydrated is priority number one!


Suck All The Wheels!

If you're new to group riding or you've not ridden with others before then you'll be amazed at how much faster you can cycle in a group.

Thanks to the principle of drafting a large group of cyclists will always travel at a higher speed than an individual rider.
It's why they always ride in a big bunch at the Tour de France.

So try and get yourself into a nice big group early on and stay there!


Riding in a group fills some cyclists with enormous fear, but at an event like Ride London (especially on the new Essex route) it will be impossible to avoid.
So embrace the group dynamic and suck as much wheel as you can (eminently technical term for sitting behind other riders and drafting!)

The below videos will help you prepare for a day in some big groups:
Don't chase a group that's way too strong/fast for your level. You'll just blow up and then have a miserable rest of the day.
If the group is too fast, let it go and look behind for the next one. There's a perfect group out there for everyone!

If no is talking in the group then be the one who starts communicating.
Loads of people moan after a ride that no one was communicating and it was sketchy, but you can be the person who starts the talking.
Don't be shy, if it keeps you and others safe then it's worth being a bossy boots!

Ride Safe

Following on from group ride etiquette, the best way to get round the Ride London route is exactly that - to get round. A crash or accident will, at best,  severely hold you up, so ride safely.

Don't put yourself in danger to gain a few seconds advantage if it's going to mean a crash. There are much worse things in life than getting diverted at Ride London, so be sensible and ride within yourself.

And whilst being in a group is important, if it's a really dangerous group with loads of 'choppers' (again, more technical terms) then get out of it ASAP!
Drop back and let the group go, there will be another one along behind you shortly.


Avoid A Mechanical

After accidents and crashes, a mechanical fault will be your next biggest time sapper.
This can range from a puncture to gear or brake issues, but either way it's going to see you helplessly standing at the side of the road, the clock remorselessly ticking.

The best way to try and avoid mechanicals is to get your bike serviced before the event. This can range from a quick check up/tune up to a full service and clean.

If you're in London then check out club partner Willy's Wheels (25% off for club members). Get booked in now because he's going to be busy for the next few weeks! 

Another good preventative measure is to invest in some new tyres before the ride. New tyres will have better puncture protection and hopefully see you through the 100 miles flat free.
And whilst we're on tyres, make sure yours are inflated to the correct pressure. Go into your local bike shop to find out about tyre pressure and to borrow their track pump.

Clean Your Bike

Much like a service, a good bike clean can do wonders for your Ride London experience!
Not only will it help to highlight any potential mechanical issues, but a clean bike is proven to be faster.

Focus on the drivetrain, meaning your gears and chain. Getting this area sparkling clean and lubed will improve your speed and gear changing efficiency.

Whilst a shiny frame may not translate into extra speed in real terms, knowing that your bike is functioning perfectly will give you extra confidence.

It may sound silly but confidence translates into actual speed on the day. If you feel good, and you know your equipment is on point, you will ride faster.

Check out this full bike clean video to do it at home, or check out our partners Ride Clean if you don't want to do it yourself.

Enjoy The Ride

And lastly, your enjoyment levels will dictate how fast you ride. If you are tense, anxious and constantly checking your time and speed then that will translate into your legs.
You won't ride as fast, and you won't enjoy the day.

If you're having a great time on the bike and enjoying every pedal stroke then the ride will fly by and you won't even have to consider the time cut.

A good tip here is to put your GPS device or phone in your pocket and not mount it on your bike.
That way you won't be looking at it every minute checking your stats. Just ride and enjoy the day, what will be will be.

I know it's easy for me to say this and you might not be feeling quite so calm two weeks out.
But we have helped hundreds of riders smash their expected time at Ride London over the years, and they all said 'I wish I hadn't been so worried about it' at the end of the ride.


Another reason to be thankful, or optimistic at least, is the new Ride London Essex route is a lot flatter than the Surrey route.
There is no Leith Hill or Box Hill to really slow you down, so we are anticipating some pretty quick finish times across the board.

The route certainly isn't flat and there will be some bumps that catch you out, but it is a much nicer profile than the old route.
And now the good part - Ride London haven't adjusted their maximum finish time to reflect this.

So you'll be riding a flatter and faster course, but with the same amount of time to complete the route before the cut off. Happy days!

Good luck with your final weeks prep and tapering. Remember you can't do much more training now, you'll just tire yourself out.
Rest up, spin the legs out gently and get that bike cleaned for the big day!

If you have any questions about the time cut or anything else then get in touch by email or drop us a line on social (@dirtywknd).
You can join the Dirty Wknd community to chat with other Ride London entrants. Start the 14 day free trial and get stuck in.