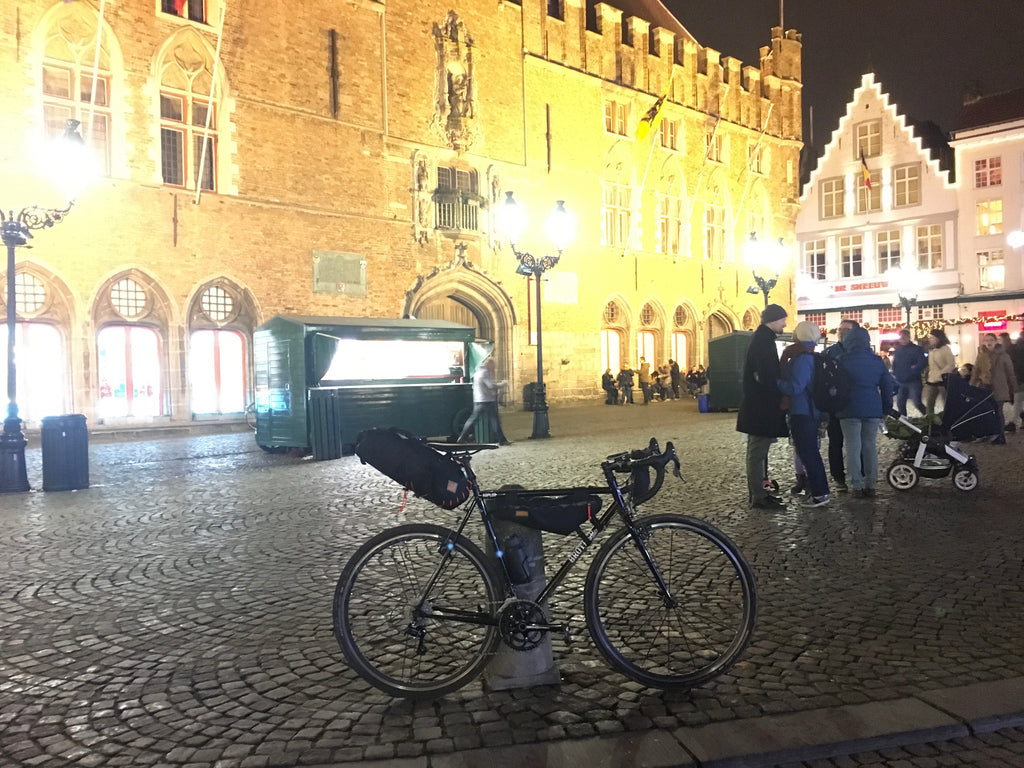 This article was originally written and published in January 2018.
Anyone who has ridden with me for any length of time, you will have heard me talk (at length) about the beauty of bike touring.
I could talk about it for hours because it's probably my favourite type of cycling. Riding from point A to point B with everything you need to survive on your back brings a very real sense of freedom.
Not only are powering yourself - you're carrying your home (tent) clothes (spare bib shorts) and supplies (Clif Bars).
You can go anywhere and do anything and that's a pretty special prospect. 
When my family decided to have Christmas in Bruges in 2017 it took me about 0.1 nanoseconds to decide I was going to cycle there.
The thought of setting off from home with all your kit and riding across a country has always appealed to me, and before looking at the logistics I'd made up my mind.
Luckily when I did eventually look up the logistics (roughly 4 days before setting off), it turned out to be a pretty simple ride. 230km give or take a few from Dirty Wknd Towers in Hackney to the Grote Markt in Bruges. On December 23rd. Easy peasy.
Planning
Now - more organised people than myself would've planned this trip a bit more. Scrabbling around for a route the day before setting off whilst awaiting delivery of my shiny new Restrap bike packing gear (i.e my luggage for the trip) is not the ideal prep for a tour.
If you want my advice you should plan ahead - it was a little bit stressful!
However, as these things have a tendency to do, it all worked out in the end. Just. When you boil it down you need three things for a bike packing adventure:
1. A bike
2. Some Luggage
3. A Plan
That's it! The further you go the more of the above you'll need, but really that's all it comes down to.
And if you're being a real maverick, you don't even need a plan - just a start point!
As I knew I would be able to ride the distance, and that the ferry crossing was pretty straightforward, I didn't plan very much. This was a mistake, as you'll find out a bit later. 
If you are thinking about riding to Bruges you will find a section at the bottom of this post with all of the logistics it took to get me there. But don't scroll right down just yet, we're just getting started...
Stage One - London to Dover
Stage One was easy. Stage One I had done before. Wouldn't be a problem, right? Oh how wrong I was. Lack of Planning strike one!
Because I had done this part of the ride before I wouldn't need to create a new route.
I had a lovely route down to Folkstone that we did on Sophie Radcliffe's London 2 Paris 24HR Sportive. It was a lovely ride, and would suit this bit of the trip perfectly. Job done - just need to pack the sweet new Restrap bags and get some shut eye.
The only thing I forgot about was that Sophie's London 2 Paris ride started at 3pm. In April. Now it was 4am in late December and the conditions weren't quite the same!
Not only that, but Sophie's ride was a tough event designed to challenge everyone on their way to 24 hour glory. This means hills - lots of hills!
Now Kent is never flat, but the trick with touring is usually to try and find the flattest/easiest way from A to B so as not to expend too much energy per day. Whilst this was a beautiful route - it's wasn't ideal for touring.
The other thing I forgot that on the way to Paris back in April our bags had been stowed very nicely in one of Sophie's vans.
This time I would be carrying everything on my bike. So it was pitch black, a hilly profile lay ahead and I was riding a 30kg bike (with Restap bags attached).
Now this is not to say the Restrap bags are heavy - they're very light in comparison to traditional panniers or a backpack. But carrying all your stuff with you is always going to weigh you down - another reason for picking a flat route!
I had booked a 12pm ferry crossing from Dover to Dunkirk, so I had to work out how long it would take me to ride the 140km. At 30kph it would take me 4 hours, but that might be punchy - and what about stopping for coffee and cake?
The whole point of touring is to take in your surroundings and sample the local village delicacies. I decided to leave at 5am - this way I had 6 hours to get to the Ferry Port with plenty of time to spare.
Riding through central London at the time is a joy - there's no one around and the roads are empty. I had dressed in full winter gear, it being December 23rd and all, and immediately over heated.
Our winter jersey and jacket combo with a merino winter base layer is a toasty combo and I was in trouble.
Coming through the Greenwich foot tunnel and riding through Greenwich park in the orangey glow of pre sunrise was delightful, but it was on leaving Blackheath behind that I ran into problem number two for the morning. I couldn't see anything.
My two lights, both good quality, were illuminating little of the road in front of me, making for a fairly sketchy trip down some very windy, very muddy lanes.
However, this is where one of the few good decisions I did make came into play - choosing to ride my Brother gravel/adventure bike.
The 40mm gravel tyres 40mm and sturdy steel frame clung to the road through the worst conditions, so I was able to pedal hard regardless of the slippy surface and poor visibility.
My Wahoo was handily pointing out any sharp bends so I could just get my head down and go. Could've probably had a little snooze, if it wasn't for those pesky hills!
Eventually though the sun did start to come up (a full 3 hours after setting off) and I had well passed the half way point. With no traffic on the road I was making excellent time.
I had booked a fixed crossing as opposed to a flexi crossing (it was cheaper) but with the fixed ticket you can jump on a crossing either side of yours if you're early/late.
It was here I started to dream I might be able to make the 10am crossing. Landing in Dunkirk is good because you're closer to Bruges, but travelling to Calais is a lot more frequent and the crossing is 30 mins shorter.
As I was  trying to get there in one day, I opted for the slightly longer crossing and docking closer to Bruges.
I was gunning for the 10am ferry now and putting my foot down. The KMs began ticking down on my wahoo as I was getting closer and closer.
Still massively overheating (it was very warn for December) and hammering it, I got to Folkstone and my Wahoo was reading 2.4km to destination. I knew Folskstone and Dover were close, but I didn't think they were that close.
As I rode on a bit further it dawned on me that my route actually finished in Folkstone. Because I hadn't planned a new route to Dover, preferring to lazily rely on an old London to Folkstone route.
Now I have ridden from Folkstone to Dover before on an Audax, and if memory served it involved going up a pretty big hill.
At this point I was very tired. Riding a 30kg bike 130km at a decent tempo, up and down quite a few hills, had really taken its toll. As much as I love hills, I was really not looking forward to this one!
The first attempt at circumnavigating the final climb led me into a caravan park, so I gave up trying to avoid the inevitable and headed back to the foot of the climb. 
Transition (Ferry Crossing)
Despite this hideous final climb, I made it to Dover ferry port and, as the only cyclist within 10 miles, I was ushered onto the boat with an hour to spare.
Ferry journeys remind me of being a kid and I still look forward to them - they remind me of holidays, exploring and freedom. Pretty apt for this trip!
After finding a suitable seat with enough plug sockets to charge my 1 million devices, the next task was food and coffee. Not stopping on the way down and sweating out half my body weight had left me pretty peckish.
This reminds me that the most important thing to do on the ferry, even before charging your phone, is to get out of wet/sweaty kit.
Having done many a freezing over night ferry crossing in bib shorts and a wet jersey, my number one tip is bring something dry to wear on the crossing, and dry kit to put on for the next leg.
Hanging out all your sopping kit on the surrounding chairs also puts off any annoying tourist/non cyclist 'normals' from joining you at your table!
Fed, charged and dry - it was very hard not to fall asleep.
Bleary eyed Instagram stories and semi legible tweets would take up about an hour, before it was time to pack up the bike and ride off the boat.
A quick word about the Restrap gear and why it's so good for this type of trip. The bags actually come in two parts - a holster, which attaches to your bike with lots of supportive straps and cables, and a dry bag, which slides into the holster very easily, clipping in to place securely.
It makes a ferry ride/cafe stop much easier as you don't have to remove all of the strapping every time you go anywhere.
You just slide out the dry bag. So I was packed up, gear back on the bike and rolling down the ferry ramp into Northern France in no time at all.
Stage 2 - Dunkirk to Bruges
I rode onto French soil at about 3pm, with 90km separating myself and Bruges. On the ferry I realised that my lack of planning had come back to bite me again.
Having not created a route for stage 2, my plan was to steal Helena's Calais to Bruges route and pick it up at Dunkirk.
However on the ferry I couldn't load it on my Wahoo because I hadn't saved it properly. Something I definitely should've checked before leaving home.
Not much good to me now and no use crying over spilt GPX files. I'd navigated my way from London to Nice by writing town names down on my hand before - this was practically a straight line, how hard could it be. 
The first town on my list was Veune, so after a couple of wrong turns I found the road I needed and set off on what was, admittedly, a pretty big road.
For those of you that haven't ridden in Northern France or Belgium before it really is a delight; there are cycle paths everywhere and the drivers are incredibly courteous - it's a dream that UK cycling is sadly quite far away from.
In fact, the only person who beeped at me was a very nice chap who was kindly pointing out that there was a cycle path on the other side of the road, and that maybe I should get off the 90kmph dual-carriageway. I owe that man a beer.
After finding the cycle path and working my way into Dunkirk town, I had a brain wave. Whilst I do actually enjoy town sign navigating (i'm old school), I was on a bit of a deadline, and I did have another option.
I had a Wahoo. One of the particularly cool features of the Wahoo set up is that if you're lost, fed up or haven't done any planning for a fairly important bike tour, you can just open up the app, go to the 'take me to..' function and input your destination.
So that's what I did. "Take me to Bruges, Wahoo, and don't spare the horses!" I was off again and on a much nicer route, thanks to Wahoo. It basically put me on a cycle path, which I didn't really get off until Bruges.
Being a born and bred Norfolk boy, I am very used to cycling in vast open landscapes that are incredibly flat - so Belgium felt like home!
Starting pretty much on the French/Belgian border, the majority of the ride is in Belgium, and it is beautiful. No mountain horizons to focus on, but the vast expanse of farmland holds its own special beauty.
Maybe you had to grow up in vast expanses of farmland to appreciate it, but i like it. Any fans of Grand Designs will also be well served here as there are a lot of very cool, very modern houses on the route.  
I was not able to play Kevin Macleod for very long, however, as it started to get dark again. 
The weather was so nice I'd forgotten it was December and, firing up the lights, I was set to finish this ride as I'd started - in the dark! As fun as this trip was, I would always recommend bikepacking in the months where you get more than 8 hours of daylight!
There were still plenty of KMs to go before Bruges, as I passed through small Belgian towns following the canal/river (never did find out which), on the same cycle path.
The only change in the smooth road surface was when, whilst travelling at about 30kmph in a bit of a daydream, the path turned into some rather large cobbles.
To say I was shaken out of my stupor was a bit of an understatement!
The Brother dealt with the cobbles perfectly (once I'd woken up) but it was a bit of a shock. Note to self; you're in Belgium - there's always cobbles!
Living in London as a cyclist you get very used to the 20km or so of 'outer London' that you have to navigate to actually get into anything that resembles London.
Smaller UK cities aren't as bad, but there's always a bit of urban sprawl to signal the end of your ride and the return to the city! So you can imagine my surprise when, 5km from the centre of Bruges, I was still surrounded by a couple of lost looking sheep and one small shed.
I pushed on however, trusting that Wahoo knew where we were going, and a few KM later I started to reach civilisation.
This is how small Bruges is.
One of the more spectacular entrances to a town I've ridden into - there are still town gates (I could easily picture the draw bridge). Even better than that is the bike lane has its own little entry so you can slide right through the gate as the traffic sits still.
Might as well be a sign saying "cars not welcome; bikes come on in!"
Of course, inside the town walls the streets are ALL cobbled. After 229km it's not ideal, but the cobbles sit so well with medieval town buildings and the romance of Belgian cycling that they're a pleasure to ride over.
Well, that and knowing you've made it!
Riding into the Grote Markt (the famous town square from all the pictures) there's all the Christmas going on, and I finally start to feel christmasy at last! 
Bruges is so picturesque you'd be forgiven for thinking someone had made it up. Having arrived at about 6:30pm I was just in time for a quick beer with the family, before heading off to the apartment to lie down!
Now It's Your Turn!
As tours go, it's not the most difficult I've done, but riding from London to Bruges in a day is a great fun ride, and one that all but a really beginner rider could achieve.
The logistics are very straightforward (with a little planning), the ferry crossing is easy and the route a real joy to ride. If however, you don't want to do it in one day, you could easily split into two and explore Belgium a bit more.
Or you can get the train all the way or part way to Dover and then ride from there. The possibilities are endless.
One thing that remains constant is that the destination of Bruges is completely worth the trip, which ever way you do it.
And it's very easy to get back from - either reverse your route and ride back the way you came, or get a local train to Brussels and catch the Eurostar.
Either way it's a very worthwhile trip, and despite my own (self induced) issues, it's a very straightforward bike tour to undertake.
See below for logistics and then get out there and ride it!
Logistics:
Kit list: 4x inner tubes, pump, levers, multi tool, spare base layer, spare jersey, spare socks. Various plugs/adapters/cables. 2x front & back lights, lock, spare clothes. That's it!
Route 1: London to Dover - Click Here (maybe try and find a flatter route :)
Ferry Crossing: 12pm to 2pm Dover to Dunkik with DFDS Seaways
£30 each way (fixed ticket). Flexi ticket £50 each way.
Route 2: Dunkirk Ferry Port to Bruges Click Here (starts in Calais, can pick up in Dunkirk)
Luggage: Check out our luggage partner Restrap! The best bike packing kit we've ever used and 20% off for members.  
Bike: I rode a Brother Kepler that I built myself, but you can get hold of a full build of the same bike here. Truly spectacular bike, but any working bike will do the job!
Good luck if you are attempthing the trip - please let us know how you get on! You can connect with us by email or on social media (@dirtywknd). We'd love to hear from you.