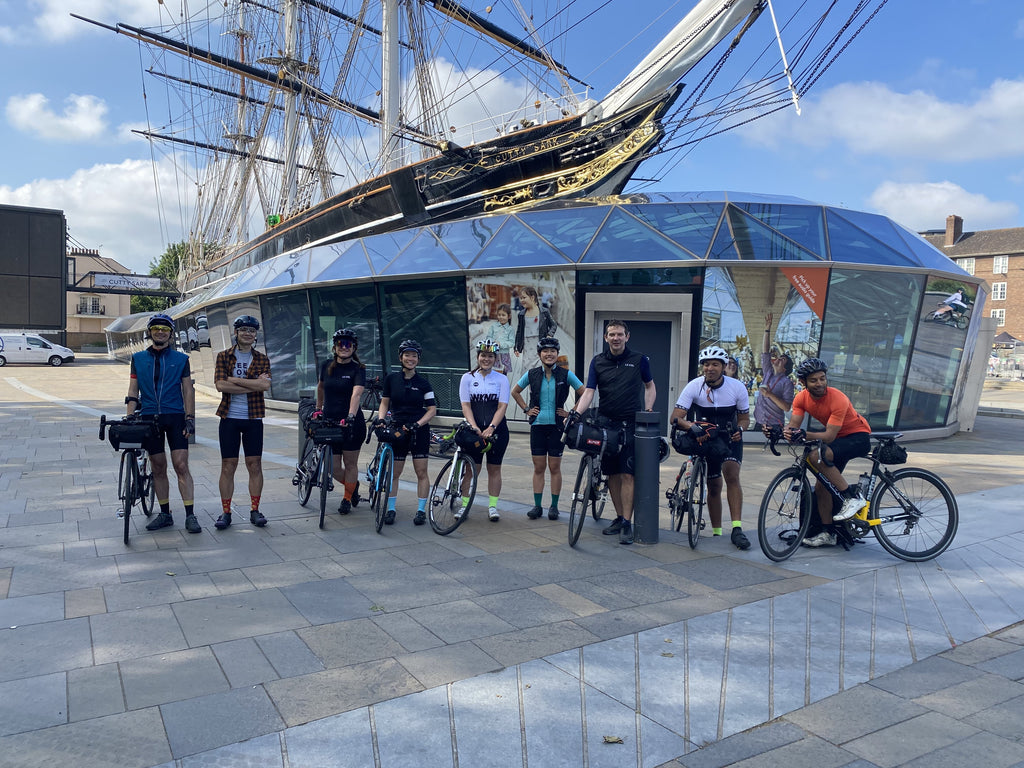 Lynn Luong is a Dirty Wknd member, relatively new cyclist and, as of now, a confirmed bikepacking convert! Joining a long weekend bike touring trip in early June with some other Dirty Wknd members, Lynn had to to take a crash course in bikepacking. Read all about it went below...
Having joined the world of cycling just over a year ago, I decided it was time for me to try out bikepacking. I've always been drawn to adventures, but I didn't do a ton of research beforehand besides watching a few GCN touring videos.
With a few recommendations from Dirty Wknd I bought a hooped bivvy bag and a cheap blow-up camping mat, borrowed a standard 2 season sleeping bag from a fellow tourer and was ready to embark on my first adventure with the bike.
The trip planning started on a bit of an impulse. We decided on Rye as the place for our first trip as it was known to be a pretty coastal town, with a famous sandy beach.
Simon - the camping expert amongst the group - helped us sort out the campsite and logistics for the 3 days away. 
With the site booked and my bivvy arriving, I decided to try and sleep out in the bivvy bag on my balcony as a test run. I would recommend doing this if you haven't camped recently or in the kit you have just bought.
It's personal to each camper, but with the temperature dropping after midnight, I found out that my sleeping bag was not adequate for the job and my extremities were suffering. I decided to pack an extra down jacket and ski socks for my adventure. 
Pre Ride Packing & Testing
As the day approached, I needed to do a test packing run for all of my camping kit. My XS bike frame presented another challenge.
With a 37cm handlebar and very little clearance for a saddlebag, I resorted to borrowing a saddlebag rack from Simon (you would have thought he owns a kit shop by now), which just about elevated the bag enough so it wasn't rubbing on my back wheel.
I had all my camping equipment at the back of the bike, and all of my clothes at the front. Fortunately, the weather forecast predicted 100% sun and tropical temperature by sheer luck, so I hoped that was my last hurdle.
Day 1 - London to Rye (Strava Data)
We met the rest of the group at the Cutty Sark on Greenwich to set off on a one-way trip to Rye, marvelling at all the variety of unique set ups that people had.
My immediate thought was that I've still got a lot to learn!
We weaved our way out of London, naturally splitting into 2 groups. Our group decided to take it at a slightly more leisurely pace, given the extra weight, hills and gorgeous weather.
Soon we were in the lanes with the north downs looming before us. I knew this was only the first day of a 3-day tour, and my strategy when cycling with weight was just to go down into the small ring a lot more often.
It saved my legs from over-exertion and helped make the day a lot more enjoyable.
Soon we arrived at the campsite, with a direct view of green hills and sheep. I was excited for my first night under the stars. We set up camp, showered and spent the night getting a pub dinner and planning the next day's adventure.
Day 2 -  East Sussex Exploring (Strava Data)
We had an exciting 100 km loop for today with the aim of exploring the local lanes as well as some local landmarks.
Everyone was beaming with excitement with the prospect of a sight seeing day with no extra luggage (staying at the same campsite both nights meant one day's luggage free cycling).
We headed to Rye first, trying out the famous cobbled climbs and descents and looking for views. Eventually we made our way through some lumpy patches of countryside, arriving at Bodiam castle for the first ice cream of the day.
Following the winding lanes down to the beach, we had the most spectacular pootle along Camber Sand beach.
I did however take a tumble and almost swallow a mouthful of sand. The only thing for it was another ice cream before riding back to the campsite.
We were using Simon's portable stove for the second night, for a true camping experience. After dinner of lentil and carrot soup, we got the campfire going. What is a camping trip without some roasted marshmallows?
Day 3 - Rye - London (Strava Data)
We woke up in a sea of fog with no visibility. On the bright side I had a solid night of sleep compared to the first night. Anyone worrying about getting to sleep in a bivvy bag/tent really needn't bother - exhaustion will take care of that.
We quickly had our breakfast and packed the bivvies and tarp away, ready for another 120km back home.
The fog left most of our kit a bit wet and damp - nothing like carrying an extra kilo of water with battered legs. We got going and the fog eventually cleared. Our legs felt it on the way out, however we quickly gathered momentum on the flats and used the extra weight to our advantage.
This is before we hit the Kent hills. It was heavy and hard from then on.
I kept checking my back wheel to see if I had a mechanical as it felt like it was dragging so much more than usual, only to find that there was nothing wrong except gravity doing its job.
Approaching our last big hill (Star hill), we stopped and marvelled at the 360 view of the Downs, reminding ourselves of how far we'd ridden and why we were doing it in the first place.
After what seems like eternity, we hit London traffic and familiar roads, said our goodbyes and headed home.
Bikepacking Convert?
My glutes were particularly sore the day after, understandably after all the climbing with extra weight. However, I went back to Kent the following weekend on a social ride, and truly flew up the hills. Weighted training is a real thing!
Even with some lows as well as the highs, I genuinely would not trade this long weekend for anything. Nothing like one (or multiple) bike ride(s) with mates, chilling under the stars and experiencing nature at its best.
This first bikepacking trip has given me a new perspective on cycling. Not every ride is about the numbers and metrics;  some rides are about exploration and freedom, and I think I will fill my weekends with these types of mini adventures in the future.
So if you're interested in bikepacking but a bit unsure then I would 100% recommend giving it a go. If you have any questions then drop me a DM.
If you're interested in following in Lynn's footsteps then get in touch to hear more about joining the community. There are regular weekly and weekend rides, as well as bikepacking trips and cycling holidays all year long.
Drop us an email or connect on social media for a chat. Massive thanks to Lynn for this awesome weekend write up.