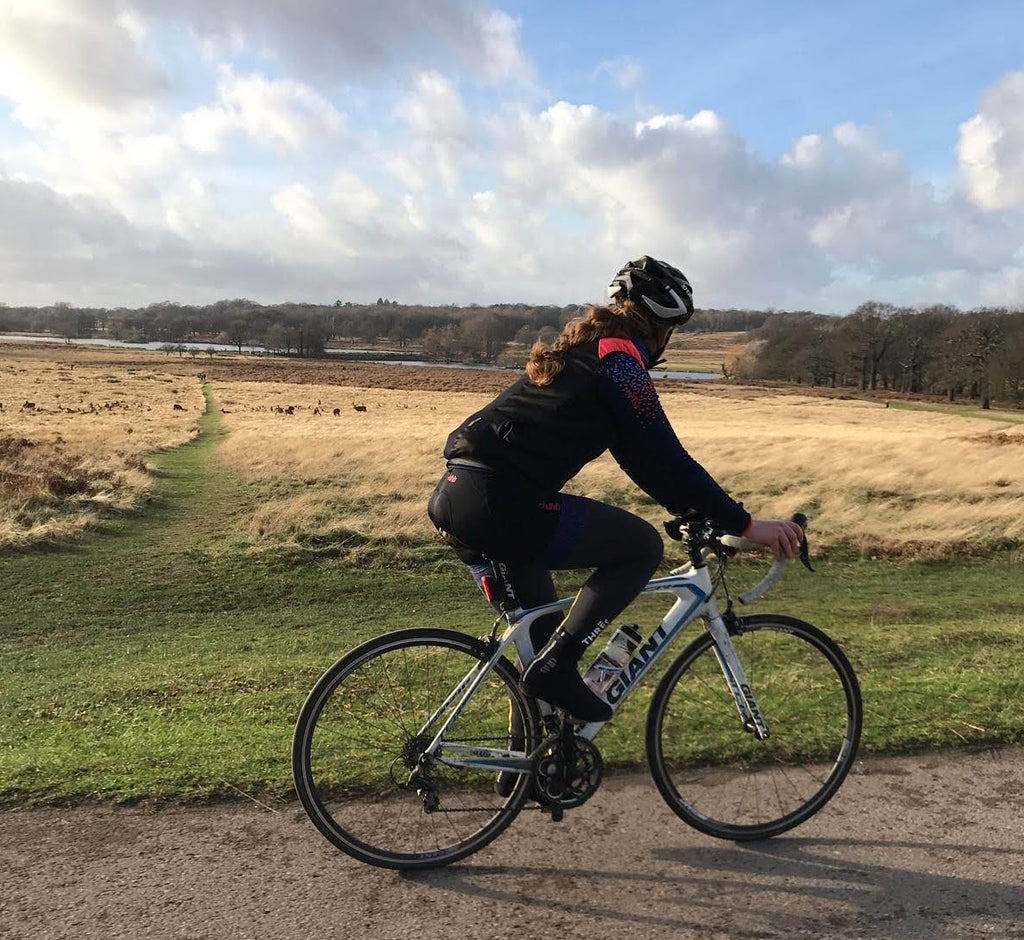 'Club Scientist' Jen has been riding a bike for just over a year. In the first of what will hopefully become a regular 'science report', for her first addition, Jen gets  bike fit. Using our awesome partners Super Domestique, read below for the whys, hows and results of Jen's first bike fit:
I started cycling in January 2018, having entered L'Etape du Tour and realising that I should probably start riding a bike... In the words of Tupac, "I didn't choose the lycra life...".
I bought my housemate's old bike from her, found Dirty Wknd cycling club and started exploring the hills and greens of London and beyond.
I always knew the bike didn't fit me perfectly; the handlebars were too wide, the stem too short, and my seat felt too far back and I felt very upright.
But I never had any pain whilst riding and the price-tag of a bike fit was always a bit of a turn off.
However, after a small windfall, I decided it was time to invest in a proper bike fit. Being a scientist, I'm all about improvements, and I wanted to know if getting the bike properly fit to my body would reap the rewards.  
Because I didn't really have any pain or niggles, for me the purpose of the bike fit was to get into a more aerodynamic riding position, whilst still feeling comfortable on long days in the saddle.
After my first race last year, David kindly pointed out that "You could always see where [Jen] was because her head was poking above everyone else's".
Essentially... I needed some aero gains! I chose Super Domestique because they came highly recommended from everyone who had used them, but also because of the Dirty Wknd club member 15% discount... an attractive proposition given my PhD student status!
Pre-Fit:
I wrote a few lines pre-fit about what I wanted from it and what I was expecting:
"My handlebars are too wide, which affects my stability - especially in sprints and corners. The width also means I feel quite hunched.

I think the stem is too short. I have a men's frame and the friend I bought it off had set it up with a short stem. But it feels like this pushes my whole torso up... Not good for those aero gainz.

My position is very upright - it's not very comfy going onto the drops for a long time and I feel I can't really reach the gears/brakes that well.

I think the power transfer through my legs could be more efficient. My saddle is probably a little further back than it should be, probably compensating for the shorter stem. This means it feels like I am pushing forward through the cranks rather than down through them."
During The Fit:
I booked my fit at the start of March. I had an upcoming cycling weekend to the South of France and it seemed like a good time to get the fit to give myself a few weeks to adjust to the inevitable changes.
After the fit I wrote a few thoughts about the whole process (which was really great!), summarised below:
We didn't touch the bike for the first hour. It started with a full posture analysis - turns out I'm extremely wonky - my pelvis is apparently misaligned by two centimetres! Elliott (Super Domestique bike fit wizard) said that most humans aren't perfectly symmetrical, but this was on the more extreme end of what he'd seen. Because I wasn't in pain, it means my body had adjusted quite well to the imbalance, but a few fixes on the bike would sort it out very easily.

The next thing was moulding the custom orthotic insoles for my cycling shoes, which are included in the price of the fit. The standard insoles in new shoes mean that people's feet are generally not well supported. The custom insoles mean that the feet move around a lot less in the shoes, so less energy is lost in power transfer from the legs to the cranks (see the First Law of Thermodynamics). 

After about an hour, I finally got on my bike! Elliott first put my bike on a turbo, to see my current position (hilarious for him I reckon, as I'd never been on a stationary bike before - couldn't understand why I wasn't moving anywhere!). As I expected, he was pretty baffled by my current riding position.

After a quick cup of coffee, in which Elliott set up the jig (moveable bike fitting machine) into a new riding position, it was on to some minor tweaking. Because the jig has pressure sensors, it's possible to see the balance of power between the left and right hand side. There's also a lovely set of sciency graphs showing where I was applying power through each turn of the pedals. Despite my wonky pelvis, because my body had adapted, I was sitting around 47:53 for left:right hand side. Not a terrible mismatch, but still not 50:50. After inserting a 4 mm spacer under my left cleat to level out my hips, I was now sitting around 49/50:51/50 - amazing considering I couldn't feel a difference at all! #science!

Other things that Elliott had adjusted on the jig were narrowing my handlebars by 2 cm, lengthening my stem and moving my seat forward by 3 cm! It was reassuring to know that my pre-fit assumptions had proved to be right.

At that point, it was hard to judge how different the bike felt. I knew I had moved forward, down and in, but because it wasn't on my bike, it was hard to compare. Elliott's advice was that I would definitely need a new stem and bars and that I would probably benefit from shorter cranks, but they weren't as crucial as the new bars. He also recommended that if I ever buy a new bike I should consider a smaller frame size.

Two and a half hours later, I walked out, leaving my bike to be set up for the next day, excited to see the difference!
Post-Fit Results:
It's now almost one month since the fit and What. A. Difference!
The first few rides I did post-fit were reasonably short, but already I was noticing how much easier it was to accelerate away from stationary, as well as blast it on flat sections.
Because my seat has come forward so far, my legs are now pushing down rather than forward in the crank.
Whilst I only noticed good things on flats and descents, the first few ascents were tough! Because my legs were now using totally different muscles to climb I was experiencing a little bit of lower back pain, I think as a result of the levelling out of my hips.
I expected these niggles would go away as my body adjusted to the new position. 
Something I was keen to gain from the fit was to be in a more aero position, but still be comfortable riding long distances.
Test number one was the trip to Céret with Viva Velo a week and a half after the fit. Three consecutive days of riding, including an epic 160 km ride with around 2000 m elevation, and the bike felt really great!
My riding position felt incredibly comfortable on the climbs and it was really noticeable how much more stable I was descending because of the narrower bars - I felt I could really tuck in and attack the corners.
Also because my weight was now further forward, going down onto the drops was so much more stable and I could actually reach the breaks and gears.
Whilst riding in the South of France was, of course, amazing, the real test has been riding on home roads on routes and hills I've done before.
Now that the new leg muscles have recovered from the shock of being activated properly on climbs, I have really noticed a huge difference on hills.
I now feel like I can spin more comfortably up climbs at a more steady cadence, whereas before it felt like I was grinding up and pulling back from the bars.
The numbers say a lot as well... in the last week or so, I've taken over a minute off both my Box Hill and Kidd's Hill Strava personal best times.
Kidd's Hill I had last done about two weeks before the fit during the Hell of the Ashdown, so a as a direct (science) comparison it really shows the benefit of getting a bike fit.
For anyone thinking about getting a bike fit, I would firstly say DO IT!
Secondly, I would say go into the fit with some idea of what you want to get out of it. I thought for a long time about what I felt was wrong with my current set up and what I wanted to change before the fit.
Elliott understood immediately what I wanted and helped to make it a reality. The fit process is very collaborative, not just Elliott dictating to me what needed to change, which was very reassuring.
With Super Domestique, you get a free follow up hour to take at some point after the fit, meaning any problems you find in the weeks and months afterwards can be ironed out.
I haven't taken this yet, but I do have a few ideas about some more tweaks I think would be useful.
Finally, although it is a small investment, it's still cheaper than the tube and I know I'd rather choose laps, lanes and laughter every morning than armpits and grumpy commuters!
Thanks for all the science Jen! Sadly Super Domestique is no longer in operation, but members can now get a whooping 30% off bike fits with our new partner, Dan at Complete Physio.
Click on this link for all the info and to chat to the team.