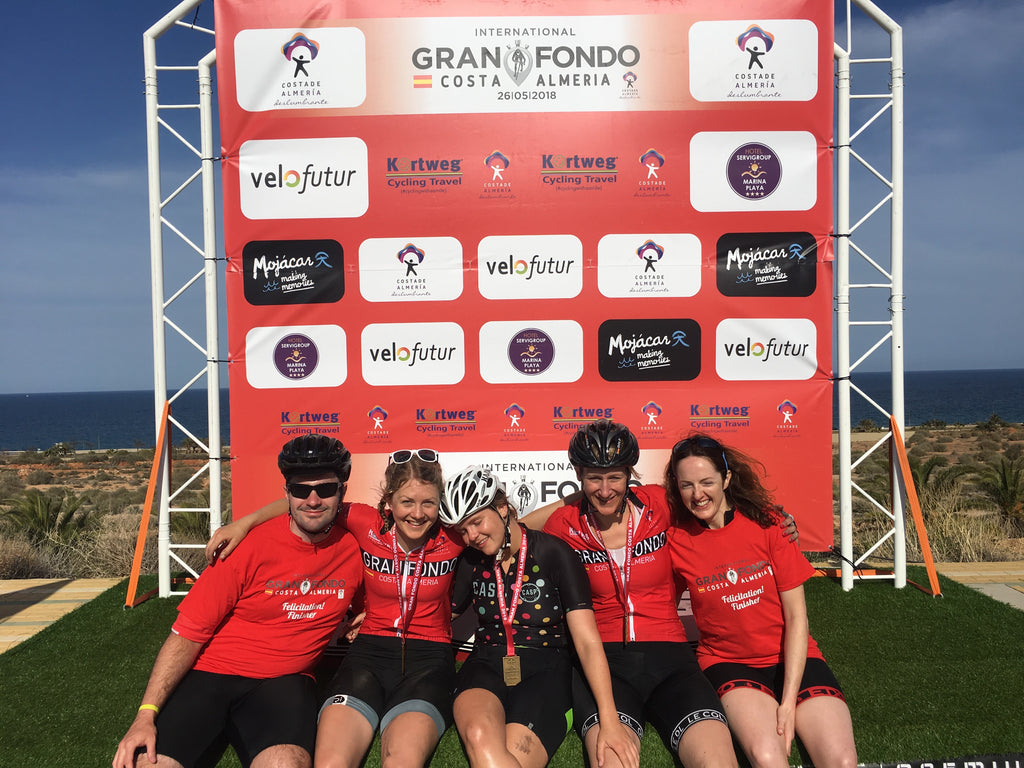 Club Member Rosie Day joined Dirty Wknd almost exactly a year ago. Starting out as a beginner, she's been coming along to group rides regularly, building up to big  rides like London to Cambridge and back. Boundless energy and enthusiasm, she had never considered herself enough of a 'proper cyclist' to go on a cycling holiday... until now!
Going on my first cycling holiday was pretty daunting.
There was just so much to think about. What are the other group members like? How many pairs of shorts? What if I don't have the endurance to last a whole week? What about the hills? Hills. Hills. Hills. MOUNTAINS!
How am I going to get the bike there? What actually is a bike box anyway? All these things sound silly now looking back, but it's enough to make you stop and think 'is the whole thing really worth it'. 
Well I am so happy I threw caution to the wind and booked onto the trip of lifetime, because it was absolutely worth it!
I've heard Mallorca is a hot spot for cycling but I was excited to try somewhere a little unknown.
Plus the private villa photos and paella party description was a real pull, so decided my first cycling holiday would be in the Almeria region of Southern Spain, a not so well known cycling haven.
The trip focused around a 210km Granfondo through the best hills (mountains) in the region. Might as well go big on your first cycling trip, eh?!
The Dirty Wknd gang and their organising partner, Velo Hols, made the sign up  process a total breeze.
I had a training plan in my head to prepare for the trip and the crazy Gran Fondo, but weather and life got in the way, so this didn't quite go to plan. Anyway, the day before the trip soon came around and all that was left was the scary bit of the bike box packing.
Youtube video to hand, I carefully dismantled my pride and joy, piece by piece. Despite worrying a lot about this bit, It wasn't actually that hard once I got started. In no time I was successfully packed and applauding my most technical effort to date. I was off!
Despite an anxious night's sleep, I was grinning like a cheshire cat from the moment we landed.
The weather, the scenery, the private villa; everything surpassed expectations and we left no time before we were out on the bikes. Leaving the coast and heading towards the mountains, approaching a 10km climb, is without a doubt an intimidating prospect.
There isn't much training you can do in the UK for this sort of climbing, so the fear of the unknown was pretty high. But once you are going and your legs are in full swing, you soon realise that it's not 10km at 15% gradient (the sort of gradients we get at home).
In fact, it's actually a dream, and once you get into it, there is no better feeling.
Breathtaking views all around and marvelling the switchbacks, climbing to reach the top, you feel on top the world when you get there.
This will stay with me forever. I remember being supremely happy, feeling free and being so close to everything around me.
We all commented that it was like we were that last people on earth (this is partly down to just how quiet the Almeria region is). On a bike you experience your surroundings in a way not possible in a car and zooming down the mountains is a photo memory I will never forget.
Riding with a group of like-minded people who inspired me was what I enjoyed the most about this trip. Waking up in the villa, having breakfast together, meant that we respected and supported each other on the bikes.
Together we faced the day's cycling challenge and had a loads of fun overcoming everything. It was a true team spirit and they got me through the 210km Gran Fondo. It was the toughest 10 hours on a bike in my life, but it was so worth it! 
I am so proud of myself for what I achieved and I can't wait for my next cycling holiday.  So, if you're thinking about joining a trip – go for it!  You'll love it and I couldn't recommend visiting Almeria for this experience more highly.
Thank you Dirty Wknd and Velo Hols for an unbelievable week, next please!