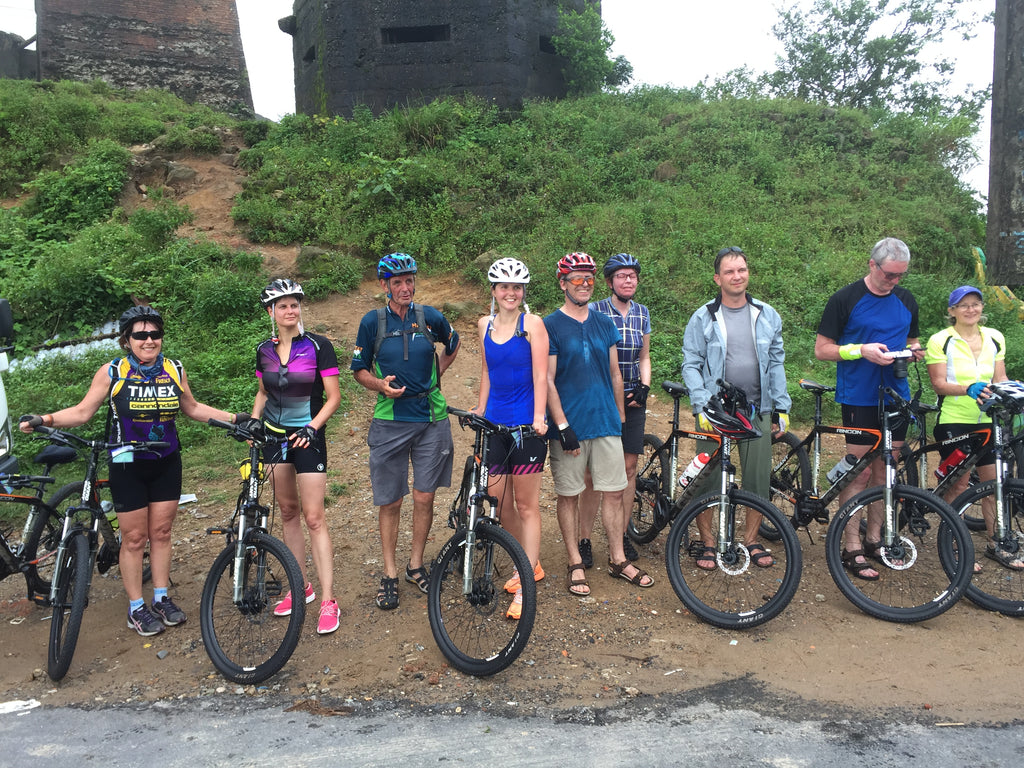 What do you do once you've completed LEJOG, the ultimate cycling challenge...
I hope my top tips for Ride Across Britain were useful for you if you are preparing for this year's event. I was a complete novice cyclist when I started on my RAB challenge but I enjoyed the training and the event so much, I wasn't prepared to hang up my cleats quite just yet...
In less than two weeks after completing Ride Across Britain, I had an 'out of office' on my laptop for six months (yes, six months!), a 15 litre backpack on my back and my trusty cycling helmet.  My employers had given me six months off work and I decided to spend one month of it cycling through Vietnam, Cambodia and Thailand and it was truly one of the best experiences of my life.  This is what happened when I cycled over 1,000km, through three countries, in one month...
The tour was organised by a company called Intrepid, who I can't recommend enough, and on the first leg through Vietnam there were ten of us on the trip. At 25 I was by far the youngest on the trip, but Barrie at aged 70 was probably the fittest! Barrie is a wonderful New Zealander with an incredible 'can-do' attitude and a brilliant level of cycling fitness.
We started our trip in Hanoi where we were introduced to our bikes. I named mine "Chunky" as it really was just that. It wasn't quite the Boardman road bike I was used to but the terrain in Vietnam really wouldn't allow for anything less than Chunky.  We took the minibus out of the main city of Hanoi as it really was too crazy to ride safely out of Hanoi.  Our first ride was only 12 miles out in the Vietnamese countryside but as it was hilly and the bikes were so heavy, it felt much further than 12 miles! It was kind of them to warm us up slowly though – we had a whole month of riding everyday so definitely had time to get the miles in.  It was just incredible to be cycling through these Vietnamese villages; many of the locals had never seen Westerners before and they were so warm and welcoming, running down the tracks with us shouting "hello! Hello!"
Our first overnight stop was in Mai Chau in a homestay with a local family and although we were sleeping on the floor under a mosquito net, after 44 miles and 3,000ft of climbing I slept like a log!
Despite it being the rainy season, it was also super hot and spending all day on the bike did start to take its toll on us by the end of the first week. One Friday morning we had to set off cycling in the rain, which is never really that fun, and the rain in Vietnam isn't quite like any rain we get in the UK. It is torrential!
The brilliant thing about cycling through these incredible countries is that you see so much more than you would from a tour bus or driving through in a car. We were taken off the beaten track and the normal tourist trail and got to see some incredible sights in the Asian countryside. We also got to experience some more well known areas but on two wheels; the Hai Van Pass in Vietnam for example, which features in the Vietnam Top Gear special.
Ho Chi Minh City was the destination of our Vietnam trip and we said goodbye to the majority of the team there and met with the new team that would be joining us into Cambodia and Thailand.
The time we spent in Cambodia made me realise just how lucky we are; it is one of the poorest nations in the world and it was so evident to see from my bike.  You couldn't believe that the villages we cycled through were people's homes – it was really upsetting to see the conditions some people have to live in.  The chosen method of transport of the locals definitely isn't bikes, but scooters.  Along the way we saw so many crazy things on scooters: a family of four; a man with about 25 geese in baskets – all sorts!
I can't recommend enough doing a cycling trip in a foreign country. It is an excellent way to see a new place and you get to leave the usual tourist trails behind. In Cambodia it was incredible to be able to cycle from our overnight stay to Angkor Wat, cycle around the temple complex and then onto our next stop.
After a month of cycling, minibus rides and an overnight train we made it to Bangkok and I looked back at the map and once again thought "wow, did I just do that?"  I had only bought my road bike at home in March and it was now November and not only had I cycled nearly 1,000 miles in nine days from Lands' End to John O'Groats, I then travelled over 6,000 miles around the world to cycle over 1,000km through three countries with a group of people I had never met before.
All I can say is what a trip, and if you have the chance to do some cycling abroad then I would highly recommend it – it will only be an amazing experience, I can promise you that.
You can follow my adventures on Instagram @annigoodall