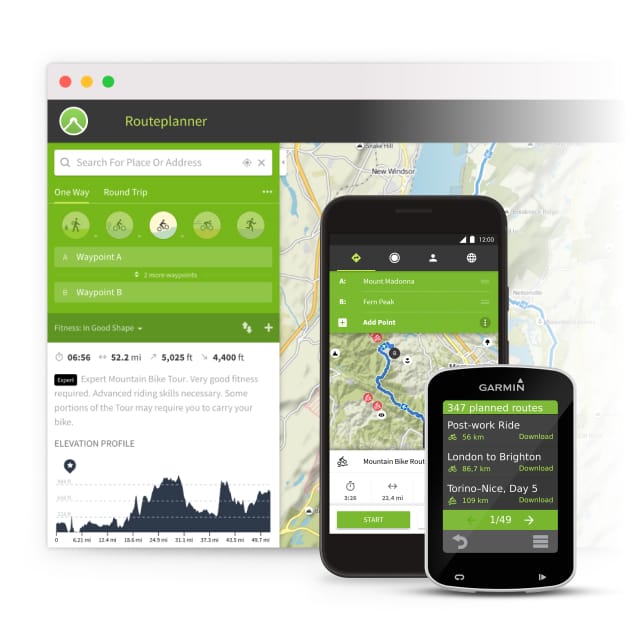 Finding a great cycling route is one of the pleasures of cycling. Whether recommended by a friend, unearthed online or plotted by your own fair hand, setting out on a great route is a real treat. This is also true of hiking, running and walking; there's just something special about the excitement of a new route!
We're very proud of our London cycling routes here at Dirty Wknd. They've been created, tested and finessed over the last 5 years, and we think they're some of the best around. However we're always looking for new routes, new route providers and new tools for our members to be able create, find and use the best routes too. 
So we're very pleased to announce Komoot as our official route partner. Club Members will now be able to access free 'region bundles' to unlock extra maps, areas and other features. Normally only available to premium Komoot users, Dirty Wknd club members will get access to these tools for free.
Free Route Planning Webinar
"Discover Great Routes With Komoot" - Mon 18th May 6:30pm BST
We're going to be running loads of events and talks with Komoot in the future, both online during lockdown and actual 'face to face talks, rides and events post lockdown.
The first event is a free Webinar with Eleanor from Komoot and our very own Rich Windsor, on Monday 18th May at 6:30pm BST.
Click on this link to join the webinar. It's interactive, so please bring all your route planning questions for the guys to answer.
Capital Ring Lockdown Challenge!
To demonstrate how easy Komoot is to use, we've created the Capital Ring Lockdown Challenge to help you to get out and explore with Komoot.
A five 'stage' tour of the capital, you can download any of the stages to your phone or GPS device and then ride, run or hike each one at your leisure. Can you complete all 5 stages in the two week period?
Head to the Members App for full details and to access the route! 
What Is Komoot?
Komoot makes it easier for you to experience authentic outdoor adventures. Whether road cycling, hiking, bikepacking or mountain biking, Komoot's superior planning and navigation technology allows you to easily discover more of the great outdoors. Create or find a route, download to your device or send to your phone and hit the road - it really couldn't be easier!
Whether you want smooth asphalt for your road bike, single tracks for your mountain/gravel bike or peaceful trails for your hikes, Komoot generates tailor-made routes for your next adventure. 
Komoot's turn-by-turn voice navigation will ensure you're always on track. And as the great outdoors never comes with strong signal, everything works offline. Just conveniently download individual routes or entire maps for use offline, and stay on course when coverage falls short—no matter how off-grid you go.
Members can head to the Members App to access all the Komoot partnership details and redeem their free regions. You can also ask any questions you have about using the app.
Enjoy the new routes!