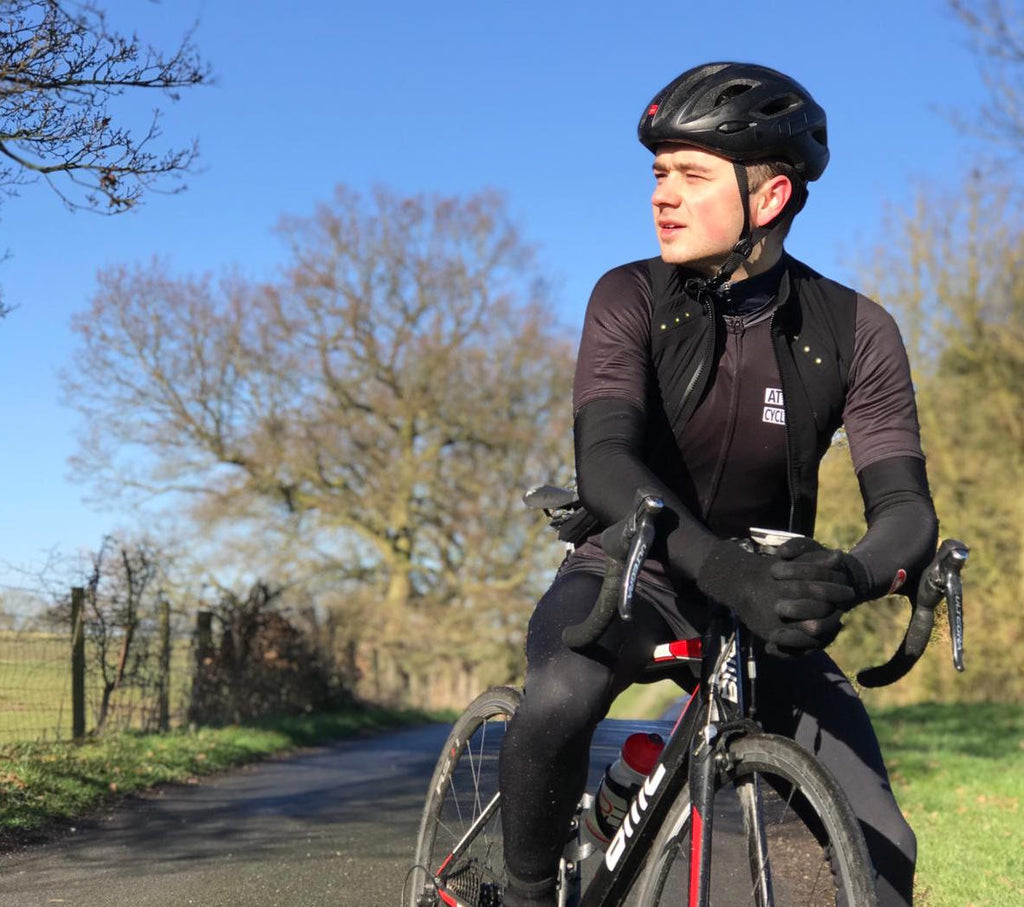 Cycling in summer is great. Wherever in the world you are, you generally know where you are when it comes to kit: a pair of bib shorts, a lightweight jersey and some sun cream is (hopefully) all you need.
Conversely, cycling in deep winter is also fairly easy to do, kit wise. Put on all the layers you have, including that 1980s skiing balaclava of your Dad's, and off you go. You know it's going to be cold and/or wet, so you can dress appropriately.
What to do then when it's just a bit... meh? The autumn and spring months, especially when cycling in the UK, can be hugely changeable, making kit choice a bit of a nightmare.
Not only that but the weather can go from warm and sunny to a downpour during the ride. It's the hardest time of year to dress for, however there are a few staple items that can save your autumn/spring ride.
Read on below for our top tips on cool weather cycling kit, including our buying tips (with Dirty Wknd member discount, if applicable). We've added a women's and mens option where applicable:
For our guide to full on wither kit then click here - Winter Kit Guide
Feet
Toe Thingys:
An odd one for many to get your head around at first. These 'thingys' (such an apt description) go over the ends of your shoes to protect your toes from wind and road splash.
They won't keep you dry in heavy rain, but they are very effective in keeping your toes warm when it's cool. You'll feel weird putting them on for the first time, but you will get used to them and they'll soon become a staple of your autumn wardrobe.
DHB Toe Thingys - Click Here
Over Socks:
Like a more extreme version of the toe thingys (and less annoying than full overshoes), these act exactly the same way as a pair of thick hiking or sports socks would.
Put your normal socks on, and your shoes, and then these slide over your shoes to keep out the wind and spray. They also keep your shoes nice and clean when it's mucky. Top Tip - just use and old pair of hiking socks!!
DeFeet Oversocks - Click Here
Actual Socks:
Never underestimate your socks! A good pair of winter socks make a huge difference to your ride. And who doesn't want more socks?
Pongo Winter Socks (15% Off) - Click Here
Legs
Knee Warmers:
A very versatile piece of kit for the majority of the year. These slip under your bib shorts, covering your knees but not your full leg (to prevent the dreaded overheat!)
There is also less fabric, so if you take them off mid ride if it warms up they fit into your pockets much more easily.
Attacus thermal knee warmers (20% Off for members) - Click Here
Leg Warmers:
As above, but for slightly cooler or wetter days. Full coverage of your pins without having to shell out for pair of full bib tights.
Can be removed during your ride if it does warm up, and less 'overpowering' than full bibs. And in answer to the age old question - always under socks. Always!
Attacus reflective thermal leg warmers (20% off for members) - Click Here
Torso
Mesh Base Layer:
The humble base layer, what would we do without it. There are many type of base layer, and we'd recommend really getting stuck into the genre... it gives so much back!
A good short sleeve mesh baselayer is perfect for cool weather riding. Back in the day Rapha were the only company who did a really good mesh base, but many other companies have now picked up their game, at a fraction of the price.
DHB Mesh Base Layer - Womens // Mens
Arm Warmers:
Practically mandatory on every ride that's not that one day of pure summer. Seriously, why would you leave home without them?!
Easy to put on and remove as the weather changes mid ride (or depending on whether you're climbing or descending), they're just so clever.
Seriously, why would you leave home without them?!
Attacus thermal arm warmers (20% off for members) - Click Here
Long Sleeve Jersey:
Not because arm warmers and summer jersey won't cut it, but because a really great long sleeve jersey just looks really cool! And what more reason do you need?
In all seriousness, a LS jersey will keep you warmer in the same way bib tights will - less gaps. So a good long sleeve in your wardrobe is key for cooler cool days. Look out for something with wind stopping tech too, as the wind is the worst.
LaPassione Windproof LS Jersey - Womens // Mens
Gilet:
The most important piece of cycling kit you can own. The most useful, versatile and enjoyable piece of kit there is. Putting on or taking off, the humble gilet never fails to have an immediate effect, without being as 'clingy' as a full jacket.
Perfect for the autumn or spring day when you're not sure what the weather is going to do. Also, forgive the bias, but we think our Attacus designed gilet is the best.
Dirty Wknd Maglia Mera Gilet - Click Here
Rain Cape:
For those (rare) days when the gilet just won't cut it. If you know there's a good chance of rain, obviously a rain cape is a good idea.
This is a thin, 'waterproof' layer (nothing is completely waterproof) you can pull out of your pocket and throw on quickly.
Also really good for wind beating or just if you're cold. The bin bag effect will bring your core temperate up nicely. 
Lightweight cycling jacket - Womens // Mens
Hands
Fingerless Gloves:
There is little worse than 'hot hands' on a ride. Your thick winter gloves get all sweaty, you can't get them off , and how are you supposed to take that perfect mid-ride selfie? Nightmare!
Fingerless gloves really come into their own here. You get a bit of protection, but you can still use your hands. You know, to brake, and stuff.
Attacus lightweight fingerless gloves (20% Off) - Click Here
Thin/'BMX' Gloves:
Not your normal thick winter/skiing gloves. They are breathable so you don't get sweaty hands but still offer a bit of cold weather protection. 
And if it gets too hot you can easily take them off and stash them in your pocket. Very useful on an autumn/spring ride.
Attacus lightweight full gloves (20% Off) - Click Here
Head
Neck Warmer:
That space between your chest and your head can be really annoying. You know, your neck!
Normally you'd wear a scarf, but that can be treacherous on a bike ride. Long pieces of material and moving spokes don't mix well!
The neck warmer, snood or neckie, is as useful and vital as arm warmers on an autumn ride, and can even be pulled up over your head to act as a hat/ear warmer if the temperature drops.
Neck warmers on Tredz - Click Here
Casquette (Cycling Cap):
Given a hard time by many as the fare of fixie riding hipsters, the casquette (if you say it in French you sound way more pro) is actually as traditional as the wheel itself.
A favourite of our Belgian friends - and let's be honest, what they don't know about cycling (and cool weather) isn't worth knowing - the cycling cap has many uses.
If it's cold, it keeps your head warm. Dry(ish) if it's wet. And if you do overheat, which you will at least once, it helps mop up the sweat pouring down your face.
Whether you rock that vintage cycling team cap or one from the event you did that time, there are millions to choose from. And a strong cap collection is a fine thing to have for a discerning cyclist.
Look Mum No Hands Cap Collection - Click Here
Ear Warmers/Headband:
Remember when you were a kid and everyone (parents, teachers et al) said that you lose 90% of your body heat through your head (is that even true?). Well, we think it's true, so a good winter hat or skull cap (below) is great.
Of course the reverse is also true, so when it's cool but not cold, a hat or cap will keep in 90% of your body heat. Hello again, overheating!
A good ear warming headband works well here to keep your little ears warm from the wind, but prevents overheating. Couple with a pair of massive shades to look like a really cool 80s skier. Sweet moustache optional, but advised.
Best cycling ear warmer headbands - Click Here
So there you have it - the best guide to cool weather cycling kit you're likely to find anywhere.
Of course, this is based on many years of riding/testing in autumn and spring, but it may not apply to you. Your own ability to deal with the cold must be respected.
You'll need to get out there and test these things yourself.
Always remember the golden rules - it's better to be too hot than too cold, and it's always better to have a piece of kit and not need it than to not have it at all. 
Have we missed your favourite piece of cycling kit? Comment below and let us know, or jump on social media (@dirtywknd) and tell us.
Happy riding!