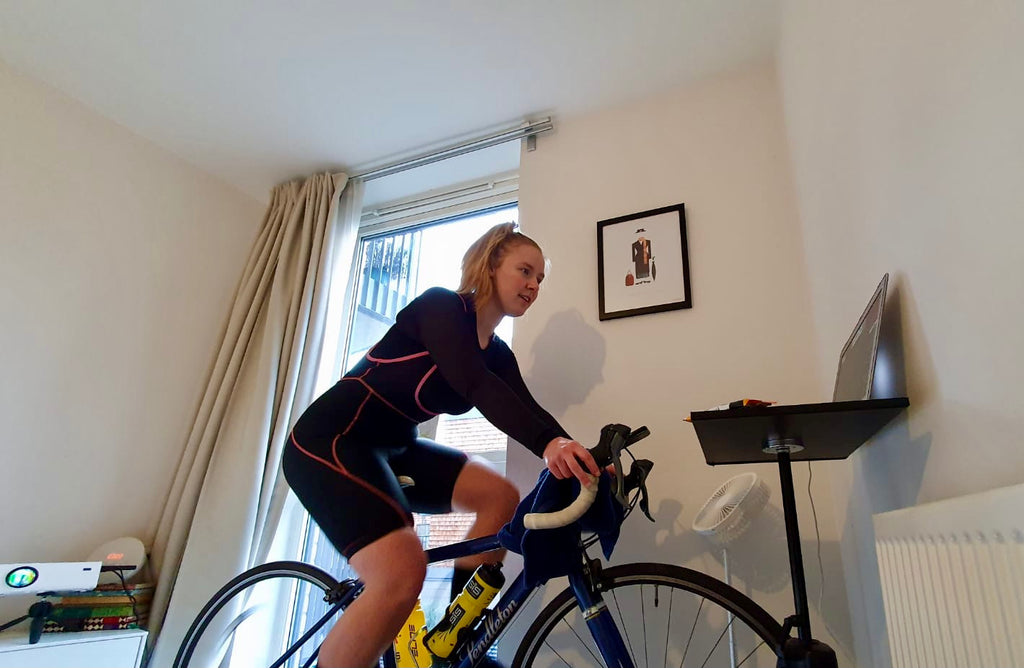 Marissa Beatty is a club member, ambassador and relatively new Zwift racer. She has kindly agreed to share her journey from Zwift beginner to weekly racer with the Dirty Wknd race team. Read Marissa's top tips for getting started with Zwift racing...
It's safe to say that the past year has been full of surprises – and, pandemics aside, one of the biggest has been the inordinate amount of time I have spent on Zwift.
I unwrapped my smart turbo trainer on Christmas Day 2019 (talk about ahead of the curve) with plans to do "a bit of winter training on rainy days" and, a year later, I find myself racing my socks off every Tuesday night for DWWRT in the WTRL Zwift Racing Leagues. 
Yes, it's sweaty. Yes, it hurts. Yes, it's a relatively intense way to spend a weekday evening. 
But it's also really fun. I promise. 
Getting started 
My turbo trainer sat gathering dust until Lockdown v1.0 (remember that?). I was a little apprehensive about cycling outdoors in those early days of lockdown and I was really missing group rides with my Dirty Wknd pals.
Luckily Dirty Wknd stepped in to organise a whole bunch of virtual rides, had heaps of advice about getting started with Zwift.
Best of all, set up a Discord channel so we could chat to each other while we zoomed around CGI versions of London and Box Hill (which, amazingly, are linked together by a tube tunnel in Zwift). 
Coach extraordinaire Steve Byrne also set up some Monday evening training sessions for Dirty Wknd members. I joined those to do my first ever FTP test, which was gross.
However after a few weeks of training sessions and virtual group rides, I did start to see that FTP score rise.
Steve quickly took me under his wing and encouraged me to try a couple of races as part of my training (with the long-term view of doing real life races when they're allowed to start up again!). 
As with lots of things in cycling, I hadn't considered getting into racing because I didn't have the confidence. It sounded scary, I didn't think I was good enough and I had no idea where to start.
It really helped to have a nudge from people in the club who were there to offer tips, encouragement and the all-important "kudos".
Virtual racing (and training) became a fun thing to do with friends. 
Starting Zwift Racing
I was definitely nervous before my first race, although I can't really remember it now, that's how quickly it becomes normal.
I treated it like a recce/training experience, which made the whole thing less scary and a lot more fun. 
I was entering some pretty obscure races at first. One of the great things about Zwift is how many different events are going on at all times of the day. 
Enter whichever ride or race makes you feel comfortable to start with, just to get one under your belt. 
I made a lot of mistakes when I started: I spent whole races cycling alone because I got dropped from a group.
I forgot that you do still need to change gears in a virtual world, and once dropped my only water bottle and spent the rest of the race trying to retrieve it whilst keeping my legs moving. 
It was a really good way to practice race technique and it helped to realise an important thing about virtual racing: no one is really looking at how well you're doing apart from you.
Everyone else is too busy looking at their own stats and working out if that really is the maximum level their fan goes up to!
Just focus on yourself, your own race and what you're doing. No one else is!
WTRL Zwift Racing Leagues
After a racing hiatus over the summer months, I joined the Dirty Wknd ladies for the last few races of the first WTRL Zwift Racing League in November 2020.
I was nervous to jump back in but it ended up being a real confidence boost – I felt much stronger holding onto groups, pacing myself and generally playing to my strengths. 
The second WTRL Zwift racing league is now underway (Jan 2021) and it's been great so far.
I get such a buzz out of racing that I actually look forward to my weekly ritual of prepping four water bottles and sweating out at least two of them.
It's also always super fun chatting to the DWWRT ladies on WhatsApp and Discord every week – sharing tales of turbo trainer woes and hyping each other up the whole way round a course.   
Dirty Wknd is fielding as many mixed and ladies teams as possible for the WTRL leagues so if you're keen to give it a go then get in touch via email or on Insta.
Marissa's Beginner Zwift Racing Tips
1. Get a fan and a towel
A towel might be "the most massively useful thing an interstellar hitchhiker can have" but the combination of a fan and towel is the utmost necessity for any Zwift racer. 
2. Stay in a group
I can't emphasise this enough. It really is the key to Zwift races. If you get dropped, put in the power as soon as possible so you can catch up and sit on everyone else's wheels.  It really is a "short-term pain for long-term gain" situation. 
3. Listen to dnb
Someone once suggested I listen to dnb while on Zwift because most tracks have the perfect beat for regulating your cadence (how quickly your legs spin). They were right. I've never looked back. 
4. Ask questions
I wouldn't enjoy racing as much as I do if it hadn't been for a whole bunch of Dirty Wknd friends giving me encouragement and guidance.
If you have any questions ask everyone (online & IRL) you can think of for tips and advice. 
5. Have fun with it
Get on discord and chat to your pals (before you all descend into heavy breathing). Having friends and teammates in your ear will force you to laugh about the things that go wrong – whether it's a turbo malfunction or getting dropped from a group on a DESCENT (I don't know how but it happens) – and it means you have a great group of people to celebrate the highs with. 
Thanks to Marissa for this amazing insight into getting started with Zwift events and races. If you're interested in having a go, have questions about the set up or want to join one of the Dirty Wknd race teams then get in touch. Email, social media DM (@dirtywknd) are all great ways to get in touch.
See you on the virtual road!