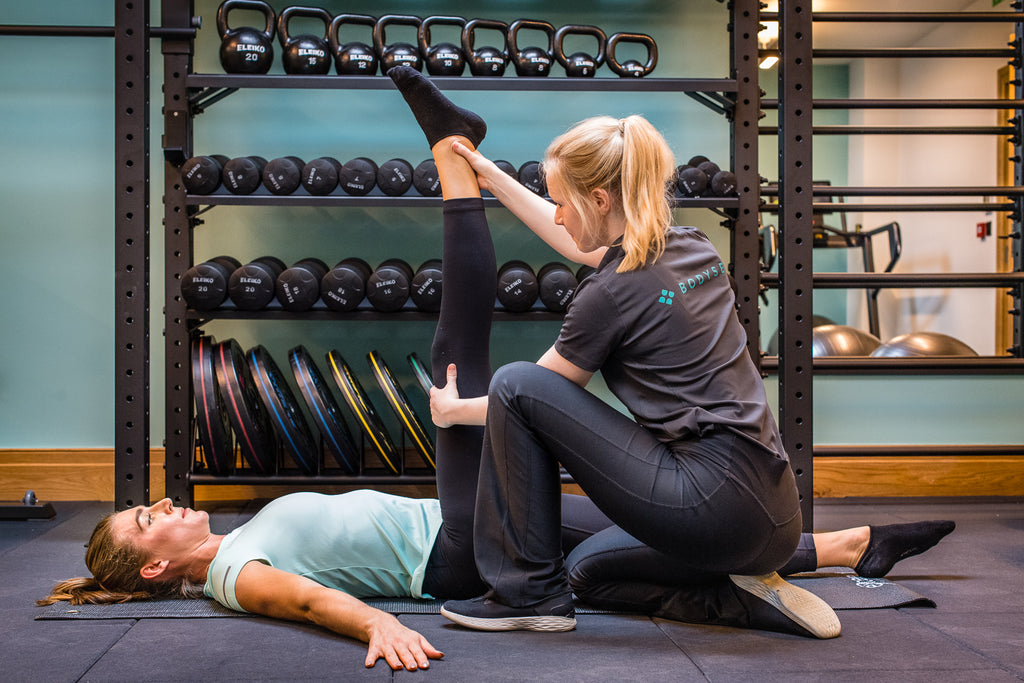 To mark our new Partnership with Bodyset one of the UK's best Physiotherapy companies, club ambassador Lisa undertook the initial consultation and first session with Jay, one of the Bodyset team.

To make the most of the outdoors this summer, I wanted to cram in one last challenge.

I felt satisfied that I'd done lots of endurance cycling and wanted something slightly different. When fellow Dirty Wknd member Lottie mentioned she wanted to do a half ironman distance triathlon, my ears pricked up – a triathlon sounded like the right amount of challenging type 2 fun.

We signed up with only 6 weeks to train for the event which was slightly daunting but we both completed our first 70.3 triathlon!




Mentally and physically, it was blooming hard. Six weeks is not a very long time to train your muscles to transition from purely cycling to swim, cycle and run… WITHOUT A CAFE STOP!

I'm also not that much of a runner – my longest distance I'd ever run before was 10km and that wasn't recently. My muscles hadn't really built up over time to take the impact of the training and the half marathon run itself.

I definitely felt the after-effects from the race – I got severe knee pain in my right leg about 8km into the run and hobbled over the finish line.

I couldn't walk properly for weeks and couldn't even power walk across the street. I knew I needed to find a physiotherapist given the awkward questions at work – 'what happened to your leg, why are you limping?'.

As luck would have it, my cycling club Dirty Wknd and Bodyset had just set up a partnership, meaning I could easily get my injuries seen to.


It was really easy to get in touch with Bodyset and in no time I was speaking to Jay, one of the physios and had signed up for a consultation and initial session.

They've got several branches around London (and a few outside), so I went to the studio in Farringdon as it was a short walk from work.

I was greeted by the lovely Jay who immediately put me at ease, especially as I wasn't sure what to expect not having ever had physiotherapy before.
We chatted cycling, naturally, and he was easily able to understand my routine and what my day-to-day barriers were.


Initial Assessment

During the initial assessment Jay started off by explaining what the session would cover - looking at my general movements and pain points with a view to making an initial diagnosis.

All being well he would give me some exercises to complete at home.
Jay talked me through the medical terms, but also simplified everything so I could understand the source of the problem.

In short, the intense, multi-sport training and using unfamiliar muscles caused Patellofemoral Pain Syndrome, aka 'runner's knee', with my pain actually being most intense on the inside of my knee and thigh muscles.

Jay explained it was simply the impact of training a bit more than my body was used to and that my muscles were not able to cope with the increased load.

This put more stress on my Patellofemoral joint eventually causing pain whenever I put harder loads on the knee, such as running or going down stairs.

He was able to explain it to me in different scenarios and answered all my questions patiently, which was really reassuring.
Recovery at home

I came away with several exercises to work on in order to stretch and build up the right muscles in my leg. These included an extended quad stretch - 45 seconds on each leg, way longer than I would normally hold it for. Jay says this is the key though, so 45 seconds it is.

It was also helpful to get an idea of how long he thought treatment would take (thankfully fairly short-term for me), and knowing that I was not only doing the right stretches but also for the right amount of time.

My post-exercise stretches would usually be quite rushed, only holding any stretch for 15-20 seconds at most. Having Jay's guidance on how to make my routine more effective will really help going forward.


This being my first physio session, I definitely came away pleased with the amount I got out of it. I would absolutely recommend Bodyset and Jay – one of the most genuine people I've met and also very knowledgeable in his expertise.

Bodyset can help across all sorts of cycling and running issues – mine was specifically caused by running but I know that if I had any problems from cycling, they'll be able to help.

My knee is a lot better and improving every day, hopefully I will be back out running again soon.

It's always best to address any issues as soon as you can, and means that you can keep on lapping and adventuring with Dirty Wknd without pain. Thanks Jay and Bodyset for the session!

Thanks Lisa for relaying your Bodyset experience in a blog for us. Dirty Wknd members get a free consultation & 50% off initial treatment (and 10% off pay as you go) at all UK centres.
Check out all the partnership details on the members forum. If you've got an injury or want some advice then get in touch with the team for a chat.