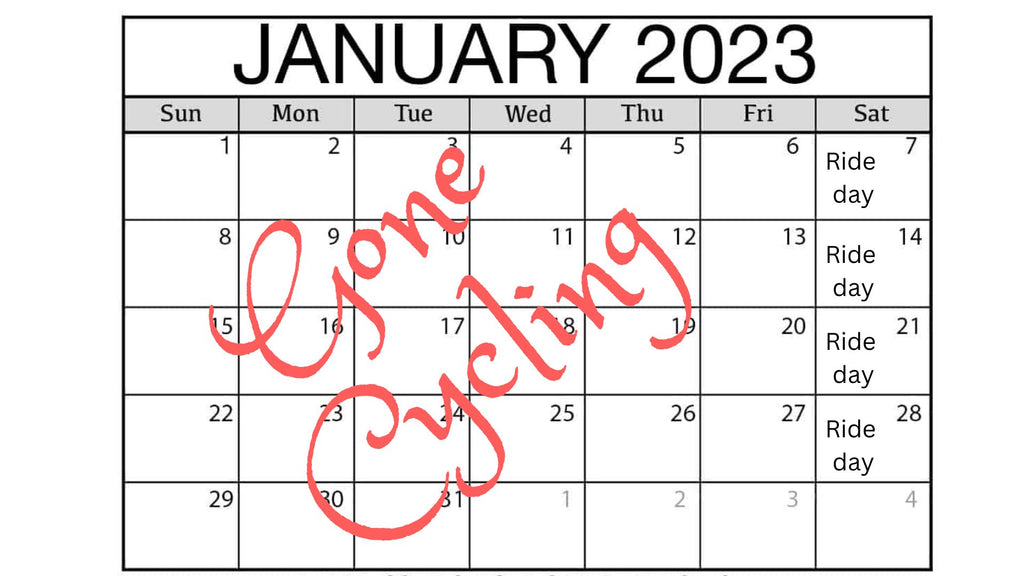 To help you stick to your new year fitness resolutions and to keep you riding in the January (and because we like organising fun group rides), we're again running our New Years Revolution series for January 2023 
Whether you're a beginner cyclist looking for the help and support of a group, or an experienced rider looking for some motivation; we can help you ride more in January.
The premise is very simple - a 'no drop' group ride every Saturday in January, with the distance building up each week, leading to a brilliant 100km finale ride.
With the help of the group and our ride leaders you will get the support and motivation to keep you riding. There will be multiple 'no drop' groups (no one left behind) for all levels.
You will meet a great group of cyclists who will make the rides loads of fun You might even forget it is January. Maybe.

Revolution Resolution Ride Series 2023
Ride #1 to G!RO cafe - Saturday 7th January @ 8:30am
Work off that Xmas excess and kick off your 2023 cycling goals nice and gently.
Christmas can be tough and January is a looong month, so we'll take it slow! 30-50km depending on the group (2-3 groups for different speeds).
Everyone is welcome & its perfect for beginners looking to get into cycling. Coffee & cake stop halfway.
Full details & Sign up - Click Here
Ride #2 - Saturday 14th January @ 8:30am
Ride number two of the series will increase the distance slightly to around 50 - 65km, depending on the group.
There will still be multiple 'no drop' groups for different abilities and of course there will be a coffee and cake stop again.

Full details and sign up - coming soon!

Ride #3 - Saturday 21st January @ 8:30am
Now we're getting into the series we'll increase the distance a bit more. Week three's rides will be 70 - 80km in length. 
Still multiple no drop groups for all levels, and hopefully now you'll have ridden with some of the same people already so will start to get to know each other. 
Wait for it... yes there will be a coffee and cake stop halfway. Obviously!
Ride #4 - Saturday 28th January @ 8:30am
The finale. The culmination of a month of rides, steadily increasing in distance.
Rides 1-3 will have built up your fitness and endurance so you'll be able to ride 100km no problem! 
Riding 100km in January is no mean feat so you'll be able to rightly celebrate with a well earned pizza after the ride. 
Ride, route and sign up details will be posted shortly, but for now save the dates - it's easy to remember: every Saturday morning in January.

Why? Why why?
Committing to Four rides in January will set you on the right track to achieving your cycling goals for 2023 in the very first month!
Whatever your goals, from an event like Ride London or the BHF London to Brighton ride, starting early is always a good idea.
You'll get a real sense of achievement, you will have ridden throughout the most unforgiving month of the year with a great group of people, and you will hopefully make some cycling friends who you'll see on group rides for the rest of 2023!
But what about the weather?
We will try to ride in all conditions if we can (wouldn't be much of a challenge if we didn't). But if the weather is really appaling and/or dangerous, then we will make alternative arrangements. 
These will likely include a Zwift group ride and a local Digme fitness class instead of riding outdoors. More details to come.


Join the Community - Black Friday Deal 50% Off!
This deal is available only over the weekend - £19.50 for a full 12 months of access to all the rides, routes and everything else in the members forum. 
This includes all of the above rides through January and beyond. Click on the below link for all the details and get 50% off annual membership.
Why join a cycling club at all?
There are tons of reasons to join a cycling club or group, and you can read about many of them below. Or you can listen to some of our past 'new joiners' and read about their experiences of joining a group ride.
Motivation - like minded folks to keep you on the road
Support - Ride leaders to give you advice and (mechanical) support
Safety - January is a tough time to ride, strength in numbers is key
Celebration - mid ride cake and post ride pizza is why we're all here right?
And of course all the other stuff about gaining fitness, confidence and speed. That all comes twice as fast when riding with other people, trust us. 
Join the community now, cash in on the 50% off Black Friday deal, and get access to all of the above right away. 
If you have any questions about any of the above details then get in touch by email for a chat.