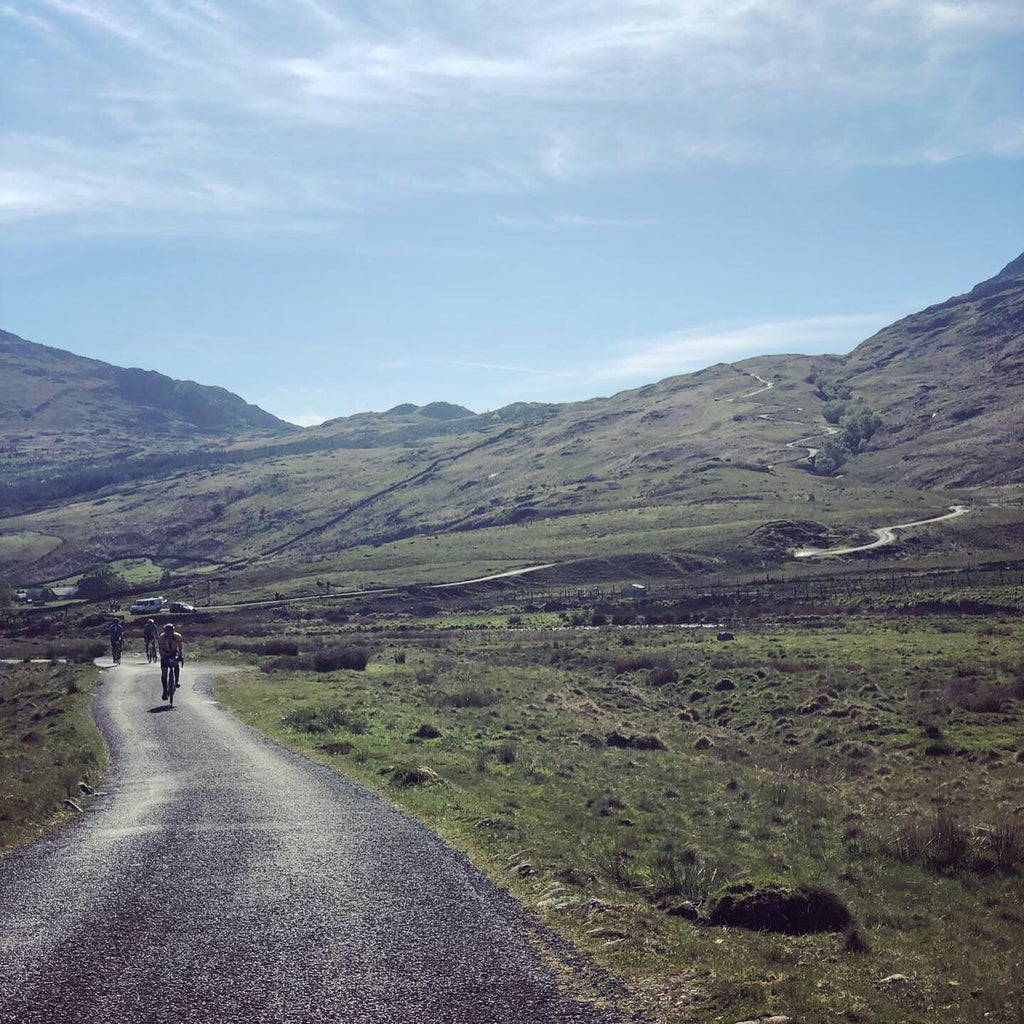 Club member, tech expert and general badass Rosie Day took on the Fred Whitton in May 2019. Rosie has been cycling for about 2 years, and 'The Fred's' awesome reputation has put off many a more experienced rider than her. How did our intrepid reporter get on....
"The Fred Whitton is widely regarded as the toughest sportive in the UK and right up there with European events such as the Marmotte, Maratona dles Dolomites and L'Etape du Tour"
I'd heard of The Fred, but didn't really know much about it nor know anyone else who had done it (or 'been through it' is perhaps more apt). I knew it was brutal, but with these things it's often about perspective, so I entered the ballot quite blindly (thanks to the encouragement of Sean Harrion!)  
Signing Up
When I received the 'congratulations'(?!) you've got a place' email in January, I really started to dig into exactly what I'd signed up for here. Asking others usually came with rendition of  "ha no chance", "you're mad" or a nervous laugh.
But I knew The Fred was one to tick off at some point, so there was no time like the now and I committed with my accomplice.
For anyone who doesn't know (I didn't), 'The Fred' is a 114 mile sportive through the Lake District, taking on a bunch of the toughest climbs in the UK (the world??) all in one ride.
It's a real bucket list ride, with 3900 metrs of climbing, touching on over 30% gradients, it's one of the toughest rides you can do. 
For me, the Fred Whitton was one big underestimation. I hadn't cycled in the Lakes so couldn't quite grasp how unforgiving those hills really would be.
Advice from club members and others generally ran to 'to do as much hill climbing as possible'. However, being based in London, those Lakes gradients just aren't so easy to come by. 
Training & 

Preparation

Ally Pally and Swain's Lane hill reps were a regular ritual, as well as low gear Regents Park drills. Just like that it was bubi to Windsor rides and hello Kent.

I learnt to love Kent and fortunately due to the mild winter we had optimum training conditions. I might have previously dodged the Hell of the Ashdown sportive but I knew I had to throw myself into days like this.

This was a tough ride with just half of the climbing of The Fred, so it stirred mixed expectations.

The training cracked on and before long May was here and it was Fred week. I'd been following the hashtag, and the tips from Cold Dark North in the week running up to the day were a huge help.

The fear of Hardknott Pass escalated to a total obsession, including dreams of cycling up a literal wall. I knew it would be tough but thought ok I've been up 26%s in Kent, so what's 7 more degrees! Oh I was in for a treat.

I really thought about nutrition here. The ride was looking like a good 8+ hours, with Hardknott Pass falling nicely right at the end. To avoid hitting a wall I needed more than a big bowl of porridge in the morning.

From 48 hours before I upped my carbs and lowered the fats and sugars and all that good stuff - it definitely paid off. I'd trained hard up until a week before and tapered for the final 7 days, with one easy ride on the Wednesday and chilled commutes to work, again the rest here was key.

Gearing wise, I changed to a 30 tooth cassette on the back to go with the compact chainset I already had. This would apparently 'get me round'.

I didn't and still don't really know what all these numbers mean; the bigger the better apparently. I could have done with a 34 on the back but this would have needed a total overhaul of my bike £££ so I didn't go mad.
The Big Day
The Fred was here! We got the train up to the Lakes. note: supply is low and demand is high for reserving a bike spot, so book far in advance and avoid a train which gets you in too late!!. Also, don't book accommodation that's 12 miles away from the start line…
We couldn't have been luckier with the weather though and I actually felt like a bit of a cheat as all I'd seen are photos of the Fred in brutal conditions. The glorious weather took a lot of the edge off.
The ride was breathtaking, with scenes comparable to Canada and New Zealand, with un undisturbed lakes reflecting the mountains, perfect roads and every sight was a photo (we took one or two!).
I had hiked in the lakes before but in horrific conditions and hadn't seen beyond half a mile into the distance, so I was wide eyed and blown away by the beauty throughout.
Unlike other rides this wasn't a smash fest, I had no idea what a good time was, it was a case of get through it and get up Hardknott, so we had to reserve some steam for the end. 
We enjoyed the ride itself and took it at a good comfortable pace, it's difficult to draft a group as you're mostly going up… or down terrifying descents. I think there was probably about an hour of flat throughout the whole ride.
It's not long after the start when it kicks into the first climb, 'The Struggle', before a bit of flat and then other notable climbs; Kirkstone, Honister, Newlands tick tick tick etc.
I was breaking personal records of difficulty and digging to new levels of deep to get up those 20+%s through the first few hours. The beauty and surroundings really do ease a lot of the suffering (thank you thank you).
There was a food stop at the 50th and 80th mile but I had been well prepared, basically grazing continuously throughout the ride and I avoided the bonk and having to overeat here.  
The 94th mile ticked over and with nearly 3,000m of climbing under the belt we approached Hardknott Pass. I would love to say the horror stories were an exaggeration but this climb is incomparable.
At 2.6k long it took me 25 mins to crawl to the end, knocking up to 25+% a number of times, with a 10% 'flat' to recover, another 26% slap in the face, before hitting the 33% wall in the blazing sunshine - this was a true test.
At one point I was barely moving, the front wheel went up, but I was so determined to keep going I actually fell off. Most of the people around me were walking but I was not going to be beaten! 
A nice man (who thought I was mad) held my bike, I climbed on and I continued up grinding away. I reached Sean at the top and looked down at the switchbacks behind and felt the biggest sense of achievement and relief.
What goes up must go down - so a very steep, rocky, sharp cornered descent followed, which I probably negotiated as slowly as the climb, but I had nothing to prove here.
I don't know what the Romans were playing at in creating this beast! Just a couple of casual 25%ers after Hardknott, but the worst was over and it was just 20 miles to the end. Another note, change GPS device to imperial!
The Aftermath
Just under 9 hours after rolling out of Ambleside we finished the Fred Whitton. The pie and beans (that's right) provided at the end were better than any medal.
This year was the 20th anniversary of The Fred and one of the things I loved most was the 'no frillsness' of the whole event. It wasn't commercial - it's just you and your bike and no gimmick.
The slogan "a good effort" says it all.  The Marshall's and local volunteers were also unbelievable throughout the whole route with their cow bells, support and encouragement.
Always with these big events you expect a gender in-balance, but I didn't see any more than a handful of women throughout the whole day. The support we exchanged was incredible, but I'd love to see an improvement here.
At the time I said I wouldn't do it again but of course it's a couple of days later, I've changed my mind and will be rallying those women around me for next year.
It's a hard day but with the right training it is doable and it would be so awesome to get a group of kick ass women up to the Lakes next year for the event.
The Fred, and being in Cumbria, has also changed my view of cycling. I now love the hills and have invested in the 'Top 100 UK Climbs' book and want to keep on exploring and ticking off these mini Everests.  
So yes it was hellish and very dark at points but I'm so glad I pushed the boundaries to do it. We are so lucky to have such stunning scenery just a few hours away and I'll be returning to Cumbria before long. Until then, Kent isn't so bad.
Check out my Strava stats from the big ride here - The Fred Whitton
Thanks Rosie - awesome ride! We will be attempting to get a large group of kick ass women (and some kick ass men too) up to The Lakes for next years Fred on May 10th. If you're interested email us for ore details.